Guinevere Ryan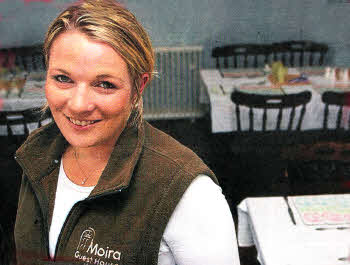 Guinevere Ryan
GUINEVERE Ryan, 29, from New Zealand is the Manager of Moira Guest House. She is a Secondary School Music Teacher who writes her own music, sings and plays the guitar. After leaving New Zealand and travelling the world for two months she arrived in Moira last August and in October she took up here current role.
My day starts at 6.30am preparing, cooking and serving breakfasts to our guests. There's always a bit of banter usually around which part of Australia I come from. It's always a good talking point and those that have visited the Southern hemisphere do like a good chat, especially if they're in to their Rugby. Once all the guests have checked out my team and I will work at changing the rooms ready for the next guests. The staff that work with me are an integral part of the running of the house and deserve credit for all the work they do. Throughout the day I would be taking bookings, sorting accounts and working at promoting the business. Due to the historical nature of the building people do pop in wanting to see how the place has changed since it stopped serving as a private dwelling.
This extensively restored and modernised Georgian guest house offers a choice of ten en-suite rooms finished to the highest standards.
It's ideally situated on the historic main street of Moira village and because it is surrounded by a number of superb restaurants, boutiques, village shops and amenities the guest really enjoy staying here. Our guests range from businessmen and workers through to people on weekend getaways and tourists. We have a professional and friendly staff and offer a hotel standard service for all of our guests.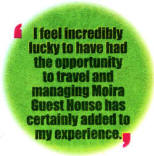 I really enjoy helping people who are here to discover Northern Ireland.
Having been lucky enough to explore some of the areas myself I am able to pass on my own experiences. Its also great hearing of adventures others have done and a lot of them are promptly written on my bucket list. Although it was all foreign to me to begin with I'm now able to give the guests advice on public transport, itineraries, taxis and reservations. If people want to personalise their bookings we help with gifts for the rooms and do our best to cater for their every need.
We've spent some time marketing the business at local shows, charity events and supporting local events around the area. Moira is a busy little village and I've got to know some f the locals in the area. During the weekends I'd sometimes have acoustic gigs at the local bar. The. Kiwi classics don't go down as well here as they do in New Zealand but I'd throw the odd one in anyway. During any weekends off I do my best to explore the local areas, the UK and Europe as much as I can.
Back in New Zealand I had a number of jobs including being a lifeguard, working on a farm, driving tractors, creating 3D montages for engineers and directing a Documentary for New Zealand Television through my own company. More recently my time was taken up playing regular gigs, directing Musicals and teaching. It was really only a matter of time before managing a guest house was added to that list.
With the 11 hour time difference between New Zealand and Northern Ireland I do my best to keep in touch with my family after making breakfasts. Skype makes the 18,000km distance between the two countries seem less than it is. So while I explore the world I get to share it with my family and friends and still not miss out on seeing my nieces grow up. I'm due to head back to New Zealand next August so am making the most of this beautiful part of the world while I can. I feel incredibly lucky to have had the opportunity to travel and managing Moira Guest House has certainly added to my experience.
Ulster Star
06/07/2012