Heather Nesbitt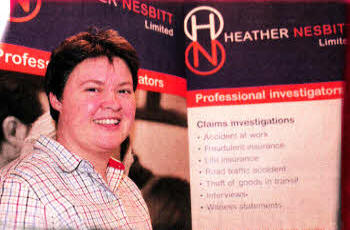 Heather Nesbitt
LISBURN-born Private Investigator Heather Nesbit's business has been going from strength to strength over the years and she is hoping to branch out and open her first office in Northern Ireland.
Heather, a former pupil of Central Primary School who moved to England as a child, set up her business in Hertfordshire in 2007 after leaving the police force. She has recently opened another office in Essex.
Every day is different in my line of work. There's always the basics of running an office to deal with but you never know what the latest assignment will be. We can be helping solicitors, doing statements for them, we can be serving documents from the court or doing surveillance work. We also search houses and businesses for bugging devices that clients may feel are in their property.
We get a lot of that from divorced couples or because of industrial espionage.
The job is nothing like the 'gumshoe' image so many people have. I left the police five years ago and started my own investigation company, it seemed like a natural progression.
It's really just helping people. Whilst many people think the world of private investigators is cloak and dagger, with people hiding in bushes trying to catch someone out, Heather 4 says the reality is rather different.
The work is really varied. One aspect of my work that I love is the opportunity to train people, including new private investigators and even children, who are thrilled to learn about my work. We
recently held an event at a local public playground for forty school children.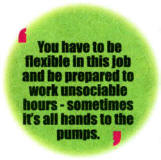 They carried out a crime scene investigation, learnt how to take finger prints, follow clues and take photographs. They each got a CSI badge and an 'evidence' goodie bag to take home.
The business has been going from strength to strength and I'm hoping to offer our services in Northern Ireland with a view to employing people in Northern Ireland and establishing an office there.
I work 24/7 to be honest. I have a great team in place and no job is ever too much hassle. You have to be flexible in this job and be prepared to work unsociable hours - sometimes it's all hands to the pumps.
All our clients can be assured of our absolute discretion and confidentiality in all enquiries carried out on their behalf.
Our investigators have the experience to handle delicate situations with discretion and professionalism. We have confidentiality agreements that protect us, our clients and their information
As every investigation is unique our approach will reflect this. Each and every case we work on is
specifically tailored to the client's needs and requirements.
We are dedicated to getting a result and providing excellent service. Our clients are the most important thing to us and we build our business connections on honesty and integrity.
A new aspect of the business is murder mystery events. These are very popular with corporate firms. This is great fun and people really think they are part of a CSI investigation as we do put a lot of effort into setting them up.
This is a great team building exercise and thoroughly enjoyed by all. The good thing about these days is they can be done anywhere and clients are not restricted to coming to our offices.
I am very passionate about about my job - to do it well you need to love it.
There's always something happening and the professionalism shown by my staff makes me proud and it's satisfying being here for our clients and working things out together.
You have to flexible in this lob and be prepared to work unsociable hours - sometimes' ifs all hands to the pumps.
Ulster Star
23/03/2012