Julie Jordan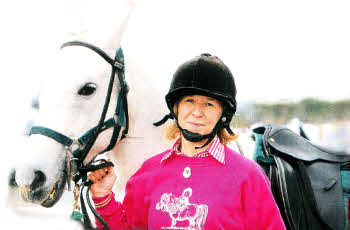 Julie Jordan
JULIE Jordan has spent28 years volunteering with the Riding for the Disabled Association and three years as Regional Chairperson and has further shown her commitment to this charity by accepting a post as national trustee within the organisation. Julie who is married to Henry has three grown up children. She began her involvement with the RDA at Moy group, one of twenty eight currently riding in Northern Ireland. After five years helping there, she was asked to help set up a group at Ballyknock Riding school, Moira and In September 1989 Banbridge and Moira group was created. Julie was group organiser and coordinated up to 15 riders and 16 to 20 helpers at two lessons every week- no mean feat when raising three young daughters at home. Banbridge and Moira group went from strength to strength, thanks In no small part to Julie's organisational prowess and a pool of reliable and most able volunteers.
Each week I normally dedicate three and half days to the charity and every day is different. Along with general trustee duties my specific role now includes chairing the Operations Planning Committee with a view to coordinating national operations strategy and the associated policies.
The Committee that I chair oversees all of the activities that the RDA carries out and gives a wonderful flavour of the variety of options offered to disabled riders and drivers, including carriage driving, showjumping, vaulting and holidays to name a few. As well as this I could be out visiting groups and checking they are all happy. We now have 28 groups, 1000 volunteers and 1000 riders and drivers. By working directly with 18 care centres and 40 schools, along with individuals, the RDA seeks to help those who will benefit most from the therapy achieved through horse riding while encouraging riders to reach their full potential and compete at the top level. I provide the link between each group and our head office. Recently I have been busy organising competitions within the committee and arranging a trip to Balmoral show as well as working on editorial for our magazine and sorting out a holiday for members to Castlewellan in June.
I spend time recruiting new volunteers too and sorting out PR for the groups. There's always so much to do but it is well worth it. The advantages of horse riding come in many forms ranging from building muscle tone to encouraging self confidence and improving balance. For children and adults with learning disabilities and mobility problems the RDA provides access to one of the very few outdoor activities available for the disabled community Volunteering with the RDA is a rewarding and challenging experience. Riders who make use of the RDA often require up to three helpers- a leader and two side walkers to keep them secure and safe in the saddle. The responsibility is significant but the rewards are well worth it- riding and driving are two of the only outdoor activities that are open to disabled people. The RDA helps to improve both participants' strength, flexibility and fitness and their self-esteem and independence. We hope that all our participants will achieve their goals during their time with RDA- that may be simply getting onto the pony for the first time, trotting, competing at the National Championships and everything in between. There is something for everyone- it is always good fun and provides therapy at the same time. In 2009I took up the role of Regional Chairperson for the RDA in Northern Ireland and I am ably assisted by committees and long serving volunteers throughout the province.
My dedication to the RDA is testament to the fact that it is a worthy cause to be associated with and a supportive organisation to work within. I really enjoy volunteering with RDA and seeing people who were afraid to ride before, make incredible progress is very rewarding.
If you would be interested in volunteering please see the website at www.ridingforthedisabledni.org.uk
Ulster Star
18/05/2012