Mandy Baxter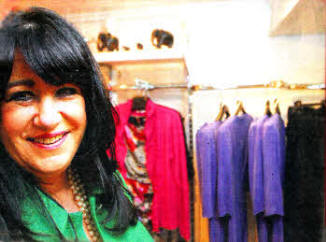 Mandy Baxter
MANDY Baxter,47, is the owner of Pollini Boutique in Moira. She was recently Invited to showcase her Autumn / Winter collection and be an official judge at the recent Clubworld Travel Miss Ulster, which took place at Stormont Parliament Buildings.
The mother of two sons, worked in media promotion before taking up a part time job in Pollini. Soon she was working five days a week and a year later she decided to buy the business. That was four years ago and she has seen the shop go from strength to strength with an ever expanding client list.
The shop is open six days a week and I am here myself from Tuesday through to Saturday. I stock a mid designer range and casual separates for the women with a modem classic twist. There's also an extensive range of Mother of the Bride/ Groom outfits as well as wedding guest. We cater for sizes 10 to 22.
The shop opens at 10am and we will do a general tidy up, checking the rails, organising well as and I like to change the shop display quite regularly as it's important to give the shop a fresh new look. I will then make a start on any book work and make the necessary business phone calls and update the business social networking site Facebook while it is quiet and we are awaiting the customers.
Whenever I have spare moment I will be found online or looking at brochures trying to find new labels that I could stock. I do like to offer my customers something unique - that's what running an independent boutique is about. I offer what is not going to be sold in a multi national store.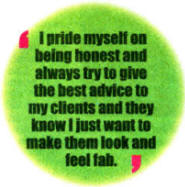 I like to interact with the customers and I would say I know 80% of them by name. I have established a great relationship with many of them who have been shopping here from I started. There's about
6 to 8 of them who trust me enough to pick out clothes that I think they will like when I get orders in and then I will call them up and invite 6 to 8 of them to try them on. I know their taste, size and budget and this makes it really simple to choose items for them. I guarantee that they will take 80% of the collection I have gathered for them as they trust me. I won't let anyone walk out of my shop with an outfit that doesn't suit them. I pride myself on being honest and always try to give the best advice to my clients and they know I just want to make them look and feel fab.
As well as the general running of the business I am now involved in a lot of fashion shows which I. have been asked to compere on a number of occasions. It's hard work preparing for a fashion show but it is an excellent way of promoting the clothes. I have also been invited to be a judge on a number of fashion related panels and this is something I do enjoy. I have a lot of events like this penciled into my diary for 2012 and I don't turn any down as it keeps the name of the business out there in people's minds. Twice a year I go to London, Belfast and Dublin to see the new fashions and I will visit trade shows, show rooms and agents.
I have recently brought in the Pifer and Mayka brand and it is just gorgeous for Mother of The Bride / Groom and there's no taffeta in sight, also a fantastic price point of any outfit under £500.
I am constantly busy with the business but I just love it and wouldn't have it any way.
It is very satisfying when my customers leave the store happy with their purchases and confident in the knowledge that the items they have bought really do suit them.
Ulster Star
27/01/2012