Jenny Monroe talks to holistic therapist Maria Rafferty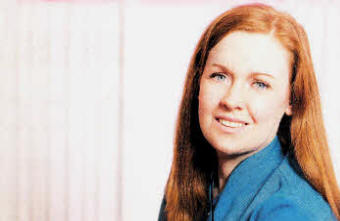 Holistic therapist Maria Rafferty
MARIA Rafferty is a certified holistic therapist who uses a combination of Traditional Chinese acupuncture, Arvigo Techniques of Maya Abdominal Therapy, and yoga to address a range of health problems related to the stresses and strains of modern life such as IBS as well as women with fertility issues who can also avail of acupuncture. By focusing on each individual, their lifestyle and range of symptoms, Maria creates a programme of therapy that treats the interdependent physical, emotional and mental aspects of each problem. She also is a trained Doula - this is someone who supports women and their families during pregnancy, childbirth and early parenthood. This support is practical and emotional but non-medical in nature. Maria was an accountant before the opportunity came up for her to set up her own holistic therapy clinic on the Lisburn Road.
On a typical day I arrive to work and set up the treatment room to provide a welcoming and relaxed atmosphere.
I will spend time checking emails and replying to client queries - I do this throughout the day. Then clients begin to arrive, they can vary from: a new born baby with digestive problems, a pregnant woman and her partner, a teenager with painful periods, digestive problems, a woman trying to get pregnant - no two days are the same.
Our modern lifestyles often see us fall victim to emotional stress, depression, frustration, overwork and improper diet which lead to a vicious cycle of fatigue, energy congestion and illness. With a treatment programme designed to gently cleanse and heal body, mind and spirit, I help my clients to take charge of their own wellbeing and address specific problems while getting back to optimum health and energy levels.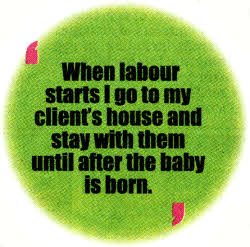 I carry out a lot of pre-birthing acupuncture. Pre birth treatment involves a series of treatments weekly from 37 weeks to prepare for labour. Points are used according to a woman's constitution and pregnancy history. These include point to help position the baby in the best presentation for labour and to promote optimal energy and stamina for women to enter into labour. Dads usually come to the first session so that I can bring both of them through a birth preparation class and then teach dad how to administer acupressure for pain relief. He uses these points during a contraction and mums report that it has a numbing effect on the contraction. These points also aid the baby down the birth canal. Most of my clients say the birth is a wonderful experience, the acupressure really works and often cant believe they gave birth without so much as gas and air. I personally do not expect any woman to go through labour with no pain relief so the acupuncture/ acupressure is a wonderful alternative for those against drugs. As a doula I am on call for two weeks before the due date until the baby is born. When labour starts I go to my client's house and stay with them until after the baby is born. Of course this means travelling to the hospital with them. A doula does most of their work prior to the onset of labour so come the time my duties are mostly of a practical nature and helping the dad with the acupressure for pain relief.
Working on babies I use a combination of Maya massage, acupressure, reflexology, infant massage to treat babies that have digestive problems - I mostly see colic and reflux. I also teach the parents the techniques so that they can continue treatment at home I really enjoy my work and am thankful that I get to do something I am so passionate about every day. When I get a call from a client to say that they are pregnant it is very rewarding.
For more information visit www.mariarafferty.com
Ulster Star
30/03/2012