Mary-Alice Phoenix of Budding Stars Drama Group
Mary-Alice Phoenix of Budding Stars Drama Group
MARY-Alice Phoenix, 28, from Lisburn is a primary school teacher who has recently set up the 'Budding Stars' drama group with her friend Suzie Agnew. The drama group takes place on a Monday night at St Patrick's Pastoral Centre Chapel Hill. Mary-Alice, who is married to Stuart and has a daughter Nicole, 6, has always enjoyed teaching drama and theatre and is delighted to have been able to set up the drama group locally.
Working in a school I knew there was a demand for drama groups to help children develop their confidence. Recently the opportunity presented itself and my friend and colleague Suzie and I decided to set up in Lisburn. The classes are held from 6pm to 7pm for children aged 6-11 then we then hold a class for 11-18 year olds from 7pm-8pm. After teaching at school I go home and have dinner with my family and then go to the centre to meet Suzie and get prepared for the children and teenagers arriving.
We will have already prepared the workshops for that evening so it is really a matter of getting the register ready and the room set up with the appropriate props and materials needed. Each week we, plan what we are going to do in both sessions and there will always be a different skill taught. We could be doing mime, which is great fun especially for the younger students. To warm up there will be a name game so the children can interact with each other comfortably.
We do activities which help develop listening skills and the children have to listen for instructions and think carefully about their actions. There are also rhyme sessions and singing and talking in different ways too. We warm their facial expressions and discuss what we are going to do that evening and explain why there is a need for a certain skill in the world of drama.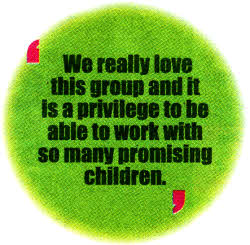 The children are given pretend scenarios to act out and this really helps build up confide Suzie and I go round each group making sure everyone knows what they are doing and that they understand the lesson. It is all about being creative and some weeks we might use bubbles or other innovative ways to help make learning fun. We encourage every child to play a part in the activity and help them not to feel embarrassed and come out off their shell.
Then the class is usually split in two and we might play tug of war or act out freeze mimes an the other children have to guess what's going on. Towards the end of the class we go through what we have learnt and why we need that skill. When the children leave we prepare for the older ones arriving. We are currently working on a short film which they will write themselves all about Cyber bullying - an issue they have expressed interest in. We hope to put on a production of 'My Fair Lady' at Christmas so hopefully we will start preparing for this later in the year. There's drama, acting and dancing and singing to cover so these classes always fly in as there's so much to cover.
Once the children have been cast and are rehearsing then we need to think about props and getting help from volunteers with the actual production. I am also hoping that once we are established we can enter into competitions like the Belfast Festival which is great fun. We really love this group and it is a privilege to be able to work with so many promising children, it is a safe and fun environment for children to develop in confidence and I am delighted to be involved and would encourage any adults with children interested in joining a drama group, to come along.
Ulster Star
17/02/2012