Orla Hamilton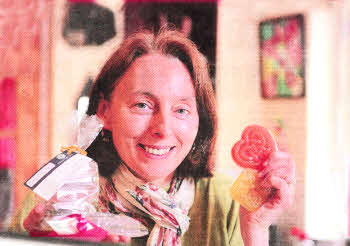 Orla Hamilton
ORLA Hamilton launched Organic Celtic Soaps at her home in Moira village just a year ago. At first she began making the soaps for home use and for presents for friends and family but they proved so popular that she decided to turn her hobby into a business. She combined her love of organic soap with her interest in Celtic design and launched Organic Celtic Soaps.
Orla, who gave her teaching job to look after her daughters Grace and Genevieve is married to Malcolm. She still teaches Irish set dancing as well as running her own business.
In the mornings I get up and get the girls to school and try to fit in a run before heading off to teach my dancing classes. On the days I am not doing this I will go through my emails and check the stock and make the necessary orders for essential oils, and packaging for example.
I create a variety of soaps so I will decide what batch I will make that particular day. The soaps are highly moisturising and made with luxurious glycerine and fragranced with essential oils. Currently I am making five types of soap in a variety of Celtic designs. I like to produce natural, earthy 40, colours in my soaps so I use a combination of coloured clays, botanicals or ultramarines to do this. I have also created three soaps inspired by the folklore of fairies, mermaids and dolphins in Ireland. Each soap comes packaged with a little piece of folklore included.
I became interested in creating my soaps when my regular hand soap began drying out my skin and I was constantly reaching for the hand moisturiser after every wash.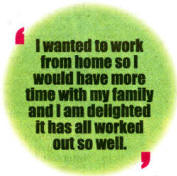 I was keen to use materials which were sensibly sourced and kind to the environment. With a high moisturising organic soap base I was able to create a variety of soaps using high quality ingredients. Once all the equipment is set up and ingredients in place I get to work in my kitchen. Every ingredient is weighed out carefully and the weight is recorded. I have a huge double boiler which helps to gently heat up the organic base and other ingredients. This is the time consuming part of the process. Once it is all melted and mixed in I pour in to the moulds, which takes a day or two to harden. Once the moulds are set I pop them out, weigh them and package them and label them so they are ready for sale. Cleaning up after is a big task.
As well as making the soaps I have to market them and I attend a lot of craft fairs and charity mornings where they are sold. I also have to manage the website where people can purchase them too. Word of mouth is definitely spreading and this is great. After I collect the children from school I spend my time with them doing home works and violin practice and make the dinner and then once the girls are in bed I might print out some labels for the soaps or be going through orders. I sell all my soaps at St. George's Market every Sunday so I will be sorting out stock for this too. I wanted to work from home so I would have more time with my family and I am delighted it has all worked out so well. Without the support and encouragement of the Rural Development Programme and in particular Lagan Rural Partnership none of this would have been possible. The funding I received from them helped me to invest in some much needed equipment, without which I could not have moved my business forward. I ani just so happy the products have been a hit and it's lovely to see the business flourish.
For more information please check out https://www.organiccelticsoaps.co.uk/
Ulster Star
13/07/2012