Paul Fox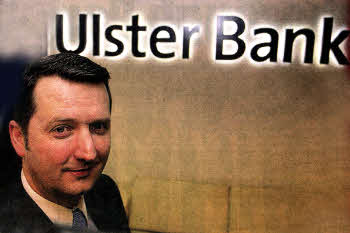 Paul Fox
PAUL Fox, 40, is a Business Manager with Ulster bank based in Bow Street Lisburn. He currently lives in Dunmurry with his wife Jennifer and their three children, Jessica, Hugo and Lucy. After completing his A-levels, Paul pursued various courses of study and worked in retail and hospitality before joining Ulster Bank in 1995. He has worked across a number of divisions within the bank over the past 18 years.
As a Business Manager at Ulster Bank working with a range of customers, no two days are ever the same.
I'm in the office from 9am each morning and get up to speed on a range of business and economic issues which may impact our customers.
At Ulster Bank we pride ourselves on our service, professionalism and helpfulness and when you bank with us you get support from experienced staff who understand your business and banking needs. Our relationship with our parent company, RBS, gives us significant global reach and allows us to access innovative and sophisticated solutions for our customers.
While at the branch I work with my colleagues to ensure our customer enquiries are dealt with quickly and efficiently and we follow up on the progress of businesses switching into Ulster Bank to ensure there is a seamless transfer.
In my role I provide insights and financial solutions appropriate for the customer's industry. I work with other specialists in Ulster Bank and the wider RBS Group, such as asset finance and invoice discounting to ensure our customers have the right level of support for their business.

In our customer-focussed bank, I spend a lot of time meeting customers and visiting them at their business premises. This helps me get a greater understanding of their business and banking needs which ensures we provide the right services to meet their requirements.
Even within the key business sectors, the needs of individual companies can be vastly different. For example companies who trade globally will have different need to those who serve the local market only. That's why we take a tailored approach to business banking with solutions from a wide range of products, to create an integrated and bespoke banking package.
Building local relationships is important in my role, so in the afternoon or early evening I often attend local business and networking events. It' important that we stay in touch with the local business community and ensure they know all the support that we offer for business. I have a lot of job satisfaction in my role. Knowing that you have helped a business to get started, helped them enter new markets or supported them in employing new staff is very rewarding and it's great to see many local businesses who have continued to grow with Ulster Bank's support.
Outside of work I enjoy spending time with my family and when time permits, pursuing my hobbies which include flying, music and photography.
I am also a Director of Stepping Stones - a local charity supporting individuals with learning difficulties and learning disabilities to realise their work potential via local social enterprise, access to accredited training and ultimately employment. It's a great organisation which is making a real difference locally.
Ulster Star
11/05/2012