Sarah Hirsk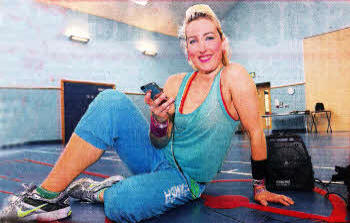 Sarah Hirsk
SARAH Hirsk, who lives near Dromore, was the very first Zumba Instructor in Ireland and set up ZumbaNI to promote the fun and addictive classes. She has now been teaching Zumba for almost 6 years and loves it.
The busy mum of two young daughters and wife of Steven is also a personal trainer and massage therapist.
Never fond of the gym when she was at school, it was only in 2004 when Sarah discovered the benefits of exercise as she found it helped improve her mood. She started working at a gym and soon realised that she wanted to pursue a career in fitness. She became self-employed and continued to put herself through various fitness courses. It was soon after this that she discovered zumba and loved the idea of it so much that she decided to attend the first European Zumba training course which was in London. In 2007 after completing her training she introduced it to Ireland and says it has changed her life. She currently takes multiple classes in Hillsborough, Dromore, Banbridge and Lurgan and occasionally Lisburn.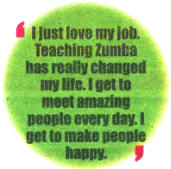 My husband and I are both self employed and work from home. Once the children are dressed and have had breakfast, I usually either go and work on some choreography and arrange music for my Zumba classes or head out to see my personal training clients. Zumba is based on the principle that a workout should be fun and easy to do. It's not only great for the body but also great for the mind. It is a feel happy workout. The routines offer aerobic interval training with a combination of fast and slow rhythms that tone and sculpt. It maximises calorie burn, fat burning and total body toning. You can burn up to 900 calories per class but most of all it is so much fun. It is easy to follow and fun to do and you don't need any experience either. I like to update the routines regularly to keep the class fresh but not too complex. Zumba should be easy to follow. When I first started doing it I just loved it and knew others would too.
In the mornings I also go and meet my personal training clients at their homes. I have training sessions dotted in throughout the day and my clients range from teenagers to elderly people both male and female. Some people just want to get fit and others want to lose weight for a special occasion or after having a baby. I will work with them to ensure they meet their goals and support them through the process. Before the first session, I do a consultation so that I can design an appropriate program. I also do comprehensive body-composition and body measurements before we begin and we re-do these every 6-10 weeks at which time we also change the program to keep it fresh. It keeps clients motivated when they can see the results regularly. The benefits from one to one sessions are massive, the sessions are safe and extremely effective, and because my clinents have someone to answer to - they have to keep to the rules. It may seem strict - but it gets results.
I have 6-8 zumba classes a week. There's always such a great atmosphere. I have people of all ages in my classes, from 16 to 70 and everyone seems to love it. Every shape, size and age come along to my classes. I would always say that if you tried a Zumba class and didn't like it - try another one. Don't rule it out as I'm sure there's a Zumba class for everyone.
I just love my job. Teaching Zumba has really changed my life. I get to meet amazing people every day. I get to make people happy. I get to see a room full of smiles because of Zumba. People who once hated exercising now love it and so many of the people coming to my classes have lost weight and improved their confidence and this is amazing, To know I am helping people make small changes in their lives is great. It is all very rewarding.
For more information check out: www.ZumbaNl.com or email: ZumbaNorthernlreland@hotmail.co.uk
Ulster Star
10/08/2012