Sean Conlon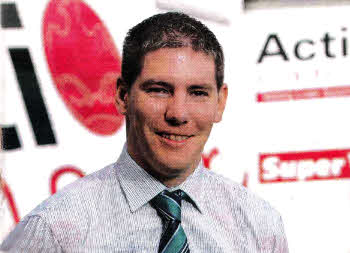 Sean Conlon
SEAN Conlon is Big Bus Co-ordinator at local charity Action Cancer, managing the day to day operations of the life-saving mobile unit, which was launched in 2006. Sean studied Law, Business and Sports Studies at university, has an NVQ in Business Studies and has worked at Action Cancer since 2005.
I am mainly based at Action Cancer House, our head office in South Belfast, starting work at 8am and finishing usually around 4pm.
My main duties each day include working with companies, community groups and health trusts to organise bookings for the Big Bus, which offers screening and cancer prevention services in communities across Northern Ireland. It is a really unique service, which was the first of its kind in Europe when it was launched. One of the best things about my job is feeling like the work I do is helping people. Services provided on the Big Bus include digital breast screening for women aged between 40 and 49 and over 70, health promotion and MOT health checks for men and women. We also provide information on support services, such as counselling. 30,000 people have now used the Big Bus service, including 18,000 women who have been screened for breast cancer.
My other duties involve managing staff, their rotas, budgets, arranging maintenance for the bus and funding applications. I also. do some public relations and media work to promote the Big Bus, working with other Action Cancer staff and the main sponsor of the Big Bus SuperValu, who provide the majority of the funding for the service and also PR support. So, no two days are ever the same, which is great.
Each day brings different challenges that need to be dealt with to keep the Big Bus and its services on the road. I need to be flexible, able to multi task, problem solve and have a good knowledge of the services. As my team are mostly out on location we need to have make sure we plan everything down to the finest detail and have good communication channels, so that everyone knows where, what, and when things need done. It's a great team though and we all work really well together. Team meetings are usually monthly and we use them to review how the service has gone and look at new ideas for the future.
One of the other great things about the job that makes each day interesting is that services are p constantly being developed. A recent development was the introduction of a full body composition analysis. This provides clients with, information on their weight, body mass index and more, and also offers health awareness and weight loss guidance. We introduced this service in an effort to help combat the rising incidence of obesity, which contributes to cancer risk for many people.
Once a quarter we meet with SuperValu representatives to discuss fundraising plans, visits to stores, and marketing plans for the unit. SuperValu stores have already raised more than £lmillion for the Big Bus and they host visits in local communities. On top of that their marketing team's advice on how to best promote the service is invaluable.
Outside of work I spend a lot of my spare time playing football, training and fundraising for Action Cancer. I ran the Belfast and New York marathons, and trekked through Tanzania as part of the Action Cancer tribal trek to raise funds for the charity in 2011. This year I ran the Belfast marathon and jumped from a plane for a sponsored tandem skydive. Recently, I have been training and fundraising for my next event - climbing Mount Kilimanjaro — and I've raised over £13,000 so far.
One of the best things about my job is feeling like the work I do is helping people.
Ulster Star
14/09/2012