Shona Ritchie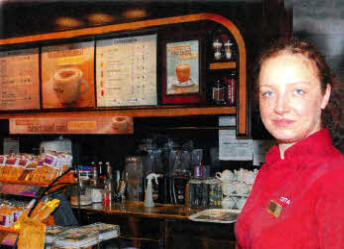 Shona Ritchie
SHONA Ritchie, 24, is the Manager of the Costa Coffee store in Lisburn. She has worked for the company since 2009 when she worked part time and was studying University. After graduating in 2010 she joined the firm as a full time member of staff. It didn't take Shona long to progress and become a full time worker moving into management level. She has been working in Lisburn for a year now.
Most days I start work at 8am and the first thing I do when I arrive at the store is switch all the machines on, set up the display of sandwiches and make sure the store is well presented and clean and tidy. I will have a briefing with the staff and make sure everyone knows their duties and I will discuss any staff issues before we open. I will then deal with any deliveries that come in and sort out the stock and see if anything needs to be re-ordered.
I spend my day managing the staff and making sure the running of the store goes smoothly. I also am hands on and will be found making drinks and serving the customers.
I check there's a new supply of newspapers for the customers and that all the stock is fresh. When you walk into a Costa you'll notice it's a little different to other coffee shops. Firstly, there's the warm and welcoming atmosphere. Then there's the carefully chosen food and authentic coffee drinks. Next the Ferrari of coffee machines. We pride ourselves on having the most passionate and well trained baristas around. It is up to me to make sure all the staff get the necessary training so the customer will be treated well.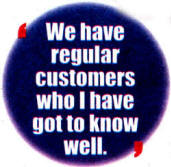 We have regular customers who I have got to know well and they -°enjoy a chat. Going that extra mile to make sure our clientele are happy and receive a friendly service is important to me and I encourage my team to be like this.
Costa is one of the fastest growing coffee shop chains in the UK. So while a lot may have changed since that first cup was savoured in 1971, our coffee certainly hasn't. We still slow-roast our beans in exactly the same way, and even in the same roasters as they did 40 years ago. And as long as coffee lovers like it that way, we'll continue to do so.
When I'm not on the shop floor I am sorting out staff rotas, doing a stock take and reporting to the area manager every now and again.
There's regular company meetings that I have to attend as well. These could comprise product launches where the staff have to familiarise themselves with the products.
As a team we like to have fun in work. For example we dressed up for Halloween last year, and our customers loved the festivity of the store. Also we like to give back to the community - we had a 70's party in order to raise money for Growing Dreams Foundation, a charity with whom I travelled to Romania with in July to work with young people in Arad.
Towards the end of the day I start to clean up with the team and the floors and grills will be thoroughly cleaned and then once the store is tidy we will lock up and head home.
I really enjoy managing the Costa store in Lisburn. There's some really lovely customers who enjoy a chat and it's nice establishing that rapport. It's a really good company to work for and I am enjoying what I do which is important to me.
Ulster Star
05/10/2012