Tim Andrew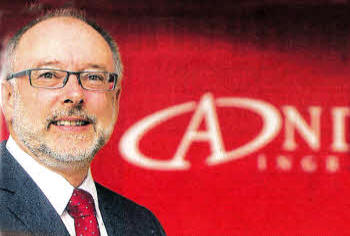 Tim Andrew
TIM Andrew is the Managing Director of Lisburn firm Andrew Ingredients which was originally founded in 1945 by Bill Andrew, father of Tim.
Tim joined the company in 1967 carrying on the tradition of giving exceptional service and helping to grow the business. Until 1975 the company was based at 77-79 Corporation Street, close to the docks in Belfast. Having outgrown these premises, a move was made to the centre of Hillsborough. A further move in 1986 was made to a purpose built office and warehouse along with a name change to Andrew of Hillsborough Ltd. After 36 years in Hillsborough, in May 2011 the firm moved premises to Lisburn, where it doubled the size of its facilities Tim is married to Mairead and he has two daughters and two grandchildren.
I normally leave for the office at Sam. I am mostly office based but occasionally I will be out meeting customers or maybe even doing a delivery if necessary on my way home. It really just depends on what is going on.
My main focus is the general running of the business and making sure we continue to provide an extremely wide range of high quality food and bakery ingredients and ensure that is backed by our friendly and reliable service, so that everything we supply is the best of its kind. Our suppliers are selected from Europe's top food ingredient and machinery manufacturers.
I like to know what is going on in the market place and keep myself up to date with new products for example. Andrew Ingredients have invested considerably over the last sixty five years in order to meet the changing needs of our ever growing list of customers. We have also significantly expanded our range of products and services. As a result of our particular attention to the latest technology and innovative ideas in the industry, we are always one step ahead. Quality and customer service are the priorities at Andrew Ingredients. We have an amazing product list - probably the most comprehensive range of bakery ingredients in Ireland. Our suppliers are selected from Europe's top food ingredient and machinery manufacturers.
We were recently awarded an environmental accreditation for managing environmental impacts within our office and warehouse facility. We achieved the British Environmental Management Standard (BS8555) Phase 2 through the Business In the Community ARENA network community campaign and gained the certification for managing its environmental impacts within our office and warehouse facility, including waste and energy management. Some of the impressive systems installed, which includes a new energy efficient gas fired boiler, training and improved recycling facilities, has ambled us to determine and action a variety of measures to reduce our environmental impact and reduce associated costs across the business. We supply food ingredients to many sections of the industry including bakers, food processors, pie manufacturers and ice cream manufacturers. We deal with bakeries large and small and there is something for everyone. I have to say we are the best and most comprehensive firm supplying bakeries anywhere in Ireland. I could be having an informal meeting with some of the sale team being updated on sales and discussing clients or talking with the marketing team about new ideas. Our customers' satisfaction really does mean a lotto us.
I really enjoy my job and it has been very satisfying watching the continual growth of the business and the new premises have helped the firm modernise and keep up to date. The last thing I do each day is check the sales figures. I look at what has been delivered and the volume and weight of the goods delivered. Then I will head home and relax.
I really enjoy my job and it has been very satisfying watching the continual growth the business
Ulster Star
31/08/2012