Zoe Boomer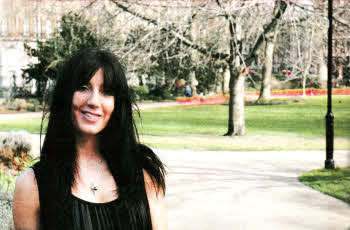 Zoe Boomer
ZOE Boomer, 28, is a fashion designer based in London but is originally from Lisburn. A former pupil of Friends' Prep School and Laurelhill Community College, she studied for two GNVQs in art and design and one in business at Lisburn College and she played Hockey at Lisnagarvey hockey club. While her family still live in Lisburn she is based in Putney with her husband of almost five years, Jay and still live their home with new dog, a Labradoodle called Phoenix Winston and cat, Vegas. With clients in the UK, Ireland, LA and Australia, demand for Zoe Boomer steadily increasing. Zoe is recognised for her love of feminine style and simplicity, which can transform from daytime chic to evening glamour. After graduating from the London College of Fashion, the Zoe Boomer label was launched in 2006 and has already gained a loyal celebrity following including Natasha Bedingfield, Zoe Salmon, Leigh Arnold and Laura Michelle Kelly. A number of her dresses were also short-listed by Madonna to appear in her movie Filth and Wisdom. She has even been described as 'the next Stella McCartney'.
I get up in the mornings and sort the puppy out and then go for a run. After breakfast, I'll go into my studio at the house. I will check my emails, look at my Facebook fan page and check my website. Each day is so different. I could be in the studio designing, preparing my collection for the the Zoe Boomer online store and ASOS marketplace online or out on location at a photo-shoot or fashion show and then of course there is all the preparation that goes on behind the scenes for these events. I work in luxury fabric and fluid movement is the essence of the label. I love creating beautifully tailored timeless pieces which reflect romance, beauty and elegance. My style is feminine with a difference. I like my clothes to have an edge to them. I admire Mary Kate and Ashley Olsen's style as they always mix and match and are not looking perfect. I especially like the oversize look as I m not a fan of things looking too fitted and matching.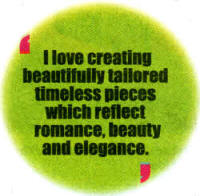 I go to Paris twice a year to pick fabric. I design around this fabric and this is what excites me most. For inspiration I go out to different places - to be motivated I have to feel relaxed and forget about the business side of things and just be creative. It can be difficult at times to switch roles.
I do love the glamorous side of the fashion industry. I really enjoy working on photo shoots especially in wonderful and stunning locations around the UK. The clothes just seem to come alive on the models and it's always a thrill to see what started as an idea in your head in the flesh. I also love the excitement of a live catwalk show— they can be very stressful at the beginning but once the models start working the catwalk wearing your latest collection—it's one of the best feelings
ever. Using the best silks and chiffon classics I tailor materials to create timeless pieces - reflecting romance, beauty and elegance.
I stand against Human Trafficking and so all garments are made in the UK. The label supports the cause of The A21 Campaign, an organisation engaged in the abolishment of human injustice in the 21st century. Selected lines are for sale to raise funds for victims of human trafficking. In 2011 I was invited to headline Fashioned for FREEDOM, an event promoting change within the fashion industry regarding slavery. Here I showcased my A/W'11 collection and FREEDOM vests, which Grazia UK deemed a "huge hit".
Outside of work I like to relax with a DVD on the sofa, take a stroll along the King's Road, have lunch or visit Petersham tearooms for coffee.
I am thrilled with the way it has all turned out and I am so thankful to all my family and friends who have shown me so much support.
Ulster Star
06/04/2012