LOSING YOUR MARBLES
by THE DIGGER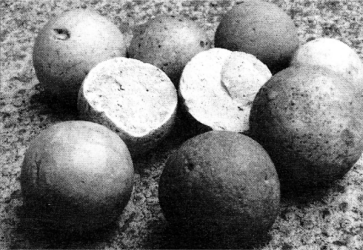 Marbles kept the young and old amused in days gone by.
A WHILE ago, as I was pulling out the ivy from a hedge surrounding my garden, I came across an old marble which had been buried under years of garden mulch.
This wasn't your ordinary glass marble with the coloured twists embedded in the glass. This was an old clay marble perhaps a fallout from some shooting match many years ago. It reminded me of my own "keepsies" days.
One of my old friends, now in his late eighties, recalls playing marbles in his youth just over the bridge at Lambeg. There were three holes in the road into which jars were placed, the rims being level with the road surface. Many long summer nights were spent at shooting matches in the area.
It was not unusual for individuals to spend three or four hours amusing themselves with a set of marbles. A team from Ballyskeagh played against the rival team from Church Hill. Many of the team members and layers were described as working men" in those days.
Throughout many corners in Lisburn District it would not have been unusual to see groups of men engaging in a game of "marleys", all taking a "pink" at their opponent's marble to keep them away from the hole. In many a mill and factory lunch breaks were devoted to the game - as long as there was a hole in the ground.
It was an illegal move if you lifted the marble off the ground when you were taking a shot at your opponent's marble, that was, of course, only if you got caught doing it. The knuckles had to be resting on the ground when shooting - "Knuckle down". The marble was fired from between the thumb and first finger in a flicking movement.
I was told by another old friend of mine about chalk marbles. They were usually decorated with red and blue lines. You could have bought four or five of them for a penny in Miss Black's shop in Bow Street, Lisburn. He told me that, "a good clout from a stoney marley would have smashed a chalk one to pieces."
Playing marbles on our streets is no longer an option for the children of today. It is now rare to see a child engaged in a game of marbles. The game may not be popular amongst our young folk but there is a huge interest in marble collecting on a world-wide scale now.
You only have to look at some of the more popular on-line auction sites now to see some rarer specimens fetching in excess of £300 and £400 amongst the thousands of marble related items that are listed every day.
One German handmade marble initially listed in auction for £6 recently sold for just over £1,300.
I must clean out a few more hedges soon. You just never know.
If you would like to pass on any comments, questions or reminiscences to the Digger please e-mail diggerarticle@hotmail.com.
Visit the Diggers new web site www.glenavyhistory.com