Lives of former Lisburn citizens recalled
by THE DIGGER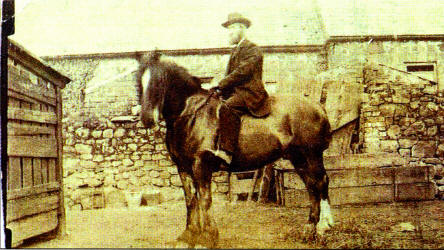 James Archer, of 1 Sloan Street, Lisburn.
SEVERAL months ago I was handed an old photograph by an old friend who resides in the Lisburn district.
He informed me that the gentleman in the picture was James Archer and that he had a grocer's shop at number 1 Sloan Street, Lisburn, just over the Union Bridge at the bottom of Bridge Street, Lisburn.
My friend, as a youth, delivered milk every day to James Archer's shop and remembers the beam scales for weighing goods inside the shop. Outside there was a horse and an old stable and hens in the yard. He seemed to recall that Mr Archer had a limb missing as a result of an injury which had been due to military service. Although my friend was unable to recall James's wife, he told me that James Archer was related to the James family.
I decided to do a bit of "digging" to see what I could turn up on James Archer. Sloan Street is situated on the County Down side of the town and is under the Largymore townland.
The old valuation records show that in the vicinity of this area of Sloan Street a William John Magee was renting a house office and yard from John Bradbury in the mid 1870s. At this time there was a Methodist meeting house close by which had changed to a shop around this time. Enter James Archer. He appears in Sloan Street at this time renting a house with a yard. This is taken over by an Eliza Dorman and a shop is listed there in about 1878.
James Archer then rents a house shop and yard off John Bradbury. By 1887 the premises are known as 1 Sloan Street. Number 3 is listed to James Silcock and 5 to Eliza Dorman. Later, around 1896 we find James Archer has over seven acres of land which runs adjacent to the River Lagan, further out the Hillsborough Old Road. By the mid 1920s this land is no longer in his possession.
The 1901 census for Sloan Street, Lisburn provides us with further details of the occupants of number 1. The building is described as a private dwelling and shop with five windows to the front.
James Archer is listed as the head of the household, a Presbyterian, grocer, married and born in County Down. His wife is Rebecca and they lived together with James's sister-in-law Sarah Lilley, his sisters Mary A Archer and Charlotte Archer.
The name Lilley gave me a clue as to who James's wife was and subsequently I was able to discover that James Archer a weaver from Listullycurran near Dromore married Rebecca Lillie from Toughblane at Hillsborough in April 1871. He was the son of David Archer a weaver and Rebecca was the daughter of Isaac Lillie a farmer. There is an extensive Lillie family in this area of Hillsborough in the early 1900's.
After some more searching I found that Rebecca Archer died on 15th March 1929. James was now retired at this time. He died 6 years later on 13th April 1935 aged 84 years. He had no children at the time of his death.
I also discovered that, at the time of his death he had two brothers, William and Thomas Archer both in Belfast. It appears that his brother William Archer was a grocer in the South Belfast area in 1899. James Archer mentions William's two daughters, Mrs Annie James (born 1890) and Maud Archer (born 1899) in his will. I confirmed with a descendant of the McGowan family that Charles McGowan from Largymore, Lisburn had married James Archer's sister Margaret in 1884. The surname McGowan is also spelt Magowan. His other sister, Mary Ann Archer married Hugh McCord in 1906. Mary lived at 19a Bachelor's Walk, Lisburn when she registered James's death in 1935.
The obituaries that appear in the Lisburn Herald and Lisburn Standard state that James Archer was a resident of the town for 55 years. He carried on a grocery and dairy business in Sloan Street, where he was held in high regard. He was engaged in the carrier business and worked for the Great Northern Railway and The Island Spinning Company amongst other concerns and we read that he was also a rent collector.
The Lisburn Standard mentions another sister - Mrs Bane a resident of Canada. James's funeral took place to Hillsborough graveyard on Monday 15th April 1935 at 3pm. The service was conducted by Rev R.W. Hamilton, M.A., D.D., Rev. T.H. Robinson, MA., B.D., and Rev. A. Fullerton. The chief mourners were his brother Thomas Archer and nephews - David Archer, William Archer, Harry Archer, Hugh McCord and John McGowan. The burial place of James and Rebecca Archer are marked with a substantial headstone and surround in the graveyard adjacent to the Parish Church of St. Malachy, Hillsborough.
James Archer was closely connected to Railway Street Presbyterian Church Lisburn and he was a Member of Session there in the early 1900s. In his will made in 1927 he left a sum of money to the treasurer of the church. One of the executor's of that will was the Reverend Robert W Hamilton, previously the minister of First Lisburn Presbyterian Church and Moderator of the General Assembly. He passed away almost six months to the day after the death of James Archer.
On Saturday August 10th 1935, The Lisburn Herald carried a legal notice on behalf of the Lisburn solicitor Joseph Lockhart and Son requesting creditors of the late James Archer to furnish particulars on or before the 14th September 1935.
In the winding-up of James Archer's estate three sets of beam scales are listed in the shop itinerary, together with eleven head of fowl. My old friend wasn't so far off the mark at all.
Anyone with further information on James Archer, or anyone with any old photographs or material relating to the Lisburn district that you've always wondered about contact the Digger at diggerarticle@hotmail.com.
Thanks to Deputy Keeper of the Records, Public Record Office of Northern Ireland for the granting of permission to use extracts from Valuation Records (VAL12B/20/6A-E refers ), 1901 census (MIC354 /1/135 refers) and the will of James Archer (probated 1935).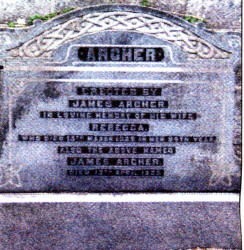 The headstone at St. Malachy's Parish Church, Hillsborough marking the burial place of James Archer.
Visit the Diggers new web site www.glenavyhistory.com