Tales of love and war at Glenavy station
by THE DIGGER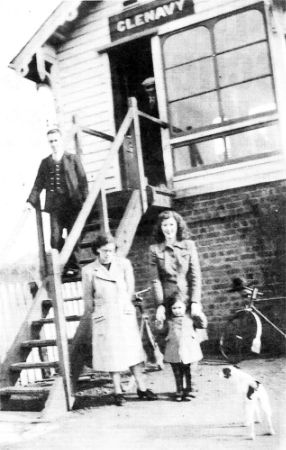 Pat outside the cabin with The Kenny family during the war years.
IN 1939 the Great Northern Railway was advertising an afternoon excursion to Portrush for the Grand Pageant on Wednesday July 5. The train was due to leave Lisburn at 2.15pm and Glenavy at 2.45pm and return later that evening from Portrush at 10pm for a third class return fare of 2 shillings and 6d, with children under fourteen being charged half fare.
The railways were an integral part of life here and we are told in April 1939 they meant the distribution of a £750,000 pay-roll annually spread over 5,194 employees.
Just months later, in the latter quarter of 1939, the trains on the Antrim Line would be operating in a different world with the start of the Second World War. People were going to have to adapt to the new restrictions and threats of enemy actions and the inhabitants of Glenavy and the surrounding area were no exception.
On Wednesday September 11 1940, the locals went to Glenavy parish hall to pick up their gas masks. Amongst them was a new family to the area. Thomas Armstrong, his wife Susan and their two daughters Myrtle and Patricia, had arrived in 1940 and had taken up residence in the Stationmaster's house at Glenavy Station. They had just arrived from Castle Caldwell in Fermanagh and were adapting well to their new environment where they were to stay for the duration of the war.
Thomas Armstrong, who was born at Kilskeery, County Tyrone, had given a false age many years earlier in order to sign up for military service in the First World War. Susan McCormick, born in 1898 at Mohill, County Leitrim, was the eldest daughter of Robert McCormick, a land steward on Lord Leitrim's estate. Susan's mother moved the family to Omagh after the death of Robert, and set up a boarding house at Campsie Road.
Thomas Armstrong, on leaving the military, was employed by the railway as a porter and he stayed in the boarding house at Campsie Road. This was to be the start of a relationship between Thomas and Susan leading their marriage in November 1921, and later in life a congratulatory telegram from the Queen arrived on their 60th wedding anniversary. Susan's mother disapproved of the marriage as railway-men were paid a "pittance" and their would be no financial stability for her daughter in such a union.
Susan, however, was determined to prove her mother wrong. She took a course in dressmaking and designing, put her acquired skills to good use and supplemented the household income. On her arrival in Glenavy she constructed a chicken house on her own.
Patricia recalls some of the memories she has of her time at Glenavy.
Her father had stayed in a house at Main Street in the village until the accommodation in the stationmaster's house was ready. Initially when the rest of the family arrived they lodged at the home of the local parish curate.
Moved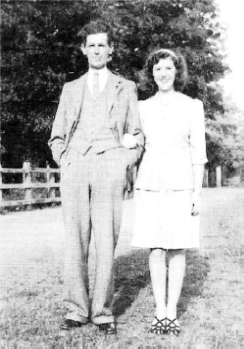 Pat Thompson (nee Armstrong) with her father, Thomas Armstrong at the entrance to Glenavy station.
When they moved into the stationmaster's house they soon had a goat, cow and hens with a field cultivated as a garden where vegetables were plentiful. Susan Armstrong was industrious and made country butter, selling it together with eggs to the men on the trains. This wartime rationing was now a way of life. Patricia can remember her mother using parsnips marinated in banana essence to emulate bananas. Dried eggs were also very much on the menu.
The family handed out bunches of flowers which they had grown to the passers-by. In return for their kindness lumps of coal were thrown off from the steam engines as they passed through the station.
One memory that stayed with Pat was the time she got a ride on the steam train. She recalls the fire man on the train shovelling the coal into the roaring firebox. This terrified her and as a child it "looked like hell".
Railwaymen's children were in an enviable position. Audrey Kenny, whose father, Andrew worked as a signalman with Thomas Armstrong at Glenavy, recalls her brother travelling regularly on the footplates of the trains to Antrim and back. Audrey also recalls her brother's mischievous antics. He had a passion for collecting railway lamps and bringing them home. I was told there was a large accumulation of these in the Kenny household and they had to he discreetly returned before they were found to be missing .
Patricia Armstrong travelled regularly by train to Lisburn where she attended Brownlee Primary School and later to Belfast to attend Victoria College. She also enjoyed assisting her father and helped issue tickets to the passengers.
Glenavy, like so many places, was to become a base for soldiers. They were very much part of village life in Glenavy, parading each Sunday to their chosen place of worship. The Antrim Line was a well used route by the troop trains. The army officers had taken over the ladies waiting room at the station and there were two soldiers billeted with the Armstrong family. One, Tim Robinson, was to remain a friend of the family until he passed away some years ago.
Patricia recalls' him taking her homework with him up to the Methodist Hall where there the other soldiers were based. It was returned completed to the delight of Pat who hastily copied it. The Belgium soldiers were also based in the village. Engaging them in conversation supplemented Patricia's French lessons which were given to her by Miss Adgey. Tim Robinson was not the only soldier to become friendly with the Armstrong family. Pat's older sister Myrtle was to meet an American soldier at her place of work at Langford Lodge. She married him at the age of 21 and she eventually left for America, where she still lives.
Myrtle Armstrong's love story was not the only one to emerge from the railway in Glenavy.
Cyril Farr took up his first job when he left school at 16 with the railway, his first station being Glenavy.
One of the first tasks he recalls was going up to the cabin on a Saturday afternoon and lighting the fire. He loaded and unloaded trains there and handed out tickets, remaining there to the line closed. It was at Glenavy station that Cyril was to meet his future wife Agnes Harbinson, the daughter of William Harbinson who worked on the railway for 46 years.
Married
Cyril and Agnes were married in 1969 and today they reside in the Lisburn area.
Thomas Armstrong left Glenavy in 1945 and he and his family transferred to Dromore, County Tyrone, where he remained until he took up early retirement. Early retirement deprived him of the 10 shillings a week pension.
Thomas Armstrong passed away on May 17 1984 followed by his wife Susan on November 3 1989. They are both laid to rest at Anahilt Presbyterian Churchyard. No matter who you talk to - ganger, signalman, ticket collector or customer, the mention of the steam trains evokes passionate memories of an era we have now left behind as we venture down life's tracks in more modern forms of transportation.
It was impossible to include all those stories and memories but I would like to thank everyone who has shared them with us.
Some day, who knows? Perhaps the Antrim line may open up once again. If it ever does, be sure to hold onto the ticket. When the Antrim line reopened in January 1974 railway enthusiasts who travelled that day on the passenger train were issued with special gilt edged "free" commemoration tickets. At that time, we are told, they were fetching 50p from railway lovers. I noticed that one of these tickets was up for offer on a well-known auction site for £350. The Digger can be contacted at diggerarticle@hounail.com.
Visit the Diggers new web site www.glenavyhistory.com