FULL STEAM AHEAD AT LISBURN,
Looking back at the early days of rail travel in Lisburn
BY THE DIGGER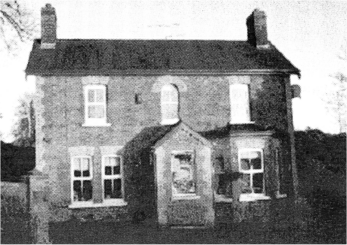 The Station Master's House situated off North Circular Road, Lisburn as it is today.
IT is a blatant clue to any outsider visiting an unfamiliar town or city that a thoroughfare bearing the name `Railway Street' will signify that there must be a railway contained within. Lisburn is no exception.
In 'Lisburn Miscellany' penned by Fred Kee and published in 1976 he mentions that Jackson's Lane is changed on the 1844 map to Railway Street. This was during the period the Ulster Railway was opening. The line to Portadown opened in 1842.
The expansion of the railway system opened up all sorts of possibilities and provided employment to many people in the Lisburn district.
There were new opportunities for travellers and businessmen but with the emergence of the railway there were now clearly new dangers within the neighbourhood.
The Belfast Newsletter reported a tragedy that occurred on the morning of Tuesday May 16, 1848. A little girl was killed by a train at Trummery, near Moira, whilst crossing the line. At the inquest held before the coroner, Mr Jackson, the jury returned a verdict of manslaughter against the engine driver who was committed to stand trial.
In the early 1840's trains left Belfast for Lisburn during summer at 7am and on each alternate hour to 7pm. In winter trains left Belfast every alternate hour from 8am to 6 pm.
In 1852 the daily trains between Belfast and Lisburn were supplemented with an extra train specially laid on for Market days, leaving Belfast at 8.45am and returning at 12 noon.
To keep track of the ever increasing number of trains running to and from Lisburn. The Lisburn Standard Office at Castle Street, in 1899 sold Baird's Railway guides. This monthly publication had been established in 1852 and included timetables and fares of the Irish Railway companies, advertisements of the railings of Cross Channel steamers and timetables of the Belfast and Ulster tramways.
By the early 1900s, 34 trains were leaving Lisburn and travelling to Belfast each week-day, with nine on Sunday. The train was proving to be a popular form of transport.
At this time railwaymen and their families were to be found scattered throughout the district, normally residing close to their place of employment. They could find themselves sent to any part of the country in those days. Platelayers, porters, signalmen, inspectors, labourers, watchmen, agents, clerks, ticket collectors, points men, gangers and shunters were all living and working in the district. If you walked down Bachelor's Walk in 1901 on your way to the station you would have passed the homes of three railwaymen. Arthur Donaghy, a railway porter, had four boarders lodging with him - John Agnew a clerk, Charles Haddock a clerk from Dublin, Thomas Hanna a ticket collector from Dublin and Peter McQuaid a ticket collector from Monaghan. Just down the street James Kincaid, a railway employee from County Donegal, was staying with another railway employee William Gribben.
Head Porter Thomas Breasley from Dublin also lived in Bachelors Walk with his wife, young son and boarder Peter Rafferty from County Tyrone, also a porter.
It was not unusual to have more than one member of the family working for the railway. Scottish born signalman James Barbour resided at Longstone. His son John was a platelayer. Nine other railwaymen and their families- Taggart, Bingham, Keery, Hodgens, Dawson, Kidd, Allenby, Heasley and Connolly also resided at Longstone. Six of these railwaymen were supporting a family which consisted of 4 or more children.
Other railway employees were to be found in Knockmore - Swain, McGurnaghan, Thompson, Patterson, Bready, Mathers, Reid and McGann.
Lurganure was home to the Nelson, Hodgins, Megarry, Johnston, Davis, Hodgen, Price and Mulholland railway employees.
Railway men were also to be found at Magheragall, Moyrusk, Magheramesk, Trummery, Derriaghy, Kilmakee and Lambeg.
It is interesting to note that adverts in the Lisburn press at that time sometimes included free railway travel or tickets with local house sales or rentals in close vicinity of the station.
Take a look at the Lisburn Herald, November 10 1906 - 'for rent "Nirvana", Antrim Road, Lisburn includes three reception rooms, five bedrooms, bathroom..... And free Railway ticket' The Lisburn Standard of July 9 1920 advertised a four bedroom house for sale at Magheraleave Road which was described as 'one of the most desirable residential districts of Lisburn'. The seller offered "seven years free railway ticket between Belfast and Lisburn."
Who knows, maybe history will repeat itself soon, and an old idea revamped for the sake of the environment.
The Digger can be contacted at diggerarticle@hotmail.com. Thanks to the Director of the National Archives of Ireland and the Deputy Keeper of the Records, Public Record Office of Northern Ireland for permission to use extracts from 1901 census. (PRONI MIC 354/1/135 refers).
Visit the Diggers new web site www.glenavyhistory.com
09/03/2007