A bitter winter and a horrifying discovery
by THE DIGGER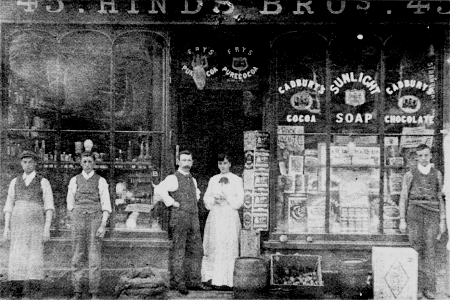 A photograph taken in the early 1900's outside Hind's Brothers, 45 Bow Street, Lisburn. Samuel James Downey is believed to be on the first left.
JOHN Downey was working as a surface man to provide for his wife Jane and two children - Samuel born in 1880 and Sarah Jane born three years earlier.
In those days "the boy next door" was likely to end up marrying the daughter in the adjacent farm and he most certainly would have been helping out with tasks on the neighbouring farms when assistance was required. That was a necessity of life in those days. Those too young to help on the farm were at local schools.
Broomhedge School was within walking distance of Ballynalargy. John Downey's two children went there. Sarah Jane's attendance record in 1887 was relatively poor in comparison with class mates of a similar age.
They included Anne Elizabeth Chapman from Moyrusk, Letitia Jones from Lurganure, Sarah Briggs from Broomhedge, Jane and Mary Benson from Peartreehill, Deborah Kidd from Magheramesk, Mary Hayes from Gortnacor, Mary Green from Broomhedge and Margaret Watson from Magheramesk.
Sarah Jane does not appear in the school register after February 1892. She would be required to assist at home.
Her brother Samuel left school at a similar age in 1894 to seek employment. He had attended Broomhedge with classmates who included Thomas Tate from Broughmore, James Brown, William Bennett John Parker, James Law, Thomas Parker and William Green all from Broomhedge. Their fathers were mainly employed as weavers, labourers and farmers in the vicinity.
John Downey passed away in 1920. He had been predeceased by his wife Jane in 1918. The cottage at Ballynalargy was now solely occupied by Sarah Jane.
Samuel had married Anna Mary Malcolm in November 1910. She was a daughter of James Malcolm, a land stewart from the Trummery area. Samuel had moved to the Knockmore area.
Contrast
John Lappin was selling his "stone finished villa residence" known as Coronation Cottage at Moira Road in February 1918. This was to become the new home of Samuel Downey. The house with parlour, two large double bedrooms, kitchen, scullery, 2 acres of land and a pump with a "plentiful supply of good spring water" was in stark contrast to the small cottage at Ballynalargy where Samuel had spent his childhood days. Coronation Cottage would be the home to Samuel and Anna Mary and their five sons. Samuel worked as a grocer's assistant in the Lisburn and Belfast areas.
It was not unusual to see him transporting seed from Belfast to R&D Thompson's in Lisburn on the train after a day's work in Belfast. A photograph in possession of the family shows Samuel outside the premises of one of his employers - Hinds Brothers at 45 Bow Street.
This firm was located there from 1896 to 1913. The Thompson and Hinds families were related and have links to the Broomhedge and Magheragall areas, so it was not unusual for a local lad like Samuel to be employed by them. Later documentation indicates Samuel was working as a grocer's assistant for Isaac Collins, Lisburn. The Collins family were also from the Broomhedge area.
Meanwhile Sarah Jane Downey was employed as a house keeper in the area. She was alone in the cottage at Ballynalargy after the death of her parents and she was described as a "very quiet Christian woman".
There were relatively few visitors. Samuel called from time to time. Sometimes the Robinson children from next door ran into her cottage when they saw the door open.
Sufficient
Their mother would also visit Sarah Jane occasionally and she had an arrangement with the Robinsons that if there was a problem she would summon help by blowing a whistle she kept in the cottage. She was well known for her thriftiness and the simple ways of country life were sufficient for her life style.
Her closest neighbours were the Robinson family whose residence commanded excellent views of the railway line, the main Moira Road and the surrounding countryside. Access to the Robinson's and Sarah Jane's cottage could be gained by a lane from Moira Road. The unique feature to this lane was the railway track which even to this day you have to cross.
In those days the style to the right of the iron gates on approach to the farmstead assisted in crossing the track. Sarah Jane's house keeping duties took her to the Ritchie household at Moyrusk. She made the journey regularly over the fields to the rear of her cottage, crossing another style and onto the road. Sarah Jane and the local inhabitants knew these fields as "The Bottoms". They were as well known as "Dickie's Lane", a road situated just a few fields over.
World War II was just around the corner. Changes were taking place in the neighbourhood. St Matthew's Parish Church at Broomhedge had the installation of electric light in September 1935. It was reported that in February 1936 an order had been placed with a Lisburn watchmaker and jeweller for the erection of a striking clock in the tower of the same church. Magheragall Parish Church celebrated the 80th anniversary of its consecration with a series of special services on July 1 1936.
The weather was causing havoc during the winter of 1938/1939. A record crowd was expected to gather at nearby Brookmount for ice skating on New Year's Day 1939. The snow that fell in early January 1939 was a pleasurable experience for the local children who found it ideal for sleigh runs, but it was a hazard for road users.
Samuel Downey was to visit his sister at her cottage on Sunday January 8 1939 but the thaw that weekend led to flooding, making some roads impassable. The following weekend saw arctic conditions again with frost, fog, sunshine, heavy rain and gale force winds.
Gloom
The local newspapers added to the gloom. Their readers were being informed of Air Raid Precaution arrangements in Ulster. There were articles relating to the preparation for storage of extra food and water and getting homes ready for an emergency.
Sarah Jane's neighbour Mrs Robinson had taken to bed with influenza. The Robinson household had been earlier playing host to those men who had been assisting on the farm with work. Anyone with a valve radio could settle down for the night with the Northern Ireland service on 307.1 metres to listen to the local darts results commentated by Raymond Glendinning before the service ended at midnight after the weather and news at 11.50pm.
The two big collie dogs at the Robinson homestead could be heard barking for some unknown reason after the household had settled down for the evening. The explanation for this may well be linked to the horrific discovery that would be made in the forthcoming days at the home of Sarah Jane Downey.
To be continued.
Thanks to Deputy Keeper of the Records, Public Record Office of Northern Ireland for the granting of permission to use extracts from Broomhedge School register - (SCH 805/1/1&2). The Digger can be contacted at diggerarticle@hotmail.com.
Visit the Diggers new web site
www.glenavyhistory.com
16/06/2007