Recalling Stories Of The Great Lisburn Inventor
by THE DIGGER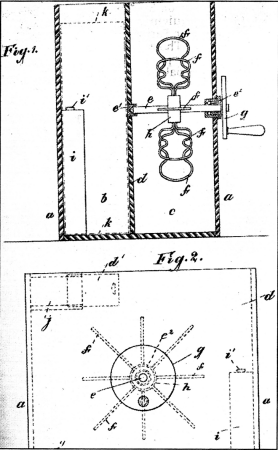 George McNally's improvements in the box churn in 1895. Details kindly provided by www.espacenet.com
WHEN you take a walk into the heart of Lisburn today and listen to the noises - the traffic, mobile ring tones, it is difficult to imagine the same sounds 100 years ago.
You may well have heard the cattle in the market, the sound of horses hooves or the many local blacksmiths at work. This was also an era when the tolling of local church bells was a welcome sound to all in the area.
The ringing summoned the flock to worship, tolled for a death or served as a reminder of the time to those who passed by. Agriculture was the chief industry, and lives and businesses were shaped around them.
Local coach builder and inventor George McNally lived in Lisburn during this period.
His livelihood depended on the business of both the urban and rural community. Born around 1846 he was the son of John McNally, a local mechanic.
George was a Presbyterian and was married in Dunmurry Presbyterian Church on December 23 1891 to Agnes Gilmore, of Carrickmeadow, the daughter of a farmer - William John Gilmore. I have only been able to trace one child called Dinah who was born on March 26 1897 whose parents lived at Young Street, Lisburn.
In the Lisburn Standard dated May 9 1885 an advert appeared advertising the sale of four cars and two gigs to carry four passengers. "Apply at George McNallys, Coach Builder, Chapel Hill, Lisburn."
Another advert relating to George McNally was in the Lisburn Herald in February 20, 1897. "Robert Bell begs to intimate that he has opened a depot for sale of Dunville and Cos. Grains and Slummage in the yard, 17 Chapel Hill, Lisburn, lately in the occupation of George McNally." In a report of the 1920s riots in Lisburn it was stated that Robert Bell's private residence at Chapel Hill was burnt out.
The address in Chapel Hill proved to be useful in my research. In his life time, George McNally submitted three applications for patents between1895 and 1907.
His first was through an agent in Glasgow by the name of H.D. Fitzpatrick. In those days a fee was paid to register the invention and the patent, when issued, lasted 14 years.
On May 27 1895, an application was made for an improved Portable Sheep Dipping Machine by George McNally, of Chapel Hill, Lisburn, Coachbuilder. In the complete specification submitted on October 1, 1895, George outlined his invention and appended two explanatory sheets of drawings. The machine consisted of a rectangular tank with gangways at either end. Inside the tank were bags into which the head of the sheep was placed to prevent the dip passing into its eyes and ears. The application was accepted on November 9, 1895.
On May 31, 1895 he applied for another patent. The object was to improve on the construction of existing box churns. He added a box made of galvanised iron or tin, or similar receptacle, to the box churn design.
The idea was to fill an additional box with boiling water to heat the churn and facilitate churning. This was an alternative to the common method of directly mixing the cream and hot water. It was designed that on completion of churning the box could be removed and filled with cold water to cool the contents of the churn and harden the butter.
In 1902 George McNally's name appears in local street directories at Bridge Street, Lisburn. Between 1905 and 1907 he is listed at Chapel Hill, although his residence, which was described as a substantial property, was located at Young Street.
George however, would not rest on his laurels. On May 22 1907, now residing at 4 Young Street and described as a builder and engineer, he submitted provisional specifications for further improvement to sheep dipping machines. The machine consisted of a tank which held the liquid dip into which sheep were lowered and raised on a platform operated by gear mechanisms.
In April 1905 an inquest was held on the body of a 64-yearold unmarried woman called Lydia Macartney, at the Antrim Infirmary, Seymour Street, Lisburn. She had died there as a result of an accidental fire in her house at 21 Young Street, Lisburn.
George was one of the witnesses who gave evidence at the inquest held by the coroner, Dr. Mussen. It was reported he had lived on the opposite side of the street and tried to rescue the woman. Whilst passing the house, he along with Mr. Gillespie noticed the fire at the house and tried to offer his assistance. It had been in vain.
George himself died on March 10 1913 aged 67. On the afternoon of Wednesday March 12, 1913 his remains were removed from his home for interment in the family burying ground at Blaris cemetery. At the time of his death he had an arrangement with his landlord, Mr. William John McMurray of Sylvan Hill, Lisburn to acquire the premises by annual payment. He was survived by his widow Agnes and daughter Dinah.
An advert in the Lisburn Standard on Friday August 14, 1914 was placed by W S. Harvey, Bow Street, Lisburn for the sale or letting of a "house and commodious yard in Young Street, Lisburn, property of the late George McNally."
We may never know what impact George McNally's patents had on society but it is fitting to record his achievements for future generations.
I have been told that a Dinah McNally died in June 1968 aged 71 years, a spinster and retired housekeeper. She resided at Gregg Street and it is believed she was the daughter of George and Agnes McNally. She had been a house keeper to at least one family. I would be interested in hearing from anyone who may have known her and could provide any further information.
The Digger can be contacted at diggerarticle@hotmail.com or by contacting the Ulster Star Office.
Visit the Diggers new web site www.glenavyhistory.com
16/11/2007