The Mystery Maid of Lisburn Town is tracked down
by THE DIGGER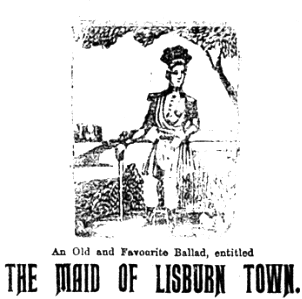 IN the Digger's contribution to the Star in April 2007 a request was made for any readers who could shed some light on an old ballad which had been received from a contact in Wales. Many thanks to the person who steered me in the right direction.
The printers, J. Nicholson, Belfast had titled the ballad 'The Maid of Lisburn Town', but it appears the piece was more commonly known as 'The Lisburn Lass'. In fact I was able to obtain a copy of a late 1960's LP record titled Ulster's Flowery Vale. Amongst the tracks, including 'Mrs McLeod's Reel', 'Drops of Brandy reel', 'Paddy's Return' and 'The Pikeman' was 'The Lisburn Lass'.
It was being performed by Tyrone man Geordie Hanna, who resided on the western shores of Lough Neagh. I managed to uncover a further version of the same ballad from County Fermanagh.
The three different versions are classic examples of changes within a traditional folk song as a result of having been passed by word of mouth from person to person and handed down from generation to generation. Whilst 'Willy' was the subject in the Antrim and Tyrone version, 'Henry' made an appearance in the Fermanagh version.
The singer in the Tyrone recording describes the Lisburn Lass 'like a Wexford girl from head to feet'. The Antrim and Fermanagh versions are in disagreement with this and describe her 'like waxworks made, from head to foot'.
They all agree however that Willie, or Harry were "cut down" by the "foe" by the end of the ballad. I was reminded by an old friend of the words to 'The Rose of Tralee' penned by William Pembroke Mulchinock in the early 19th century to his true love Mary O'Connor. The similarities are striking. Legend has it that William left his sweetheart in Ireland and he went to India to avoid being arrested after a murder. He became a war correspondent in India and returned to Ireland in 1849. Unfortunately Mary O'Connor had died.
"In the far fields of India, 'mid wars dreadful thunders,
Her voice was a solace and comfort to me,
But the chill hand of death has now rent us asunder,
I'm lonely tonight for the Rose of Tralee."
I had also asked readers for any of the words to a song known locally as 'Wee Mind Your Eye' for an old friend of mine. I have since met several people in the district who could recall hearing it locally at the dances and around the firesides. It appeared to have been a popular "come-all-ye", but no-one was able to recall it. Thanks again to the person who steered me once more in the right direction. What did I uncover? Yet another example of a variant within a folk song. A folk singer from more distant parts would be using the same melody, but would in fact be singing about "Quare Bungle Rye!"
"Ah Jack was a sailor that roamed on the town
And he met with a damsel that skipped up and down
Said the damsel to Jack as she passed him by
Would you care for to purchase some Quare Bungle Rye?...."
Poor Jack pays her a pound for a basket of what he thinks is Germany's finest whiskey. In fact, when he checks the contents he finds a baby in it. Jack then has the parson christen the child and of course he names him "Quare Bungle Eye." Very easy to adapt the lyrics within to "Wee mind your eye" don't you think? Maybe "Wee wipe your eye" would be better!
Speaking of songs and 'wiping your eye' - I listened to an old friend recently reciting "Danny Boy". He handled it beautifully and afterwards asked me for my opinion. "Fabulous," I replied. "What did you think of the last verse?" he added. " Is it out of place?" I hadn't even noticed.
"And when you come in, happiness and peace
And you abide with me forever and for 'ay
Then our parting will be o'er for ever
Oh Danny Boy, Oh Danny, Danny Boy."
This was the verse he had composed and added to the original song. And his reason? To round it off and bring it to a conclusion. Danny Boy finishes with the lines ..." If you bend and tell me that you love me, Then I shall sleep in peace until you come to me."
Putting the finishing touch to these old ballads are one of his specialities.
He had also added a verse to an old ballad called "Colin Well" which is a song about a true love who was a spreader in Dunmurry Mill. The original ballad ends with the bleacher leaving Dunmurry Mill, never to see it again. My old friend, not content with this sad ending, added the following:
'And now that we are married and nicely settled down
I'm married to my bleacher, he is my love and crown.
He is my love, my only love
My only loved one still
And never more will 'ere I
Spread in old Dunmurry mill."
There you are...history in the making again! The Digger can be contacted at diggerarticle@hotmail.com
Visit the Diggers new web site www.glenavyhistory.com
17/08/2007