ANYONE RECALL THE MAID OF LISBURN TOWN?
by THE DIGGER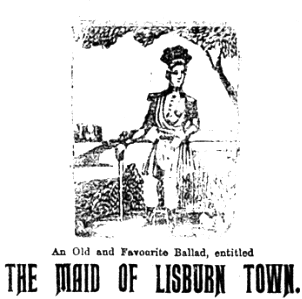 I recently acquired a copy of an old ballad entitled 'The Maid of Lisburn Town' from a contact in Wales.
The ballad is believed to be from the 19th century and the copy I now have in my possession is printed on lightweight paper, published by 'Nicholson, Printer, 26 Church Lane, Belfast'.
It's an interesting ballad containing references to an individual who enlisted in Lisburn and was going to India. A difficult piece to date perhaps.
'26 Church Lane, Belfast has been host over the years to boot-makers, shoe shop, haberdasher and James Moore the printer.
The street directories show that James Moore was succeeded by John Nicholson the printer. It appears that John Nicholson occupied 24 & 26 Church Lane from 1880 to about 1905. At this time number 24 became vacant and the Nicholson printing works continued at number 26 to 1919.
This assists us in dating the printing of the ballad. At the time of printing it was described as 'an old and favourite' ballad.
Of course the name Nicholson in Lisburn is synonymous with the Indian Mutiny during the 1857 -1858 period.
General John Nicholson's statue is a prominent feature in Lisburn city centre. Four soldiers from the 86th (Royal County Down) Regiment of the Royal Ulster Rifles were the recipients of the Victoria Cross during this campaign.
The Royal Inniskilling Fusiliers also served in India. Perhaps the ballad could have been penned in that era? Regiments of the British army were in India before and after the period of the mutiny.
I do not claim to be an expert in the field of military matters so perhaps some of the military historians reading this may be able to shed some light on the matter for us.
I would be interested to hear from anyone who can shed more light on this interesting ballad.
I have now added 'The Maid of Lisburn Town' to my collection of local ballads, monologues and rhymes from the Lisburn district. Incidentally, does anyone have the words of a piece called 'Mind your eye?' An old friend of mine recalls that it was about an Irishman who went to Liverpool and it tells the tale of him being approached by a girl with a baby in a basket.....'He peeped into her basket and what did he spy, But a wee darling baby about for to cry....' Do you know the rest?
* The Digger can be contacted by email diggerarticle@hotmail.com or by writing to the Digger c/o Ulster Star.
The Maid of Lisburn Town
You girls and boys where're you be
Come pay attention unto me,
Unto those lines that I have penned down,
It's all in the praise of Lisburn town.
Its happened to be in the harvest year
As I roved out, the day being clear,
And coming home those words I said,
I doubt I will die for the Lisburn maid.
She is handsome, tall, and quite complete,
Like waxwork made, from head to feet;
My heart does rend when I do her pass,
For I'm deep in love with the Lisburn lass.
When first I saw this pretty maid
I vow she had my heart betrayed,
Until her parents did on me frown,
I was forced to 'list in Lisburn town.
Then to India I had to go
For to face the daring foe,
And did not know when a shot would knock me down,
For the love of the maid in Lisburn town.
Oh, Willie, dear this maid did say,
What did tempt you to go away?
You know I left my parents of high renown,
And I went with you from Lisburn town.
But if e'er I do come back, he said,
Whether day or night, my pretty maid,
I'll get a pass of high renown,
And I'll steal my love from Lisburn town.
Farewell father, and mother too,
I must bid you all adieu,
For by my foes I am put down
So farewell, my love, in Lisburn town.
Visit the Diggers new web site www.glenavyhistory.com
27/04/2007