The harsh life of a Lighter man
by The Digger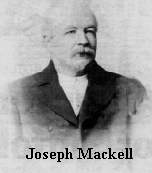 IN 1848 the office of the Lisburn Borough Graving Dock for the repair of lighters was situated at 24 Market Square, the premises of John Millar and Alexander Stevenson. They traded as Millar and Stevenson and were also based at Quay Street in Lisburn.
Recently, an old friend of mine reminisced about seeing the lighters moored along the canal in the vicinity of Quay Street.
One of the most prominent memories included seeing the clothes that had been hung out to dry on the lighters by the lighter-men's wives. It was not at all an easy way of life, but most had no alternative.
There were many tragedies over he years associated with the canal. In June 1892 an inquest was held in the premises of James Wright, known as The Lagan Stores, at Bridge Street.
It was not unusual for lighter men working the canal to be the first to discover a body in the water, but on this occasion the victim, David McAteer, was himself a lighterman.
An employee of Stevenson's Coal yard -William Dalzell from Connolly's Row, Largymore - had made the gruesome discovery. It was reported that the deceased's elderly father, John McAteer, from the townland of Magherageery, told the inquest that his son had been drinking heavily for some time past.
In 1929 local press covered a story about two men, employed as lightermen, who had spent their life on the canal. They born aboard lighters just after the mid 1800's, and still plying their trade at the time of the publication in the Belfast Newsletter.
Arthur McShane was a deckhand on a lighter named 'Bessie' and owned by Messrs. Millar & Stevenson Ltd. It was reported that he had never attended school and stated that "The pen we got in our hand was a barge pole." The hardships endured by lighter men of that era were alluded to in a further remark -"It would have been better for me today had I been at school."
The other lighterman featured was Joseph Mackell, reported in 1929 to be "born over 70 years ago." In fact Joseph Mackell was born aboard a lighter, around 1855, at Port Lurgan, now known as Kinnego, the deep-water harbour for crossing Lough Neagh.
He was the son of John Mackell and Margaret Gallagher. He would follow closely in his father's footsteps and at the age of 16 was himself in charge of a lighter. Six years later, in April 1879, he married Mary Lindsay, described as a ''mill-girl" from Lisburn.
They had a large family, and at the turn of the 20th century they were residing in the Young Street area of Lisburn.
A direct descendant of Joseph Mackell, who had researched his family history. informed me of the poor conditions that they lived in.
"Poverty and sickness was a constant companion. Most of their children perished of diseases such as measles, diphtheria, TB and gastritis."
Three of their surviving sons -Thomas, Joseph and John - would follow in their forefathers' footsteps, and became lightermen. The Belfast Newsletter of 1929 reports that Joseph Mackell was at that time in charge of a lighter called the 'Edna', owned by a Mr. Clow of Portadown. Joseph had worked for that individual for over forty years.
It was reported that Joseph lived alone on the lighter, doing his own washing, mending and cooking. His spare time was taken up with hobbies that included wood carving using only a pen knife. He was accompanied onboard by his fox-terrier pet dog, a welcome friend to the lighter man when the rats came aboard.
Joseph Mackell told the Belfast Newsletter that during his time on the canal, four lighters had been sunk in Lough Neagh and on one occasion a husband and wife were drowned. This was a stark reminder of the inherent dangers faced by lighter-men such as Joseph.
The Digger can be contacted via The Ulster Star Office or by e-mail diggerarticle@hotmail.com
Next: Joseph Mackell - Lighterman and family tragedy.
Visit the Diggers new web site www.glenavyhistory.com
01/08/2008