Where the grass is always greener?
The Digger recalls a wartime romance at Langford Lodge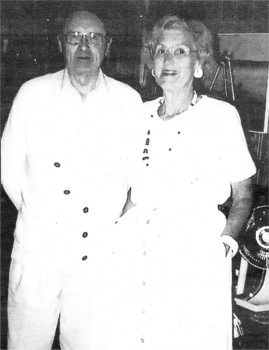 AFTER an unforgettable experience onboard a unforgettable "G.I.Bride ship"
Myrtle Neff was finally reunited with her husband Richard in the United States on St. Patrick's Day 1946.
Myrtle's memories of that reunion were not only confined to her husband's greeting on the dockside. She recalls the heavy rain. "Oh so it never rains in the United States?" she retorted to Richard. "Well, you brought that with you," came the reply.
The happy couple stayed for three days in a hotel in New York and they were able to meet some of Richard's relatives who resided in the area. His aunts, uncles and cousins were naturally curious and wanted to meet the new bride and welcome her to her new home in the United States.
Ironically, Myrtle had missed a prime opportunity to come to America in 1939, whilst in her mid-teens, to reside with a childless aunt and uncle in Connecticut. The announcement of hostilities and the commencement of the Second World War had closed that window of opportunity, but unknown to Myrtle at that time had opened another one.
The couple bade relatives farewell and travelled by railroad to Indianapolis, Indiana. Myrtle recalls the trip was not a very pleasant experience for her. "It was March again and it was mud and tumbleweed." The views from their train window did nothing to enamour her to her new surroundings. She thought it was the "most God forsaken place" she had ever seen. "There was not a blade of grass in sight, no fences, no stonewalls and worst of all no mountains."
The large hedge of yellow forsythia that she observed on arrival at Richard's parents house in Indiana would be a memorable sight. "It was the first thing that I ever saw in America that was alive!" she remarked. Fortunately she was accepted by the Neff family and her mother-in-law made her the daughter that she never had.
Adjusting to a new way of life and surroundings proved challenging.
She recalls obtaining her citizenship in about 1947, during the presidency of Harry Truman. Myrtle remembers how some of her political comments at the time relating to the American system would be unappreciated by her husband and his friends. She had to "tread the boards" carefully. Myrtle recalls, in her words, another "boo-boo." Whilst accompanying her husband in the car one day she had told him to stop driving round that "ugly old building" and to park on the side- street."
Richard curtly replied, "That my dear is the State Capital building of Indiana, and that little side street is the main thoroughfare of this city..." Myrtle had a lot to learn about her new surroundings.
She was not the only one that would have to re-educate. Richard on his return to the U.S. would also have to return to the education system in order to complete his graduation which should have been in 1942. Military service had taken precedence. Richard finally graduated in June 1946. Myrtle had lived on campus with him, and also accompanied him to classes. That way she gained first hand experience of the American education system.
Richard had initially set out to be a sculptor at school, but on graduation, life took a different direction and he commenced work as a packaging engineer with the pharmaceutical company Eli Lilly, earning 42 dollars a week.
Myrtle and Richard regularly kept in contact with their best-man Fred and his wife Daphne Tron. Fred had an automobile business in North Carolina and Richard purchased and serviced his vehicles through him. Myrtle also kept in contact with other American personnel and their wives throughout their lifetime.
Tragically Richard, aged eighty, suffered a heart attack and passed away in July 2000. That was the morning that Myrtle was due to return to her native soil.
As the result of a happy marriage that lasted over fifty years, Richard and Myrtle had three children. Myrtle has now six grandchildren and two great grand-children.
Myrtle tells me that when her children had to be chastised they could detect some of her "Ulsterisms" and some of the accent returning. They knew by their mother's switch in dialect that they should pay attention! I remarked to Myrtle recently when I spoke to her, that I could find no trace of her Ulster accent. Myrtle disagreed with me. She remarked that when people on that side of the Atlantic talk to her today they still ask her "What part of the East do you come from?" She informs me she tells them "Way... East!"
Myrtle has now outlived many of her former friends with whom she shared the same wartime connections and experiences. She tells me her children and others put down her longevity to the fact that she is "too damned stubborn" and she is "too Irish."
Personally I think that her active lifestyle and routine visits to the gym may have something to do with that.
Thanks to ".rrtle v -l--- ing her family for their assistance.
The Digger can be contacted at Ulster Star Office or by email: diggerarticle@hotmail.com.
Visit the Diggers new web site www.glenavyhistory.com
19/09/2008