Lest we forget - the sacrifice local people made in World War 2
by THE DIGGER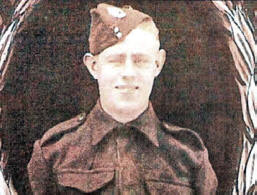 ON Wednesday November 11th this year we will remember all those who paid the supreme sacrifice for our freedom. It is particularly poignant this year, as this is the 65th anniversary of the D-Day landings in Normandy, France. A series of year long events has been ongoing in that region to mark the anniversary of the liberation.
On the evening of the 8th March and into the morning of the 9th March 1945, some nine months after the landings, a German raid was carried out at Granville, located on the west coast of the Cherbourg peninsula. It resulted in the release of German prisoners of war and the sinking of several small freighter vessels . British freighter S.S. Kyle Castle was amongst the freighters sunk during that raid.
The inscription on the grave located in Bayeux War Cemetery of a Lisburn man, Captain William Callum Fraser, M.B.E. makes reference to the fact he was killed on the 9th March 1945 and had been attached to S.S. Kyle Castle. At the time of his death his wife had resided at Jubilee Terrace, Hillhall Road, Lisburn. He was 46 years of age and he was the father of three children. He had been awarded the MBE the previous year for gallant and meritorious service. William Fraser was from a seafaring background. He had been in the Navy for 30 years. His brothers James Watt and Alexander were also involved with the sea. Tragically a son of Alexander's, 34 year old Stoker Petty Officer John Fraser, whilst serving with the Royal Navy on board the Golden Hind, died just four days before his uncle William, on the 9th March, 1945.
William Callum Fraser was a native of the town of Macduff, Banffshire on the east coast of Scotland. This town, with its 18th century harbour, had long association with the fishing trade.
The town of Macduff is a place remembered fondly and close to the heart of another Lisburn resident, James George "Jock" West now in his early 90's. It was the place of his birth and one he looks forward to visiting as frequently as he can. Jock's background was similar to that of William Fraser. His father had served with the Royal Navy Reserve in the First World War and later in life worked as a fisherman on the steam drifters. Jock's mother died in 1926, when he was just nine years of age and he resided for a time at George Street, Macduff with his grandmother.
One of the earliest childhood memories Jock can recall was when he had been passing Macduff harbour on his way home from school one December afternoon. A drifter was about to leave the harbour to go several miles out to sea to set a compass. Young Jock was offered a trip out by one of the boatman. It was an offer he couldn't refuse and so he took his first trip in a boat out of Macduff harbour. Jock's dream was to follow in his father's footsteps and someday work onboard one of the steam drifters.
Jock's father, however, had other plans for him, and they did not include a life sailing on the ocean. He knew only too well the danger, the long hours, the hardships and the lack of facilities and home comforts at sea. He successfully managed to arrange employment for his son. This would take Jock on another journey to the south east coast of England, a long way from Macduff. His first job was in a place called the Hythe Tea Rooms in Kent. Later he would find employment in the Lion's Mansion Hotel in Brighton, where he worked in the kitchen, preparing vegetables for the cook. During his time at the hotel, he recalls meeting a famous gentleman on the stairs of the hotel one morning. Jock greeted him as he passed by.
"Good morning, Mr. Novello."
"Just call me Ivor," came the reply.
Ivor Novello, the well known actor, composer and singer would soon have something in common with Jock through a sequence of events that was about to change not only their lives, but lives on a worldwide scale -World War Two.
Ivor Novello unfortunately fell foul of the law towards the end of the war and he was sentenced to a spell in prison for the misuse of petrol coupons. On his release he went to France and Belgium to entertain the troops. Jock West, however, was also to go to France, not as an entertainer, but as a soldier.
Jock recalls the radio broadcast by the Prime Minister, Neville Chamberlain on Sunday the 3rd September, 1939 announcing the beginning of the hostilities. The reality of that event was really only significant to Jock when he received a conscription notice to attend military training on the 15th February 1940. He was soon to receive his free pass for the military training camp at Shorncliffe, near Folkestone in Kent.
Like so many other young men, Jock had never held a weapon before. He told me he enjoyed his time there. The drilling and weapon training was intensive and lasted ten weeks. There were, of course, periods of leave to look forward to. He recalls the Sergeant Major announcing seven days leave for the recruits. Jock was delighted when he found out that he and another fellow recruit from Gretna were to receive an extra two days to compensate for travel time.
Jock left the military training camp and was posted to the Royal Engineers, attached to the 582 (Kent) Army Field Company. Exactly two years after he had been called up for military training he was posted to Northern Ireland. This would be his first time in Ulster. After spending a short time in a transit camp at Gilford he was sent to a military camp at Lambeg.
Whilst at Lambeg, Jock's Major had been approached by two ladies from the Hilden Mill inviting some of the men to attend a social which had been planned for a local club in the area. Eight men were selected, Jock being one of them. Unknown to Jock at the time, this was to be another life changing event for him. He recalls travelling that evening to the social in a civilian lorry. When they arrived they found the place "packed out." Jock could not fail to notice the abundance of young females there that evening. Jock, however did not fit the perceived mould of a typical Scotsman. He neither drank whiskey nor danced. A young lady, sitting beside him that evening at the social had other things planned for Jock. The first dance had been announced - a slow fox trot and Jock felt someone grab him by the arm and drag him onto the dance floor.
"Ach lass I can't dance." The young lady refused to listen to his excuses.
He told me, "Do you know something. I couldn't believe it, for by the end of the night I could dance alright!" Jock was to later learn that his partner on his first dance ever on Ulster soil was Margaret Clarke who lived at Ivy Cottage, on the Belfast Road, Lisburn. After a six month engagement Margaret and Jock were married in Lisburn Cathedral in September 1943. After spending eight days together in Macduff, Jock returned to his unit. Margaret had been working in an aircraft factory in Belfast. The couple were now entitled to a marriage allowance, enabling Margaret to leave work and go to Macduff where she stayed with Jock's sister Margaret for a year and a half.
The Digger can be contacted via The Ulster Star Office or by email: diggerarticle@hotmail.com. Next: Lest we forget - part 2
06/11/2009