David Corkey and the terrible reality of The Great War
by THE DIGGER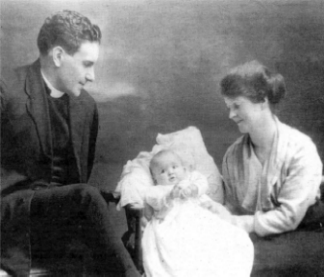 DURING his ministry at Dundrod a series of worldwide events in 1914 culminated in what was to be later referred to as The Great War.
A number of men from Dundrod signed up and David Corkey, determined to play his part, applied to be Chaplain at the front. His post was confirmed by the War Office in late April 1915.
We are fortunate that David Corkey kept a diary of his movements and experiences throughout this time. He was also a prolific letter writer and thanks to his descendants many of these letters survive today, enabling us to piece together the events of that era. The documents were also utilised by his sister-in-law Ethel Corkey when she wrote her book "David Corkey - a life story."
David left Ireland on May 5th 1915 for Southampton and eventually arrived in Havre three days later. It would only be days before he would see, first hand, the results of war when ministering to men who had sustained injuries in battle.
In July 1915 he was attached to the Glasgow Yeomanry. He paid visits to the trenches and on 27th July 1915 he wrote "Sound of shooting is like Xmas at Dundrod."
He describes some of the horrors of war in later letters home. Trophies of the conflict were popular and he informs his sister Mary in a letter that he had acquired a "nice little nose of a German shell with a lot of figures on it." He describes how one man managed to obtain a button and bayonet in the vicinity of the remains of the deceased enemy. One man had attempted to pull a souvenir tooth from a semi decayed German skull but had been unsuccessful.
In mid September 1915 he was attached to the 27th Field Ambulance dressing station at Cambrin and describes the realities of the situation he found himself in, writing about the "crashing of German shells", rifle bullets "singing over pretty thick", gas attacks and rats that jumped on his chest in his billet.
He received a minor injury in late September 1915 as a result of flying shrapnel. Several weeks later he returned to Dundrod for ten days leave.
In a letter dated 25th October 1915 he writes to his sister Mary at home informing her that "it was kind of restful to be absorbed again in the activities of life here and hear again the booming of the guns."
He thanks her for the parcel he received containing a paper and chocolate but complains about the cold conditions.
"We will soon be needing any amount of warm woollen things again. If the ladies are not tired of knitting we can do with a lot of socks, mittens and mufflers. We have 54 horses and now that the rain has come, the officer in charge tells me they are greatly in need of extra rubbers for rubbing down the horses when they come in wet. These are squares of soft strong cloth 18 inches by 18 inches. So perhaps if you and your ladies could get started on these as a beginning and I will make more requisitions later on. I told them at Dundrod to be sure and make up and send to our own Dundrod boys good Xmas parcels of dainties of necessaries - safety pins, soap, cigarettes, sweets, chocolate, mittens, mufflers, socks etc."
In January 1916 he was attached to the 11th Royal Scots and on 10th April he writes again to his sister Mary stating "Ina's last few parcels have either gone completely astray or else have been bashed into Indian meal. The best way to send it would be to get some shop in Lisburn to pack it in a little wooden box if no tin is available. Some corrugated cardboard around the box is a good thing to keep it from breaking up."
However less than a month later, these problems would pale into insignificance. On the 8th May he records in his diary that he was hit on the arm by a shell. This resulted in him having his left arm amputated.
Eventually he returned home but he could not settle and returned to France in October 1916, to the Ulster Base Camp at Havre. On the 24th November further tragedy struck when his wife Ina underwent an operation and died..
He returned home again, just in time for the funeral, but soon afterwards returned to France to continue with his work there. In a letter dated 18th December 1916 he writes to his sister Annie informing her it is a great relief to get back and immersed in his work again.
He tells her the Manse at Dundrod was closed although they were looking for someone to supply it until his return. "If you are thinking of leaving Egypt I would be awfully pleased if you would make your home at Dundrod and keep the kettle boiling there till I return."
Eventually David returned from the war to Dundrod. He had lost his wife and close friends. He would have to pick up the pieces and continue in his ministry.
He had offered to resign his post there in the spring of 1917 but the congregation refused to accept it and supported him in his war efforts. He was officially welcomed back by the congregation at a social evening held on 21st May 1919.
He was presented with a framed illuminated address, a pulpit gown and a case of treasury notes. In his speech he spoke about the experiences of the troops in France. "One always felt hopelessly unable to speak adequately regarding those brave men. They had so much to go through that no-one could realise what they had endured except those who had been with them. Nothing could ever repay those men for what they had done, and they could not do too much for the fighting men who had returned from the war." The illuminated address is now on display in the local history room at Dundrod Presbyterian Church.
On 23rd November, 1920 he married Constance Lowry. They had two children -Constance Sloane and Maureen Elizabeth. But tragedy was to strike the Corkey household again. In a letter dated 31 October 1924, the local medical practitioner, Dr. Hunter from Crumlin, makes reference to the medical condition of David Corkey. He states there had been a change in his mental condition since the war - noticed by all his friends. I have no doubt this was due to the pressure of the cerebral tumour which must have commenced to grow during his period of war service.
The tumour had been suspected when he visited a specialist on 30th September 1924. He was advised to go to London for treatment and was accompanied by his wife and brother William. According to a note in the possession of the Corkey family he went through two operations on Friday 10th October at 3.30 and at 1am on the following morning. They were unsuccessful.
A letter on headed note paper 'Windsor Manse, Belfast' David's brother William writes to their sister Mary about David's death on Tuesday 14th October, 1924.
...I asked him if he had any pain and he said no, so that we have much to be thankful for. He just slept away like a child going asleep and never moved. His breathing just became slower and Connie says that just as he was passing away a most beautiful smile came over his face. It is our loss but it is his gain...."
The 1924 Christmas edition of the Foyle College, Londonderry school magazine carried a tribute to David Corkey.
It concludes "So long as any of his friends live, the memory of Davy Corkey will be a shining light, and who can tell how far the influence of a devoted and powerful spirit will touch the whole life of his times?"
He was buried at Dundrod Presbyterian church. The inscription on the obelisk marking his final resting place reads 'Erected by the members of Dundrod Presbyterian Church to the memory of the Rev. David Sloane Corkey BA, CE A faithful pastor, a true friend and a generous benefactor Though dead yet speaketh.'
The Rev Corkey's name is the first inscribed on the 1st World War Memorial tablet that is situated in the entrance porch at Dundrod Presbyterian . The name of his devoted orderly also appears there 'Pte. Wm. J. McCrane'. The Rev Corkey's daughters, Constance and Maureen presented the church with a baptismal font in memory of their parents.
The Digger can be contacted at diggerarticle@hotmail.com or through the Star Office.
Next: Drooth, Dreams and Temperance incorporating notes on a dream by the Rev Corkev.
10/07/2009