Efforts of local men still remembered on Normandy's beaches
by THE DIGGER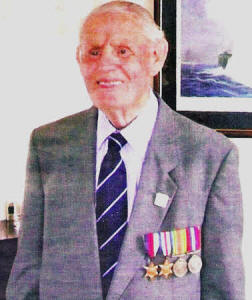 THE 5th of June 1944 was a memorable day for Jock West. Not only was it his birthday, but it was the day on which he and other members of 582 (Kent) Army Field Company would leave the port of Southampton for the beaches of Normandy in France. Months of preparation and planning were about to be tested and they would soon be in unknown territories. I was interested to learn from Jock what he could remember about that time. After a pause and some thought he replied "You know it's hard to believe, but it's sixty-five years ago." That puts things in perspective for me.
He recalled leaving the English coast onboard an American L.S.D. (landing ship dock), which he described as a large ship or ferry boat. There were approximately 250 men on board, with lorries and equipment.
Each of the five beaches in Normandy chosen by the Allied commanders as part of Operation Overlord had been given code names - Utah, Omaha, Gold, Sword and Juno. 582 (Kent) Army Field Company landed on the Normandy beach code-named "Gold Beach" at approximately 5pm on D-Day. They were not far from Bayeux.
"It was just like a summer's day and was very warm," Jock recalls. The Canadian mine sweepers had cleared an area on the beach to facilitate the safe passage of the military and equipment that were arriving on the beach. The area was marked with ropes attached to poles. Jock told me he would never forget the Canadian made sign on display for those men who were landing on the beach. "If you want to stay alive - stay in the lane!"
He recalls that there were three or four old hamlets close to where they landed. The unit spent eight days there in a temporary camp, sleeping in tents and they were in the vicinity of the beaches for eight weeks. His unit were involved in building a makeshift temporary harbour from wood. In due course it would be replaced by more permanent structures. The work was intensive and carried out on a rotating shift system, including working during the night.
The men were given periods of rest. In contrast to events on adjacent beaches the unit remained relatively unscathed, although one man did lose his life after stepping on a mine. Jock's unit eventually moved on from the region and would spend that winter in Holland. After leaving Holland they moved to Dusseldorf in Germany. Jock told me he would never forget the sight of an overturned train that had been made inoperative during allied bombing raids. He surmised that there may well have been hundreds of people in it. The realities of war were everywhere.
Jock was still in Germany when the war eventually came to an end. A soldier's pay in those times was considered reasonable. That, however was coming to an end also. Returning to civilian life was now a reality and would have to be faced by thousands of soldiers. Jock was in the last group of men to be demobbed in Belfast on the 15th February, 1946. He had to hand in his military kit and in return he was given civilian clothes. Jock was bemused by the trilby hat that he had also been given when demobbing. Ironically, on a visit to Macduff whilst walking towards the pier towards the lighthouse there, a gust of wind carried it into the harbour and it was never seen again.
Jock settled into civilian life in Northern Ireland. He remarked about the lack of support for soldiers who had been demobbed at the time. He had received a lump sum from the Ministry of Defence and his medal eventually arrived in the post from London. Unlike others at that time, he was fortunate and commenced employment with the Ulster Transport Authority.
Several years ago, Jock returned to the Normandy region, accompanied by several family members. The area had dramatically changed since Jock had first set foot on Gold Beach. It was obvious to Jock that the French had not forgotten those men and women who had contributed so much towards their liberation and freedom. The poignant sight of the thousands of white crosses in the numerous war cemeteries was an evocative sight for lock, and one which would never be forgotten. Realisation set in at that moment that he had been one of the fortunate soldiers who had returned home.
I also visited the region this summer, and included a visit to Arromanches, situated at Gold Beach. It was a strange experience to be walking amongst sunbathers, and sandcastles on a beach that still displayed 65 year old battlements from the war. One could be forgiven for being somewhat emotional at the sight of posters displayed in the village welcoming and thanking visiting veterans for their part in the liberation of their country.
Had it not been for local men like William Fraser and Jock West, who left the shores of our country to face the enemy, then undoubtedly we all would be in a less fortunate position today.
Lest we forget.
The Digger can be contacted via The Ulster Star Office or by email: diggerarticle@hotmail.com.
Lisburn resident James George "Jock" West, former D-Day veteran, proudly displays his medals.
13/11/2009