Miss Cherry, trees and the neglected plaques
The Digger makes a plea to restore a little bit of Lisburn's history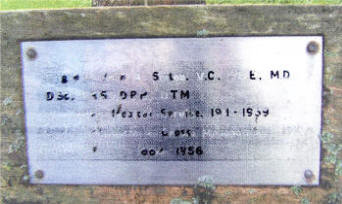 SEVERAL years ago I was carrying out research on local man James Cherry who lost his life during the 1st World War at Ypres. At the time it had been mentioned to me by an extended member of the Cherry family they could recall hearing his sister, Miss Elsie Cherry had trees planted in the Lisburn area dedicated to members of her family. I contacted several individuals in positions of "officialdom" but they were unconvinced.
Several months later I was speaking to an old acquaintance who resided near Lagan Valley Hospital. I had been researching something totally different but realising the home the Cherry family lived in - 'Violet Vale' - was only a short distance away, I decided to ask him about the trees.
"There's something about that," he remarked. I was told to have a look in an area of ground just off Warren Park, almost opposite to the side gate in Lisburn Cemetery. Sure enough, I discovered oak and cherry trees where my old friend had directed me. I was almost ashamed of myself for never having known about this piece of ground or its significance to the town. There I found a series of plaques mounted at the base of individual trees.
I did not appear to be the only person who had forgotten the miniature memorials for some of them had fallen foul of vandals and were in a dilapidated state. Some even appeared to be missing.
In November 1977, Miss Cherry presented the first of the trees to be planted in this area of the Recreational Grounds at Warren Park. She herself planted two trees - one in memory of her late father James and mother Agnes and the other for brother James.
Miss Cherry was a well-known figure in the Lisburn area. Her father James, a local draper, had been a member of the Town Commissioners Board. She herself had been a teacher in the Nicholson Memorial School beside Christ Church and the Central School which opened in 1934 after the closure of Nicholson Memorial.
Several years ago, a well-known local businessman, Jack Allen, who commenced school life at the Central in 1943, recalled his memories of Miss Cherry.
She ruled with a rod of iron. "She was very diminutive in stature but was ferocious in her maintenance of order" he recalled. "Any talking in class , eating sweets, or any minor infringement of Miss Cherry's rule was dealt with very firmly by her. She would pull big boys out by the scruff of the neck and stand them either in the corner or outside the classroom door."
This was of course during the Second World War. Jack recalls those times vividly. "Looking out from the school you could see the barrage balloons being flown over the aircraft factory on the Old Hillsborough Road. We would regularly have bomb alert rehearsals where the pupils would be marched up to the air-raid shelters and after a short time back to class. Miss Cherry was like the Pied Piper, leading her class to the safety of the shelters."
Miss Cherry was very involved with life in the community. Insertions in the local papers by the Infirmary or similar institution thanking local people for their donations and gifts were frequently printed. Miss Cherry's name was no stranger to these lists. She was an active member of Lisburn's White Ribboners movement and was a member of Christ Church where she had a stained-glass window erected in memory of her late parents and brother.
Miss Cherry retired from teaching in 1951 and was determined to make full use of her retirement to pursue her first love - travel on a world wide scale. Another old acquaintance recalled leaving her to the airport many years ago. She travelled alone and would only carry with her a small case.
He recalled hearing a story about her arriving in Finland in the middle of the night, and, unable to get accommodation, she went to the local police station and was put up there for the night.
She was a regular visitor to Lisburn "exiles" in all parts of the globe. Cyprus, South Africa, Holy Land and the USA were amongst the countries she visited. It was reported in the local press she had travelled to Australia just one year before her death.
Elsie Cherry is the last name inscribed on the family headstone in Blaris Old Cemetery. It reads - "Elsie died 23rd December 1982 aged 87."
The inscriptions on the plaques close to the base of most of the trees at Warren Park bear many of the names of former first citizens and include James Howard, the first Mayor of the then newly created Borough in 1964. The names of Gilchrist, McCartney, Bicker, Kelsey, Belshaw, Semple and Crothers appear there, but a plaque erected to Hugh Bass appears to be missing.
There are other plaques in memory of Miss Louisa Fitzgerald Stannus, Manor House, Lisburn who died in 1933. Miss Laura Pim, Lisnagarvey House, who died in 1942, Louis Crommelin, the Hugenot and overseer of the Irish Linen Manufactory 1652 - 1727, Brigadier John Nicholson and Brigadier John Alexander Sinton.
Sinton was born in British Columbia on 2nd December, 1884. As a child he attended Nicholson Memorial School and it was reported that his parents resided at Warren Cottages, Hillsborough Road. He later attended RBAI and Queen's College from where he graduated in the field of medicine. In 1909 he joined the Indian Medical Service and in 1916, whilst a Captain in Mesopotamia, he was to put his own life at risk in order to treat wounded colleagues under heavy gun fire. As a result of his brave actions he was awarded the Victoria Cross. In 1921 he was also awarded the OBE.
At the start of the 2nd World War in 1939 he was recalled again for service in India. He died on the 25th March 1956 at Cookstown, County Tyrone.
I'm sure many would agree it would be a welcome sight to see these neglected memorials restored to their full glory again at Warren Park, in order to preserve a little piece of our City's history.
The Digger can be contacted at diggerarticle@hotmail.com or by contacting the Ulster Star Office, Bow Street, Lisburn.
Next: Lisburn, the Victoria Cross and the 'mystery recipient'.
22/05/2009