William's rhyming Treasure Hunt clues are back in fashion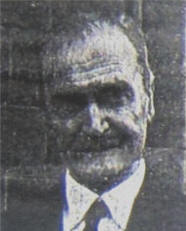 William Scott from the Fourscore, Glenavy who composed the original 1956 Treasure Hunt for Crumlin Young Farmers'.
The Digger recalls a well known local character who will be celebrated at an event during Crumlin Festival
IT has been said that history often repeats itself, and there have never been truer words amongst the members of the Crumlin Young Farmers' Club.
They have organised a treasure hunt for the evening of Wednesday 5th August as part of the Crumlin Festival Week and will be basing the clues on those put together by a well known local man for a similar event way back in 1956.
Organisations, clubs and charities are always on the lookout for novel ways of fundraising. In the past it was commonplace within the district for concerts, dances, soirees and beetle-drives. In the 1950's and 60's the district was alive with showbands being booked up for fundraising dances - 'Windsor Serenaders', 'Kit-Kat Orchestra', 'Bob Crawford and his Orchestra', 'The Hilltoppers', 'Will Craig and his boys', 'Blue Star Band', 'Fred Hanna and his Band', 'Gay McIntyre and his B an d' and even 'Dave Glover and his Band'.
On a smaller scale guessing the amount of sweets in a jar, a doll's name, or the weight of a cake were popular. The digital era put paid to the popular game of guessing what time the watch would stop at. A wind-up watch would be put into a bag or envelope and sealed. Eventually it would stop and the person who had the closest guess won the booty. One popular fundraiser of that era was the treasure hunt.
In the 1950's at Fourscore, just outside Glenavy, there was one individual who was extremely well-known and popular throughout the district. You could have been calling at his shop for petrol, groceries, building supplies or meal. William Scott stocked it all.
I turned up a receipt recently headed 'William Scott Fourscore, telephone Stoneyford 225'. It was dated September 1945 and was for the purchase of 20 hundredweight of cement costing £4. Locally he was known as 'The Grocer' or 'J.P' That distinguished him from other Scott's in the area bearing the same forename - William Scott at the Crew, William Scott at Camomile Hill, William Scott from The Moor and William Scott at the Mount.
William Scott was the son of William Scott and Jane Kennedy and he was born on 3rd December 1884. He attended the nearby Fourscore School and then Wallace High School in Lisburn. In later life he would follow his father's footsteps and took over the grocery business. He was a member of the Antrim Farmers' Association and later, in 1917, a founding member of the Antrim Branch of the Ulster Farmers Union. He held the position of Honorary Secretary of the Dundrod Branch. He later progressed to be a council member with the Ulster Farmers Union.
He also held a number of other positions including membership of Lisburn Rural District Council. He became a Justice of the Peace in September 1946. He assisted many people in their tax affairs, and readily gave advice to people concerning other similar matters. One of the talents he is remembered for is his natural ability to compose ballads and poems. He would have been called on at functions to give a dinner toast, which had often been composed at short notice. He was an extremely witty individual, which is obvious to anyone reading his work. 'Ulster,' 'To Mr. Herbert Boyd,' 'Dundrod Ladies' Unionists' and 'My Record' are some of his works still in circulation locally.
I also discovered some old treasure hunt clues in ballad form that he composed and I put them onto the website www.glenavyhistory.com some time ago for posterity. William Scott had written one for Crumlin Young Farmers' Club in 1956 of which he was the vice-president. I recall someone telling me that he had composed one of them whilst out attending the pigs at his farm. William was a character, and his dry wit and antics are still conversation pieces in many homes around the district. Many years ago a local man was heard to say "Anyone who didn't know Willie Scott when they met him had missed out in something in life!"
Due to his popularity, William was subject to many of the local youths' practical jokes and pranks, however he took this in good humour. He was extremely shrewd, to the point that he kept the details secret of his impending marriage in 1940 to local lady Lucy Edens. It is said that when someone found out about the date and challenged him, he changed it!
William passed away suddenly on 11th October 1958 and he was buried at Dundrod Presbyterian Church.
I believe he would be more than pleased to know that the club have now taken some of the words of his original compositions and incorporated them into clues for a brand new treasure hunt. Some of the places that featured in the 1950's treasure hunt are no longer with us and part of the route has changed due to new road and road realignments.
The club members are delighted with this little "treasure of a find" and they are extremely proud of the fact that one of their present members, Karl Stevenson, is the great-great nephew of William Scott, who composed the original treasure hunt for the club over fifty years ago.
If you are interested in taking part in the treasure hunt you are invited to meet outside Crumlin Memorial Hall at 7pm on Wednesday 5th August. Particip an ts are invited to a Strawberry Tea at Glenavy Methodist Church after the event. For further details on the Crumlin Festival checkout www.crumlinfestival.org
The Digger can be contacted at diggerarticle@hotmail.com or by contacting the Ulster Star Office.
24/07/2009