When businesses were praised for giving workers Christmas Day off
The Digger recalls a time when festive spirit was in shorter supply in Lisburn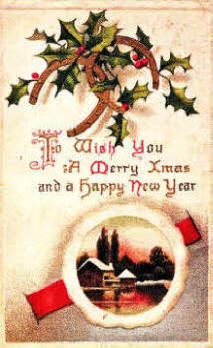 A Christmas Postcard with a Carrick-on-Shannon post mark on rear dated, December 24th 1909. It had been sent to the Harte family - Bernard and Margaret, who resided at Grange, County Sligo.
A FITTING and benevolent spirit of Christmas in Lisburn was reported in the local press 120 years ago. The philanthropist Sir Richard Wallace lived up to his reputation and sent a £10 cheque to the Lisburn Poor-Law Guardians for the benefit of the poor in the workhouse.
The money was to provide them with a Christmas dinner and instructions were given for the distribution of warm clothing "amongst the necessitous and deserving poor".
The patients of the County Infirmary enjoyed a dinner of roast-beef, plum pudding and fruit. Their tea that day included currant cake. A paper bag containing oranges and grapes had also been handed out to those unfortunate enough to spend Christmas day there. The children in the workhouse were also to receive a treat that year thanks to the kindness of Miss McCance of Larkfield. They received toys, delivered by the representatives of the Lisburn Board of Guardians.
It was reported that Thompson Memorial Home and County Infirmary had been "skilfully decorated" for the festive season. The shops in Lisburn were "crammed with articles suitable for Christmas presents" for those who could afford it.
Bargains were to be picked up at Lisburn's Tuesday market on December 17 1889. Turkeys sold between 5 and 15 shillings (25p to 75p) each. Also for sale were geese, ducks and chickens ranging from 1 shilling 6 pence (7p) to 8 shillings (40p). It was announced that all business in the warehouses, shops and mills would be completely suspended for Christmas day. Many would also close on the 26th and the actions of the traders was praised in the local press.
"This is kind and considerate - worthy of Lisburn merchants and traders; and we venture to asseverate that they will be no losers by the transaction, for their assistants will doubtless return to their avocations with a firm determination, by close attention to their duties, to repay their employers for their kindness."
One hundred years ago local businesses were advertising Christmas in the local press from early December.
The photographer John Lannigan, assisted by his younger brothers Thomas and William, Antrim Street were keen to bring to the notice of the readership of the Lisburn Herald that in addition to his New Year cards and comic postcards, they had in stock "handsome hand painted gelatine Christmas cards." Cards bearing "exquisite designs" were amongst the other stationary, fancy goods and hardware sold by Elizabeth Hughes at 55 Bridge Street. Anderson's in Bow Street were also selling Christmas cards priced 1 shilling for 15 cards.
I was recently chatting to a local man who had been engaged in the business of chimney sweeping in the district many years ago. He related to me that one of the busiest times of the year for him was the weeks leading up to Christmas. It was not in the interest of any child to have Father Christmas soiling either himself or any of his precious cargo whilst doing his rounds on Christmas Eve. I had never thought of that one before and it prompts me to change the proverb "as busy as a bee" to "as busy as a sweep at Christmas!"
John Maguire, located at 11 Chapel Hill, sometimes referred to as "the rag and bone man", took advantage of the season in 1909 and invited orders for chimney sweeping.
December 1909 would herald a change for many local businesses. James and William Morrow who traded as Morrow Brothers from Leamington Dairy, Low Road announced the purchase of W.C. Gardener's flesher business and they relocated to 11 Cross Row. James Hanna the blacksmith relocated to larger premises in Smithfield which had formerly been occupied by Thomas Dornan. James Hanna had served with the North Irish Horse regiment in the Boer War. He died in 1941.
E&M Reid, who specialised in ladies and children's wear, had moved in January 1898 from 18 Market Place to 72 Bow Street. They were now relocating to 7 Bow Street. 19 year old David Williams, the well known hairdresser, had been in the employment of Charles Henry Gribben at Dublin Road. The Gribben family were closely associated with the hairdressing trade in Lisburn. William Gribben, Charles Henry's eldest son, and James his brother followed their father into the hairdressing business. William tragically lost his life in 1917 whilst serving with the Royal Irish Fusiliers in France. David Williams had now set up his own business at 14 Antrim Street. He advertised his services as hairdressing, shaving and shampooing.
Ritchie & Sons, drapers, at 54 & 56 Bow Street were advertising a retirement sale of all stock. John Ritchie was later taken over by Johnston Brothers.
George Duncan & Sons Ltd were inviting customers to "come in your thousands" to their premises. They were putting on a display of "living pictures" at the front of their shop in Market Square on Christmas Eve. Members of the public were reminded by Robert McCreight, Clonevin Park, the Clerk of Markets, that Tuesday December 14 would be the principal day for selling turkeys and geese at the Christmas market in Lisburn which was open from 5am that morning.
Borwick's baking Powder for Xmas Puddings and pastry appeared in the Christmas advertising campaign on December 4.
Events leading up to Christmas 1909 included a large Unionist demonstration in the Orange Hall on December 22, where the speakers C.C. Craig, Esq., and Captain Craig, both Members of Parliament, addressed those present.
On Boxing Day, at Hillsborough Annual Sports day, bicycle races and foot races were held over a 2 mile stretch on the Lisburn Road. The winner would be the proud owner of a new gramophone, 2nd prize was a medal and 3rd was a bicycle lamp.
You could spend New Year's Eve in Lisburn Orange Hall at a concert held by Lisburn Conservative Flute band with variety entertainment including "Matthew Minstrels" and William Hood, a Scottish comedian. The Lisburn Herald wished all their readers a Merry Christmas and added "short and simple is the sentence, but surely there are no words which at this time stir so deeply in our hearts."
Merry Christmas.
The Digger can be contacted at diggerarticle@hotmail.com or by contacting The Ulster Star office.
25/12/2009