On the shoulders of giants - the `Irish Tom Thumb'
by THE DIGGER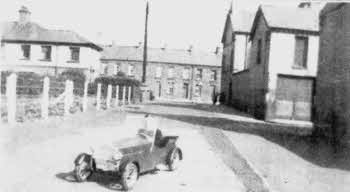 IN 1861 the Belfast Newsletter carried a story about the death of Tom Thumb as announced in the Paris press of that era. It was stated that he had died in hospital in great poverty "after having fallen so low as to have been a show-dwarf at the country fairs." Persons of a diminutive stature were often billed and were usually the central attraction at these travelling fairs.
The name "Tom Thumb" had been given to many of these people, but Mr. and Mrs. Stratton, were billed as the original and only General Tom Thumb and wife. Mr. Stratton, when he was married in 1863 was reported to been 31 inches in height and his wife Lavinia was an inch taller. They appeared at the Ulster Hall in Belfast for three days in November 1871. They had been on a world tour and were returning to America. In 1884 the Ulster Hall was the venue chosen for the appearance of another small person, the Austrian Colonel Ulpts, aged 24 years, and weighing 32 pounds in weight. He was touring with the Royal American Midgets. In April 1946 the Lisburn Standard reported that a miniature carriage believed to be the original as used by General Tom Thumb, had been on view in Lisburn. The residents of Lisburn were of course no strangers to the "little people."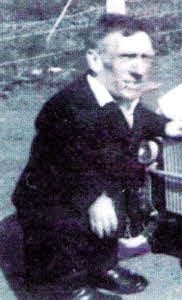 On Tuesday April 28 1903 Lizzie Jones and her husband, John, a painter, residing at Millbrook Road, Lisburn had become the proud parents of a newly born boy whom they named Robert David Alexander Jones. Lizzie Jones was the daughter of Archibald Moore, a barber. She married John Jones at Lisburn Cathedral on December 8 1885. Their other children included Annie, Lizzie, Sarah and John.
The Jones family lost their mother Lizzie at an early age. The remaining family later relocated to Market Street, Lisburn in a property close to the Christian Workers' Union Hall. I was informed by a descendant of the Jones family that the Moore family also lived next door to them in Market Street. On May 12 1921, John Jones died at his residence at 14 Market Street, Lisburn. A notice of his death in the Lisburn Herald placed there by Annie, his daughter, on May 25 informed readers that he had been interred in Lisburn Cemetery.
Robert David Alexander Jones, known locally as Davy, would fail to develop in stature, in comparison with other children of his age. In adulthood his maximum height was recorded as 24 inches. Although considered by some to be disadvantaged, Davy Jones found a way of exploiting his situation and in his late 20's he joined the ranks of Bostock and Wombwell menagerie where he was billed as "The Irish Tom Thumb."
He returned to Lisburn prior to World War Two. Davy Jones made lasting impressions on those who met him. There are many memories of his antics around Lisburn and beyond. The stories of "wee Davy" sitting on a pint glass in some of the town's establishments are still told today. There are many friends and relatives claiming to have carried him on their shoulders through the streets of Lisburn. I have heard stories of Davy delivering firewood and coal around the Lisburn area. He would sometimes bear the brunt of some of the town's "jesters" but they soon met their match. Many years ago in the Nettlehill Road just to the north of Lisburn, a large branch had fallen and was being sawn up by some of the local men. Some of the passing schoolboys who attended Ballymacash School had noticed Davy with his pony and van collecting some of the firewood. One of them thought it would be a good idea to approach "wee Davy" and ask who he was and what he was doing. Davy Jones perceived that the schoolboy was being rude. I was told that he never made any reply, lifted a block from the front of his van and threw it at the inquisitive schoolboy, hitting him on the head and sending him spiralling into a nearby "sheough." He would never cross Davy Jones again.
Fred Kee, reminds us in his 1976 publication titled Lisburn Miscellany, that Davy kept his pony and van in a stabling yard off Castle Street in Lisburn. It was said that he purchased the pony and van after a substantial win in the Irish Sweepstake.
In 1965 The Ulster Star reported that Davy had taken possession of a new car. Although it resembled a Lotus Elan, it was actually a Cheetah-Cub car manufactured by Watsonian of Birmingham. This firm were well-known sidecar manufacturers and were amongst the first companies to use fibreglass in the construction of side cars in the 1950's. Davy's car was constructed of fibreglass and the 75cc four stroke engine, with a top speed of 14 miles per hour, was located in the rear. It was five feet in length and cost £125. Many people will recall Davy in his car passing them in the centre of Lisburn.
On March 28 1970, Davy Jones, residing at 27 Antrim Place, Lisburn died at the Lagan Valley Hospital in Lisburn aged 66 years. His death was registered on April I, 1970 by W.H. Jones, a nephew, then a resident of Sutton in Ashfield, Nottingham. Davy Jones was survived by his wife Jean and son David William. He was buried in Lisburn Cemetery.
His unique car can be viewed at the Ulster Transport Museum.
I would be interested to hear from readers who may have other photographs of "wee Davy" amongst their albums and scrap-books that they would be willing to share with others.
The Digger can be contacted via The Ulster Star office, or by emailing diggerarticle@hotmail.com.
DIGGER ARTICLE: follow up to Davy Jones story please click here
07/05/2010