Reliving memories of Christmas 1975
The Digger goes back 35 years to recall the Christmases we enjoyed in the 1970s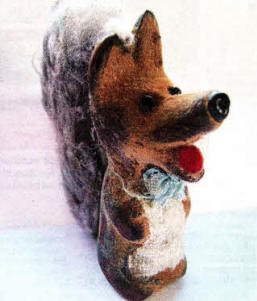 A miniature `Basil Brush' figure from the early 1970's era. He made an appearance on television over the 1975 Christmas period on December 27th.
1N the run-up to Christmas, 35 years ago, The Ulster Star ran a painting competition for the 6 to 10 year old age group.
Six lucky runner ups would win Disney yo-yos and the main prize that year would be 'Raving Bonkers'. Anyone remember that? It was a game consisting of two nine and a half inch high robots in a boxing ring. It was a highly valued prize, priced at £7.75. Undoubtedly it brought a lot of pleasure to the eventual winner who resided in the Edenvale Gardens, Ballymacoss area of Lisburn.
In 1975 the sum of £7.75 would have bought you a guitar from Evans Musical in Bridge Street. Perhaps you were the proud owner of one of the stylophones they had on sale that year for £13.50.
Santa Claus visited Lisburn on Saturday 29th November at loam and he could be seen at 'Super Crazy Prices'.
This would be a good time to ask him for your new Raleigh Chopper. Had you have had the foresight to hold onto it, a collector would today be handing over between £60 and £100 for the bicycle. Other popular bicycles included the Raleigh 18 and the Dawes Kingpin.
Turkey
If you were having turkey that year for Christmas dinner then you would have been paying somewhere in the region of 45p per pound. For those with rheumatic pains an illicit bottle of the 'crateur' for a rub, manufactured in the hills of Tyrone or the Glens of Antrim was for sale between £1.50 and £2.50 per bottle.
Children frantically unwrapped presents to find a wide variety of toys that year. Prams and trikes ranged from between £3.40 and £6.60. For those who had become tired of the wooden guider on pram wheels, a new go-kart was available for £16.80. Other popular toys included jigsaws, rocking horses, spinning tops, Playskool dolls house and fifteen piece tea-sets.
What a pity we hadn't have taken more care of the toys and their boxes! An Action Man 'Talking Commander' figure recently sold for £160. A similar Grenadier Guard figure sold for £125. Starsky and Hutch figure dolls from 1975 are now fetching £50 each.
Other popular toys from that era now worth in excess of £50 include the Dr. Who Dalek and the Lego Wild West Scene. Santa, however, had always made his magical journey to provide us with toys for playtime and not to be unloved, unwrapped and confined to the attic.
Annuals
There were a plethora of new annuals hot off the press for 1976 on sale for about 70 pence. They included Basil Brush, Beezer, Black Beauty, Bunty, Cub Scout, Dad's Army, Dandy, David Essex, Diana, Dr. Who, Hotspur, Judy, Lion, Magpie, Mandy, Marvel, Music Star, Oor Willie, Osmonds, Pink Panther, Popeye, Rupert Bear, Score, Shoot, Space 1999, Sparky, Spiderman, Tiger, Tom & Jerry, Topper, Twinkle, Victor and The Wombles - to name but a few! Some of the annuals, in good condition are now worth over £10.
Some people invested £6 in a "Wombles Radio" and would be tuning in on Christmas Day to Radio 1 to listen to a half hour programme of carols introduced by Cliff Richard. At 2pm on Radio Ulster listeners could join Walter Love, who was on a visit with the 2nd Battalion of the Royal Irish Rangers at Hemer in West Germany.
The family could settle down in front of the newly acquired colour 22 inch television which would have cost approximately £230 or could have been rented for £6.99 a month.
They had three channels to chose from. Broadcasting commenced on Christmas morning at 9am with Ragtime on BBC 1. Other programmes on BBC 1 included the Christmas Morning service, Rod Hull & Emu, Laurel & Hardy, Billy Smart's Circus, The Wizard of Oz, Bruce Forsythe, Some Mothers do 'av them, Morecambe and Wise Xmas Show Butch Cassidy & the Sundance Kid and The Good Old Days.
All three TV stations broadcast the Queen's speech at 3pm. The Bay City Rollers featured in Top of the Pops number one show hosted by Tony Blackburn and Noel Edmonds. The popular tartan clad heroes also had their own show on Ulster Television on Christmas Day. Several days before Christmas they been playing to fans in Belfast. It was reported than more than 60 young girls fainted at that concert.
One of the later television programmes broadcast on Christmas night by BBC 2 was titled "Presents past, or the art of the tin toy." It was a nostalgic look at Victorian and Edwardian tin toys and undoubtedly conjured up memories with grandfathers in 1975. It will not be long before grandfathers are watching nostalgic television programmes featuring Airfix kits, Action men and Scalextric!
Happy Christmas!
The Digger can be contacted via The Ulster Star office or by email: diggerarticle@hotmail.com.
10/12/2010