William Harbison, the Fenian Uprising and Portmore
by THE DIGGER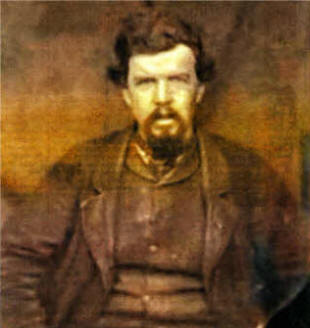 William Harbison, a native of Ballinderry, who died in jail on 9th September, 1867. He is buried at Laa Lou, Portmore, Ballinderry.
THE late 1850s saw the formation of a Fenian movement which had membership in countries including America, Ireland and mainland Britain and sought to bring about independence in Ireland using force. It attracted members from all walks of life including soldiers and civil servants, all of whom took an oath of secrecy.
In 1861, when the Civil war broke out in the United States, many in the movement joined up for military service, gaining valuable skills which they intended to utilise in a rising in Ireland. After the civil war ended in 1865 veterans began to arrive back in Ireland. In September that year several of the leaders were arrested. Veterans returning to these shores who had military service in the United States were viewed with suspicion. Locally, the arrest took place of a man called John McDonald in September 1865 in Hillsborough. It was reported he had been dressed in the uniform of the American Federal army - light blue trousers, dark blue serge coat with brass army buttons displaying the American Eagle, stars and stripes. He appeared before Hillsborough Petty Sessions several days later. He had in his possession discharge papers and certificates from "Baldwin's Regiment of Ohio Volunteers" in which he had served for two years. He was questioned about comments he was alleged to have made about the Fenian movement. The Magistrates, having heard all the evidence, released him.
In early 1866 there was a suspension of the Habeas Corpus and it was reported a large number of people left England and Scotland and a mass of arrests of suspected members of the Fenian movement took place across Ireland. Locally, events were causing tensions. The courts took a dim view of those who appeared before them on charges of using seditious language in a public place. In January 1866 a night watchman employed by Lisburn Town Magistrates made an allegation that a drunk man had approached him stating "I am the best Fenian in Lisburn. Stephen's forever. I am now ready to take Stephen's shoes and fight for my country. To hell with the Queen." It was reported this individual had become violent and several of the night watchmen had to tie his legs with a rope and carry him to the barracks. The magistrate released him on bail to be of good behaviour. James Stephens was one of the founding members of the Fenian movement.
In December 1854 it was reported the Corps of the Royal Antrim Rifles had 200 rank and file, including 12 sergeants and 16 buglers and they were occupying barracks in Belfast, most likely Victoria Barracks in North Queen Street. A Sergeant with this regiment was William Harbison. In February 1866 it was reported that he and three others were arrested in O'Neill's Public House, Belfast in connection with Fenianism. The others included Frank O'Neill the publican, John O'Rourke a pensioner from Millfield and Patrick Hasson, North Queen Street who had served in the Federal Army. They were all committed to prison. William Harbison remained in a Belfast to the Spring Assizes of 1868 and he was sent back to jail. But William Harbison would never appear in a courthouse to stand trial. On the evening of Monday 9th September, 1867 he was found dead in his cell. An inquest was held the following day in the boardroom of the jail. Captain Keogh, governor, gave permission for William's brother Philip to attend. It was reported William's wife and father-in-law were also present.
The inquest was adjourned due to the absence of Harbison's solicitor John Rea who was involved with a case at Rathfriland centered on sectarian skirmishes. At the first inquest, one of the 14 appointed jurors raised some concern over having seen some marks on the deceased's face, which were described as cuts. The coroner, Dr. RE Dill, directed a post-mortem be carried out prior to the release of the body for burial, by Dr. Purdon, medical officer for the jail. Dr. Fagan, who had been appointed by the deceased's friends, was also to assist. The second enquiry took place as planned although Mr. Rea could still not be released to attend. A representative of the Harbison's legal team left the room and refused to remain for the proceedings and it was reported William Harbison's wife also left, refusing to remain "in the jail where her husband was murdered." She wished the inquest to be held in a public court. Philip Harbison also refused to remain and requested to be taken to his cell again. The reporting of the inquest provides an insight into prison life in the 1860's. Prisoners had access to a garden where both they and wardens worked. Each cell was ventilated and had an escape for foul air at the rear. Cell lock up time was 6pm each evening and at 9pm a superior officer checked on prisoners. There was an inspection glass on the door of every cell. There was also gas in every cell, although the gas was not lit until 1st October. They were heated by hot water pipes. Cells were swept out once a day. A bell was provided to summons a warder. The furniture in the cell consisted of a bed, raised approximately one foot from the ground. There was bed tick, 2 sheets, a pair of blankets, rug, table and chairs in the cell of William Harbison. Water was also provided for the prisoners.
William Harbison's wife brought food in for him. All food and baskets entering the prison had to be inspected by the gate porter. Tobacco and whiskey would be confiscated although it was reported William Harbison was in a class of prisoner who were permitted tobacco and books. He was also permitted to converse with Philip his brother, although they were not allowed to exercise together. William was entitled more exercise time than other prisoners on recommendation from the medical officer who also permitted him to receive porter.
On the day he died, the inquest was told that his breakfast had been an egg, tea and buttered toast. He had a slice of bread and butter in the afternoon and later had a bottle of ale and a tin can of potatoes and beef. William Harbison, who was described as a peaceable man who never threatened any acts of violence, had been attended by the prison doctor whilst in jail. Dr. Purdon told the inquest the deceased had been under his care and that he was frequently on the sick-list as he had heart trouble. A warder informed the inquest that he had last seen the prisoner alive at 5.45pm sitting at a table and reading a book. He was found dead in his cell at 9.30pm.
The postmortem revealed he had an aneurism in the aorta. The doctor said the scratch on the deceased's forehead was most likely caused by a fall from the bed onto the floor. The jury concluded William Harbison "came by his death from disease of the aorta and from no other cause whatever that came to the knowledge of the jury." The inquiry lasted four hours.
The death was registered on the 28th September 1867. His age at this time was recorded as 36 although other records states he was 41 and 44 years.
There were those who would not accept the findings of the inquest and doubted the circumstances.
The funeral of William Harbison took place on the 13th September, 1867 and was widely reported as one of the largest demonstrations of any kind that had ever taken place in Belfast. The funeral procession commenced at North Queen Street where he had resided. The Northern Whig newspaper estimated that between 5000 and 8000 people attended. The coffin was carried by four men through Belfast and was followed by three carriages. There were between 43 and 60 cars following the four horse hearse and young men were reported to be walking eight abreast behind the coffin.
Some of those mourners walked the route from Belfast to Portmore cemetery. Police had been placed at various points along the route as magistrates feared a riot but everything was reported to have passed off peacefully and William Harbison was laid to rest.
In February 1868 it was reported Philp Harbison and Francis Rea had been discharged from custody having promised to leave the country and proceed to America. They were to leave Belfast on board the Liverpool steamer, their departure having been witnessed by Belfast detectives. It appears that Philip Harbison may well have returned to Belfast at a later stage.
The Belfast Newsletter in May 1876 reported the Lurgan Board of Guardians had discussed a letter from Mr Philip Harbison of Belfast seeking permission to erect an "ordinary" headstone at Portmore in memory of his late brother. The Board had previously refused to permit any monument bearing national emblems as they feared "it would give rise to disturbances in the neighbourhood." The matter was again reported in 1884 and it appears a headstone had not been erected because the proposed inscription was to make reference to the deceased having "died in defence of his country, and that he had been killed by the Government." When you visit Portmore Cemetery you will not find any headstone marking the final resting place of William Harbison, although a descendant of the Harbison family has informed me that he was laid to rest in the vicinity of the "Horbison" headstone. There is however a memorial stone in Milltown Cemetery, Belfast recording his death. It had been erected in 1912. It makes reference to the fact that he was "interred in the ancient monastic ground, Portmore, Ballinderry." The monument also records the names of other Fenian prisoners who were imprisoned in County Antrim jails in the years 1866 - 7. Philip Harbison and Francis Rea are to be found amongst the names. Transcriptions of all headstones at Portmore cemetery, Ballinderry can be viewed at www.glenavyhistory.com and are freely available for those who are researching family history.
The Digger can be contacted at diggerarticle@hotmail.com or by contacting The Ulster Star office.
29/01/2010