Return to sender - how old mail can help you with your family history
by THE DIGGER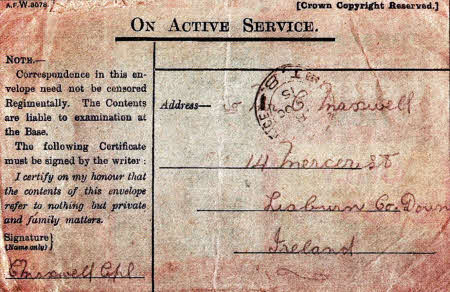 An envelope from World War One.
IT isn't the first time I have heard someone remark with some surprise "How did you find me then?" when I have knocked on a door in the district seeking information about someone's lost relative. For some not used with technology, it can be hard to grasp the concept of the "information age" which we now find ourselves in.
The internet can prove to be a useful tool in the research of family history. We now have the 1911 census for Ireland at our fingertips, a good starting point for anyone finding out about their ancestors. There are more clues in other free online databases, such as those on the Public Record Office of Northern Ireland website. The Belfast Street directories, names and addresses on the 1912 Covenant and the wills index on this website are all valuable research tools.
A search of the birth, death and marriage records at the General Register Office, Chichester Street, Belfast can often fill in other missing links. There you may well discover other previously unknown relatives who have registered the births and deaths of their loved ones or were witnesses at family weddings.
Old electoral rolls, telephone directories and valuation records are also useful and now with social networking sites on the internet, the world is most definitely a smaller place. Many years ago I decided to purchase a collection of old postcards from a dealer in England who was selling on a well known online auction site. The collection was an assortment of unwanted postcards that fortunately had survived destruction when the houses they were in had were being cleared out.
Undoubtedly the cards I had purchased had been trawled through many times at antique and collectable fairs the length and breadth of the country. It was no surprise that churches, parks, cities, towns, villages, coastal scenes and beaches were the most popular subject matter on the front of the cards. However, I have a theory that the most interesting part of a postcard is the content on the rear. There were probably hundreds, if not thousands of each card printed, but the personal messages make each one unique. No two are ever the same. I focused my attention on the rear of the cards and I spent some time sorting them into order of family surname. I found six cards in the collection addressed to various members of a family called Goodhew, at an address in Clive Road, Rochester. The cards had been posted in the years 1904 - 1906 from various parts of the United Kingdom. I didn't need to travel to the mainland to pursue my search for further information. Thanks to modern technology, I was able to locate the family on the 1901 census and the names on the rear of the postcard fitted the information.
Last year I managed to salvage an envelope dating back to 1915. It had been addressed to a family in the Lisburn area. A dealer in postage stamps and postal history from the Lanarkshire area of Scotland had this piece of local postal history for sale.
There was some value on the envelope because it was a military one marked with the print code AFW 3078. There would have been hundreds of these envelopes being delivered locally during WWI. It was marked "On Active Service" and came with a standard warning. "Note - Correspondence in this envelope need not be censored regimentally. The contents are liable to examination at the base. The following certificate must be signed by the writer: I certify on my honour that the contents of this envelope refer to nothing but private and family matters."
We may never know if the sender of this letter strictly adhered to these rules as the contents of the envelope were missing, but we know the sender "C. Maxwell" did not fully abide by all the rules. The envelope should only have had the sender's signature, but on this occasion the rank of this soldier was entered. He was a Corporal. Further clues as to the identity of this individual and his family could be found in the recipient's details. "Mr. C. Maxwell, 14 Mercer Street, Lisburn, County Down, Ireland."
There are military records available online which turned up the name of Charles Maxwell, a corporal in the Royal Irish Rifles service number 1/5219. We cannot be certain this is our man, it is only a possibility.
The 1911 census proves its worth when we investigate further. We find a 15 year old Charles Maxwell, a spinning doffer, was residing at 15 Bradbury's Court in Lisburn with his father, Charles, a carter in the mill, aged 39. Charles senior had been married one year to his 29 year old wife, Maggie. A three year old called Elizabeth Johnston is also listed in the household as a daughter of Charles senior.
Further research reveals Charles Maxwell junior was born on 18th January 1896, at Connolly's Row, Lisburn. His father was then a gardener and the mother of the baby was recorded as Ellen Jane Maxwell nee Belshaw.
On confirmation of the mother's maiden name we can positively say that Charles Maxwell, son of Samuel, married Ellen Jane Belshaw, the daughter of James Belshaw on the 9th April, 1895 at Lisburn 1st Presbyterian Church. The marriage would be a relatively short one, due to the untimely death of Ellen Jane. Charles, now listed as a carter, remarried at Hillsborough Presbyterian Church on the 11th May 1910 to Mary Jane Johnston, Lambeg, the daughter of a carpenter Andrew Johnston. Gradually we can build up a picture of the lives of the Maxwell family in the early 20th century.
The witnesses at their wedding were listed as Sarah Lyness and J. Lyness. There is a possibility this was Sarah Jane Lyness and Joseph Lyness residing at Ivan Street, Lisburn at that time. In 1911 a lady by the name of Martha Belshaw, a 69 year old widow, was residing with her 14 year old granddaughter called Isabella Maxwell in a house in Mercer Street. I am aware that a James Belshaw from Lisburn married 21 year old Martha Truesdale at Lisburn Cathedral in 1866. She was his second wife. There is a possibility these people are all linked to our Charles Maxwell.
The search could now be continued in order to provide us with a fuller picture. Death indexes, newspaper death entries, graveyard and burial records, church records, valuation records, military records and the 1901 census are all records that could be utilised to further our search.
However, experience dictates it is not unusual for a reader to recognise names mentioned in articles and to make contact. I would dearly love to make someone's day and have this small piece of our local history returned to a living descendant of the Maxwell family. The 1911 census for Ireland can be accessed at www.census.nationalarchives.ie. The Digger can be contacted c/o The Ulster Star or by emaiI diggerarticle@hotmail.com
31/12/2010