Reuniting the past with the present
The Digger manages to re-unite a local family with a little piece of their history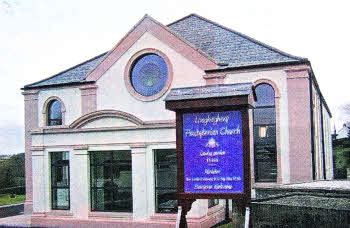 Loughaghery Presbyterian Church, Annahilt central to some of the family history research being carried out by Lisburn lady Caroline Holmes and Bedford lady Debbie Fairbrother.
I recall travelling into Belfast City centre several years ago in a double decker bus. I was sitting behind two teenage girls and was one of only a handful of people who did not have some piece of modern technology wired into their ears.
I could therefore not avoid overhearing the young ladies discussing their family backgrounds. I was privy to a guided tour of their private lives and I learnt all about father's ex-wives, mother's ex-partners, current boyfriends and girlfriends, half siblings and others with unknown parentage as we passed by the various streets in Belfast.
Clearly a historical minefield to the family history researcher at some future date. It is however not a phenomenon unique to today's society and piecing together family units of the past can sometimes prove to be a complicated matter.
On 31st December an article titled 'Return to sender' was published in this column in the Ulster Star. It related to an envelope I had acquired addressed to the Maxwell family at 14 Mercer Street, Lisburn.
Corporal Charles Maxwell, who was on active military service during the first World War had sent this envelope to his parents' address in October 1915. In the article I had made reference to some details relating to this local family which I had uncovered in records sourced locally. I had hoped that perhaps a descendant would make contact in order for this piece of postal history to be returned to the family.
To my delight I received two emails - one from a local lady Caroline Holmes and the other from Debbie Fairbrother in Bedford, England. Both share the same great great grandparents - Andrew Johnston and Mary Ann Turtle, the parents-in-law of Charles Maxwell (senior) to whom the World War 1 envelope was addressed. They were married in 1881 at May Street Presbyterian church, Belfast.
Caroline and Debbie are still in the early stage of their family history research and they have started to uncover a plethora of complications, stories and mysteries still to be resolved.
The family inform me that the soldier who sent the envelope, Charles Maxwell (junior) , married Georgina Todd on the 20th December 1917 at Newtownards. At the time of his marriage he was with the Royal Irish Rifles at Holywood.
Their research has led them to Canadian Immigration records and indicate that Charles Maxwell (junior) entered Quebec on 11th September 1925 where he was making his way to the YMCA at Montreal. At the time his occupation was given as a head-constable. He informed the Canadian authorities that his wife, residing at 96 East Street, Newtownards would be joining him in Canada at a later date.
Their research is now linking many local surnames to the family history including the Turtle family from the Loughaghery and Drumbo area. Other surnames linking include Johnston, Cupples, Kidd, Lyness, Truesdale and Belshaw and Murdock.
Samuel Maxwell married Charlotte Murdock, the daughter of John Murdock, Hillhall in 1863. They were the grandparents of Charles Maxwell, the Lisburn soldier. The family believe that the Maxwell family burying ground is in Lisburn Cemetery.
Undoubtedly other readers may well identify combinations of these surnames in their own family history. If so, and you would like to be put in touch with Caroline and Debbie please do make contact.
In the meantime, the 1915 WW1 envelope has been reunited with one of the family descendants. Such is the power of your local Ulster Star!
The Digger can be contacted at The Ulster Star office or by email diggerarticle@hotmail.com
Loughaghery Presbyterian Church, Annahilt central to some of the family history research being carried out by Lisburn lady Caroline Holmes and Bedford lady Debbie Fairbrother.
04/02/2011