Migration, movement and merchants in Lisburn town centre
by THE DIGGER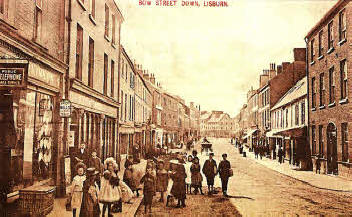 THE census records in the early 20th century are particularly useful when a researcher is trying to establish where a particular family may have originated from. Many people relocated from the country districts and villages to the larger towns to seek employment. Railway workers, due to the nature of their work, could be transferred anywhere within the various networks.
In the 1901 census Robert Turner, the son of a farmer and native of County Tyrone had been employed as a railway collector with the Great Northern Railway and at that time was boarding with the Balmer family at Lower Side Terrace in Lisburn. Thomas Balmer, an inspector with the railway, lived there with his wife Elizabeth, daughters Elizabeth and Rachel and son Thomas. The Balmer family had originated from County Armagh.
In October 1902, a romance blossomed culminating in the marriage of Robert Turner to the Balmer's eldest daughter, Elizabeth. In the 1911 census Robert and Elizabeth Turner had relocated to 12 Northbrook Avenue, Dublin. Robert was still employed with the railways and he and his wife had two boarders lodging with them - George Drumm, a postal clerk from County Fermanagh and William Proctor, a railway guard from County Armagh.
I managed to turn up several postcards from the 1909/1910 era linked to the Turner and Balmer families. One of the them by local photographer John Lannigan, depicts Bow Street, Lisburn and was posted in the town on the 30th September 1910. The recipient was Mrs. R. Turner, 12 Upper North Brook Avenue, North Strand, Dublin.
This would most likely be Elizabeth Turner (nee Balmer). She is referred to as "Sissie" and the postcard has been sent by "TB" believed to be Thomas Balmer writing to his sister. The message simply reads "R. is all right an(d) conducting himself. He will be home by 5.30pm ex Bft. Hoping you are well." "R" may refer to Robert Turner.
Another card dated 15th April 1911 was sent from Drogheda to Mrs Turner, c/o the Balmers at 13 Westbourne Terrace, Antrim Road, Lisburn. Elizabeth Turner's parents were now residing at this address and she may well have been on a visit. The writer hopes that she is getting "on well with the Lisburn air."
Another romance amongst the railway fraternity had blossomed and it was not long before Rachel Balmer was wed to William Proctor, who once had been a boarder with her sister Elizabeth in Dublin.
The only son of Thomas and Elizabeth, Thomas did not follow his father into the railway and instead moved to Belfast where he was employed as a bread server. He married Agnes Smith from Redcar Street, Belfast.
Thomas Balmer's postcard sent in 1910 to his sister depicts Bow Street and has been taken from the Market Square end looking towards the Antrim Street junction. John Lannigan, a local photographer, as in so many local postcards of that era, had attracted a number of onlookers. Approximately 18 curious children had gathered close to where the photographer set up his equipment. The shop to the immediate left of the picture displays the name Parkinson and number 9.
Arthur Parkinson, a draper and outfitter, was the proprietor of this shop. He resided there with his wife and children. Originally he been in business at 25 Bow Street. In 1885 he was advertising the sale of boys and youths suits.
Two years later he opened a telephone call office and charged 6 pence per conversation of three minutes duration to any subscriber to the Belfast exchange. He was also an authorised agent for Anchor Line Shipping.
In February 1890 he moved premises to 16 Market Square and in July 1899 an advertisement appeared in the local press informing interested persons that the shop and dwelling house at 16 Market Square were out to let. It was described as "one of the best business situations, large plate glass windows, adapted for nice trade."
In April 1900 Arthur Parkinson had taken over the premises depicted in the postcard. 16 Market Square would later become Johnston's Pharmacy. It is interesting to note in the picture the signage outside Parkinson's shop - "Public telephone call office" and 'Agent - Bell's Dye Works, Paisley."
In April 1896 number 11 and 13 Bow Street came up for sale in auction. The owner of the premises, retired painter James McCloy from Albion Villa, Antrim Road, Lisburn had been in poor health and he had given instructions for the dwelling house, shop and premises at Bow Street and his 38 other properties in the Lisburn area to be sold. He died in May 1897.
The advertisement for the sale of the premises at that time provide us with some idea as to their extent. A large yard was located to the rear and was approached from Smithfield. There was also stabling accommodation for 30 horses, a coach house and extensive storage and haylofts. The estimated annual revenue of the yard was given as £20.
Number 11 Bow Street had been one of the premises in which James Wilson carried on his trade as a proprietor of a grocery, wine and spirit business and insurance agency. Number 13 was occupied by William Erskine a grocer who was paying a yearly rent of £30 and taxes for the benefit of his premises.
In the 1910 postcard the signage on the shop front at number 11 is visible with some assistance from a magnifying glass. "11 J.G. Ferguson."
John Gardner Ferguson was a wholesale and retail wine and spirit merchant. In October 1899 he obtained a licence to operate his business on transfer from Thomas Wilson. The property at 11 Bow Street, Lisburn has been advertised for sale in June 1899. "Valuable Freehold Licensed and Grocery Establishment, stabling yard, and premises, for sale by auction." John Ferguson also had premises at 59 Bow Street, Lisburn. He died in 1931, aged 79 years and he was buried at Legacurry Presbyterian Church.
Bow Street, formerly known as Bow Lane, has been host to numerous businesses over the centuries. It was as much a thriving popular central location for businesses then as it is today.
Anyone who believes they may have ancestors buried in Belfast City Cemetery (from 1869), Roselawn Cemetery (from 1954) or Dundonald Cemetery (from 1905) can now search burial records at the online data base at www.belfastcity.gov.uk/burialrecords.
You may be fortunate to find details including name, age, last place of residence, date of death and burial, grave section and number and the type of burial.
The Digger can be contacted via The Ulster Star Office or email - diggerarticle@hotmail.com
A postcard, sent from Lisburn to Dublin over one hundred years ago depicting Bow Street, Lisburn.
10/06/2011