Murder and mayhem in 19th Century Lisburn
by THE DIGGER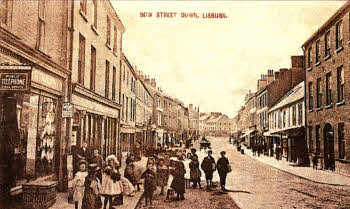 A postcard showing Bow Street, Lisburn in the late 19th or early 2Oth century.
ON the evening of the 30th August 1809 at about 10pm Dr. Thompson was called to attend to William Alderdice in the Bow Lane area of Lisburn. Bow Lane was later called Bow Street. It was reported in the Belfast Newsletter in March 1810 that the doctor on his arrival had discovered the man was dead. He examined the deceased and noted a small mark on the side of the head, and several bruises on the neck and shoulders. It was his opinion that the deceased had died from blows.
Isabella Irvine later told a court that she was in Bow Lane on the evening in question with several people including Thomas McCabe and George Singleton. She stated that William Alderdice came up with a "jandy" against them. It is not clear from the report as to what exactly a "jandy" was but it may well be similar to the Scottish word "jander" or "janner" which refer to foolish talk. Other reports in relation to the events states that Alderdice "drove" against them. Isabella Irvine told the court that both McCabe and Alderdice had drink taken, and McCabe who had been insulted struck out at Alderdice with a stick. She added that "several others came up and some said the fhelty had got enough." The word "fhelty" had been explained by one of the counsel to mean Scotsman.
Another witness, Alice Topping recalled the "jandy" in Lisburn, when some "blows were given but due to fright she ran off.
William Bradshaw stated that he saw McCabe and Singleton out walking when another man stopped. He heard McCabe say that "you are a blackguard or you would not stop on the road." There was then a fight and McCabe struck Alderdice and he fell on the road. A lady was heard to say "come away or he'll raise a mob." It was reported that someone called Wallace told the lady that he had "given him a blow that will make him lie a while." It was alleged that afterwards Wallace said to McCabe "Timothy you could strike none, but I have given him a blow or two."
Another witness called Robert Moore told the court that from his window he saw some men strike the deceased but he did not know them.
The court found that both Thomas McCabe and George Singleton were guilty of the manslaughter of William Alderdice and they were to be burned in the hand. They received imprisonment for six and eight months consecutively.
Almost 28 years later a similar case was brought before the courts in July 1837 as a result of an incident that took place on Easter Tuesday, 28th March 1837.
Louis Nowlan, John Magill and Patrick Nocher had been charged with manslaughter and John Nowlan for bemg present and aiding and abetting the offence.
The victim was William Orr and the scene of the crime was reported to be at the house of John Belshaw . It appears that this was a public house as one of the witnesses to the events, James Munce, informed the court that he had been asked into Belshaw's by George Godfrey to get "half a pint of warm beer." There is no location for the premises mentioned, but a John Belshaw was residing at Bow Street, Lisburn until his death in August 1864. He was buried in the family burying ground at Magheragall. Also in early street directories there is a John Belshaw listed as having a public house in Bow Street, Lisburn.
Whilst in Belshaw's, James Munce claimed he heard a noise in the yard and he ran outside and observed William Orr fighting with Louis Nowlan and John Magill. He saw Orr knock one of the men down and then Louis Nowlan striking Orr with a blow to the back of the neck. Nowlan and Magill then ran down the yard towards another fight in which a man who was described as a friend of Orr's, called McGolding, was engaged. James Munce stated that he saw Louis Nowlan kick Orr on his left side as he lay on the ground and that Patick Nocher and another man named Dubourdieu also kicked the victim. He stated that William Orr never rose to his feet again and was carried into Belshaw's house.
Another witness, Robert McCann, was in Belshaw's yard about 3pm and on hearing a noise he descended a ladder and saw Orr and Golding preparing to fight against opposing parties who were at the entrance to the yard. He saw that Louis Nowlan was stripped and he was being restrained. Magill was also stripped.
Another witness called Eleanor Dickey was also at Belshaw's and saw the quarrel. She told the court that she saw Louis Nowlan lying on the ground and swear that "he could fight the bulk of himself of a devil." She then observed him getting up and striking William Orr on the side of the head and then he kicked him before he fell. Eleanor Dickey was to undergo a cross-examination that day in the court in what could only be described as an attempt to discredit her and her evidence. It was reported that she told the court that her husband of almost four years was a butcher and she had been married by the Reverend Kelso. It appears that she was asked in court about her marriage and it was suggested to her that Mr. Kelso was known as a "buckIe-beggar" in the neighbourhood. The term was given to someone who performed unlicensed marriages. The Rev. Joseph Kelso had been ordained as a Presbyterian Minister in 1809 and had been ministering at Magheragall. In a later court case relating to bigamy in 1856 he, as a witness, told the court that a charge of intoxication had been brought against him and he had resigned his position voluntarily. He did however continue to perform marriages. Eleanor Dickey also informed the court that she had come to Lisburn from Strangford. She stated that she did not practice begging in Lisburn and she never had feigned blindness. She told the court that she had been in fifty rows in her time and had appeared twice before a Magistrate.
Thomas Wethered, the doctor in attendance at Belshaw's yard told the court that he examined the body of the deceased and it was his opinion that the immediate cause of death "was an effusion of blood on the brain, arising from blows or falls." Dr. Wethered was a much respected member of the medical profession in Lisburn where he had been practising since 1821. In 1832 residents in the Lisburn district were instructed to go to him for medicines used to treat the cholera outbreak. He succumbed to an early death in September 1842 at the age of 42 years and was buried in the grounds of Lisburn Cathedral.
It was reported that several witnesses were produced for the defence during the trial. John Nowlan was found to be not guilty. Louis Nowlan and John Magill each received three months imprisonment for manslaughter and Patrick Nocher two months. The case did not end there. In March 1838 Shem Durbourdieu was brought before the court also charged with the manslaughter of William Orr. There was no evidence that he had done anything particular to the deceased to cause death, however, he was found to be guilty and imprisoned for one month.
The Digger can be contacted via The Ulster Star office or e-mail diggerarticle@hotmail.com.
13/05/2011