The Digger recalls a different way of finding a valuable commodity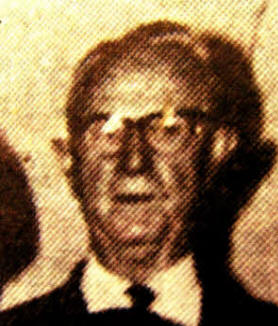 Fred Diamond (1891-1984), a local water diviner, who resided at Nettlehill Road- (Source: Ulster Star 1975)
THE experiences of some residents in recent weeks highlight our dependency on services which we sometimes take for granted. Extreme weather conditions led to the disruption of water across the province and misery in many homes over the festive period.
A generation ago, in many parts of the district, it would have been part of the daily routine to visi1 the water pump situated in the local village or sited at some convenient location within the neighbourhood. Others relied on the well in the yard or close-by to the farmstead to provide for both human and animal needs. Now, standing water pumps, water troughs and outside wall-mounted urinals are a distant memory.
But the availability of water has always been an important factor in the human psyche when taking up the occupation of a new geographical area.
And through the ages, when it was difficult to locate this precious commodity, the services of a water diviner was called upon.
This is a subject that has fascinated me since childhood, having listened to the older folks relating tales of local diviners. It was not uncommon to find at least one diviner in each townland. Over the years I collected a number of books on the subject, also referred to as "water-witching", "divining", "water-finding" and "dowsing." The subject has been extensively covered in print, but despite this I have yet to find a convincing explanation for this unique phenomenon.
In my collection I have an early 20th century 12 page illustrated booklet titled "Water Finding" by S.T. Child, water expert, from Ipswich. I acquired this in my teenage years from an octogenarian called Fred Diamond.
Vigour
John Frederick Diamond was born in 1891 at Riga Street, off the Shankill Road Belfast and he and his wife Eileen came to live in the Lisburn area in their later years.
Their home was at Nettlehill Road and was sited adjacent to the roadside and the entrance to the former St. Mark's Church, now Lisburn Reformed Presbyterian.
I had been told that Fred had been an active water-diviner and arranged to meet with him at his home.
Although I had heard many tales of forked sticks and springs being used to discover water this would be my first "hands-on" experience with the subject.
Fred took me to his garage and lifted down a Y-shaped sally-rod, stripped of bark, which had been hanging on the wall. He explained that he knew there were veins of water running under the garage floor and into the adjacent field. He held the stick in both hands and paced across the garage.
At certain points the stick turned in his hand with amazing vigour.
He asked me to try it, but the stick failed to turn. To dispel any doubts I had about divining, Fred held one half of the stick in one hand and he got me to hold the other. We started to move across the garage and at a given point the stick turned violently and uncontrollably in my hand.
"Now you know why the rod has been stripped of all bark." Undoubtedly it would have left abrasions had the bark not been removed, such was the power of this unexplained mystery.
Fred told me that he had discovered his skill quite by accident. He first met a water diviner while working as a civil engineer in the late 1930's when he was in charge of a major water supply scheme at Dunsilly.
Discovered
He took the stick and discovered that he could divine water accurately. He was to find water on hundreds of farms across Northern Ireland and was able to give the farmer a depth reading to within an inch.
Fred told me that the then field, now the car park at the rear of St. Mark's Church, Ballymacash, contained a number of water veins and he had advised against the siting of the new church. The church was opened in 1975 and it was not long before a long battle began against rising water under the stage area.
Fred was later employed by the Ministry of Agriculture on schemes to provide water to farms. However, the Ministry were not employing him as a water-diviner but in an official capacity, and were unaware he was able to use his divining rod to discover water on land which the geologists had previously written off.
He told me his employers discovered that he had been giving advice outside of his employment and they issued a directive against his actions. Fred fought this and eventually the Ministry allowed him to carry-on with his divining.
In 1959 Captain Peter Manning, a senior geologist, informed those present at a meeting of the Belfast Naturalists' Field Club that he was sceptical of water diviners. Fred, with a stake of £100, publicly challenged Captain Manning.
The Belfast Newsletter reported the challenge and added: "Mr. Diamond said yesterday that he was prepared to be blind folded for any test which pitted scientific instruments against the fallibility of his simple equipment - a rod of ash, sally or hazel."
Fred won the challenge. The press publicity attracted support and a number of correspondence from readers.
Dedicated
Fred gave me a letter he had received from a Belfast Newsletter reader Howard G. Porter of Bloomfield, Belfast. Mr. Porter, at that time in his 82nd year, had an interest in the subject, and had originally sent Mr. Child's publication on "Water Finding" to Fred. Mr. Porter's father had lived at London Road, Ipswich in the 1909 - 1911 period and had an association with Mr. Child.
Fred passed away on the 26th June 1984. On Sunday 5th June, 1988 a table, the gift of his wife Eileen, was dedicated in St. Mark's Church in his memory.
Many years later I resurrected the letter written by Howard Porter and I decided I would try a little "divining" myself in the form of trying to trace the family. After some searching of Belfast Street directories, enquiries and phone-calls I received a call from a grandson of Howard Porter who was keen to see the correspondence. To cut a long story short - I realised that Mr. Porter's grandson was in fact my old school chemistry teacher!! Not being one of my stronger subjects, it would be true to say that the only chemical element formula I could ever remember from his class was H20! It was a delight to reunite the letter with a member of the family.
The Digger can be contacted at The Ulster Star office or by email diggerarticle@hotmail.com
14/01/2011