'Farewell to Ballymacash, my native place....'
The Digger unearths the story of a man who could never forgot
the place where he was brought up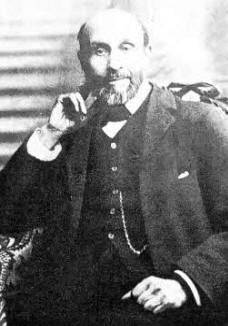 A picture believed to be George Camlin discovered in Glenavy Methodist Church. It bears the inscription 'God bless the dear old school. George Camlin. 30th March 1922'
SATURDAY 21st July 1860 was a day George Camlin would never forget.
In the Lisburn Standard of 19th March 1910 he records this was the day he left Ballymacash. In 1910 George Camlin was residing at Donegall Pass in Belfast and both areas have changed considerably since George's time. Even in 1910 he realises that Ballymacash had changed from the area that he had known during his early years.
"The place has changed, and so have I,
Now hoary hairs are on my head,
The cot is crumbling into dust,
Old friends are scattered, some are dead.
And when I visit my old home,
I feel I am a stranger grown;
I wander round the dear old place
Almost unknowing and unknown."
This is the penultimate verse of a seven verse poem penned by George titled "Ballymacash." It has been written in the same style as another earlier ballad by Glenavy man Hugh McWilliams titled "Glenavy Dear." The first verse of each is strikingly similar and both refer to "the fine green hills and meadows broad." Undoubtedly a similar image found in most townlands and small villages around the district during that era.
The author of the poem specifically mentions "Mrs. Johnstons" where he roamed as a youth. This is no doubt a reference to Ballymacash House, now the Drayne family home. When George Camlin was residing in the area Ballymacash House would have been a focal point unrivalled in stature by any other house in the vicinity.
I can recall talking to several local ladies many years ago, who were born in the late Victorian era at Ballymacash, and they told me that as children they were frightened to walk down the Brokerstown Road in the evenings as they believed the former Johnston home was haunted. They had listened
to stories, most likely without foundation, that a room in the upper floor of the house had been locked up due to some misadventure there. George Camlin also mentions playing around the area of the Danish Fort at Ballymacash. I would imagine this is the well-known fort located close to Johnston's Hill which has been examined by archaeologists some years ago. He also recalls going to the schoolhouse with his satchel on his back. "I there had little cause for fear, I only feared my master's rod." The schoolhouse at Ballymacash that he refers to is now a combination of a shop and fast-food outlet.
"Though fifty years have passed away
Since I left my old home in you,
And I have had my ups and downs,
Yet still to you my heart was true.
Where'er I be, I'11 think of thee
As long as God shall lend me breath,
And I will love you Ballymacash
Until my eyes are closed in death."
Last year I discovered a framed picture amongst a collection whilst on a visit to Glenavy Methodist Church. It bore the inscription "God bless the dear old school - George Camlin" and the date 30th March, 1922. There was no explanation as to why the picture was in the church, and although I had hoped that perhaps there would be some link to my previous research at Ballymacash, I was unable to make any connection at the time. But it was the catalyst I required to prompt some further research into George Camlin.
Camlin, son of John Camlin, was born in about 1841 and he may have had family links to the Ballymena area. It is still uncertain where exactly he lived in Ballymacash. On the 7th July 1868 he married Martha Williamson, the daughter of a foundry man. At the time he was listed as a pawnbroker's assistant.
They had two children - George Whitfield, born 28th June 1870 and James Marquis born 2nd February 1873. At this time the Camlin family were residing in the Glenalpin Street area of Belfast. The family were Methodists and George Camlin is listed in the early 20th century records at 81 and 113 Donegall Pass.
George Whitfield Camlin was a chemist. In 1898 he married Margaret Isabella Kennedy from Cooke Street, Belfast at the Methodist church in Donegall Square East. The most interesting discovery was the date of the death of George Camlin - 30th March, 1922. He was 81 years of age and at the time of his death is recorded as a pawnbroker, Methodist, and a widower. This date coincides with the date on the picture found in Glenavy Methodist Church.
George Camlin was laid to rest in the City Cemetery, Belfast alongside his wife Martha who had died in 1915. Their son James died in 1945 and is also buried with his parents. The adjacent plot is the burial place of George Camlin (junior) and his wife Margaret who died in 1946 and 1953 respectively. Hopefully some time in the near future a reader may well be able to piece together some more details about the Camlin family and their links with Ballymacash and Glenavy.
St. Mark's Parish Church, Ballymacash is currently planning for a flower festival and historical exhibition to be held Friday 7th-Sunday 9th October. I am interested in locating any historical material, artefacts, photographs relating to the Ballymacash area that could be photographed or copied for display in the exhibition. Photographs would be particularly welcome.
Perhaps you have a photograph of a building or homestead that has now been erased from our landscape during the ongoing development of the Ballymacash area. If so, please do get in touch.
The Digger can be contacted at The Ulster Star Office or by email diggerarticle@hotmail-com.
18/02/2011