'A friend to the friendless and a sympathizer with the oppressed'
The Digger continues his tale of a local poet who left for America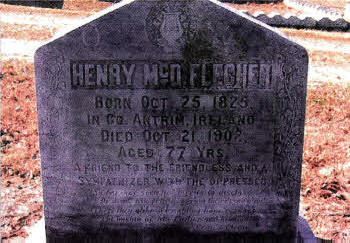 The grave of "a son of Killultagh" - Henry McDonald Flecher located at Knights of Honor Cemetery, Blossom, Lamar County, Texas.
HENRY Flecher, during his time a teacher, did not confine his efforts education. He was also a prolific poet.
His poems appeared in the local press under the name 'Coilus' and in 1859 he won second prize in a poetry competition organised by The Northern Whig, to celebrate the Robert Burns centenary.
At this time he brought out his first book titled 'Rhymes and Ravings of a County Antrim lad'. In a letter to Francis Joseph Bigger in 1902 he states that he "was so dissatisfied with that little escapade that I instructed a friend to take the volumes up for firewood and waste paper as soon as issued." That would explain the difficulty in finding a copy today.
His second volume of poetry was published in 1866 and the Belfast Newsletter reviewed it. "This little volume contains a number of pieces, chiefly the productions of evening hours and after daily exertion in the occupation of teaching in an elementary school. Mr. Flecher often writes very sweetly and touchingly and we are mistaken if some of his pretty songs do not at once become popular in many parts of Ulster."
He makes many reference in his poems to local places familiar to him in early life are never far from his thoughts. 'Glad Portmore', 'Sweet Ballinderry', 'Brave Ballinderry', Ram's Island, 'Love of Lough Neagh', Divis, McCances Glen, Castle Robin and The Giant's Ring are all mentioned in his second volume of poems. The name Moina is the subject matter of two poems and it would appear the name was important to him as he would give this name to a daughter of his second marriage.
Henry states in a letter of 1902 that his aim in going to Texas was to farm.
From American census records in 1880 we learn Henry had another daughter, born about 1864, called Jennie. The census also record that by then he was a widower, schoolteacher, residing in he Blossom area with his daughter. His wife and children from his first marriage are believed to have died. He informs Francis Joseph Bigger that within a few years of settling in Texas five members of his family were in the grave. He had returned to the teaching profession again. In 1881 he married Sallie A. Lowrence and in June of the next year there is a record of the birth of a daughter - Moina Littie. But Henry's second marriage was to be short one and his wife died in March 1884.
I managed to make contact with a lady in Paris, Lamar County, Texas by the name of Mary Hall Ferguson through a website called www.findagrave.com. This site hosts numerous headstone transcriptions. I had been checking it in the hope that I would locate the grave of Henry Flecher and I was successful thanks to the efforts of Mary. She had photographed the headstone and put it online.
Mary made further enquiries for me in the area and made contact with the local museum. They managed to turn up documents relating to Lamar College in Blossom dated 1891-92. Henry's teaching profession had progressed from his early days in Ireland when he was educating the sons and daughter of mill workers, bleachers, labourers and spinners on the Springfield Road, Belfast.
He was now listed as "H. McD. Flecher, Vice-President, Physics and Metaphysics." Lamar College boasted 219 students. It was described as "positively nonsectarian, but decidedly Christian" and was "surrounded by moral influences, free from allurements to vice." Henry was referred to as a professor.
In 1900 he published his final poetry book titled 'Odin's Last Hour and other Poems'. Some of the poetry had been previously published but additional material compared Henry's present surroundings in Texas to his birthplace in Ireland.
"Young February's flowers with gladdening smiles...while winter lords it o'er my native isle."
Henry was now in the twilight of his life. One of his poems 'On the Brink of Death' was written after his recovery from a sudden, and what appeared as if it was going to be fatal, illness.
He had not been forgotten at home and a speech by Mr. Archibald Kennedy Stewart at Moneyreagh at a function for a presentation to the Rev. Richard Lyttle in 1899 makes reference to the poet. "He said he felt a reverence and indebtedness to Moneyrea Church and school, to his good friend and gifted poet-teacher, Henry McDonald Flecher, now principal of an academy in Texas..."
In the 1900 American census Henry was residing at Blossom with his mother-in-law and daughter Moina. He records his occupation as a writer and author. He dedicated his last book to his "nearest and dearest in the grave and out of it." Several years before his last book was published Henry received a donation of £100 or $486 from David McCullough and his wife in Moneyreagh enabling him to publish.
The last letter from Henry to Francis Joseph Bigger was dated 9th July 1902. He complains of ill-health and says he was subject to nervous attacks.
Just over three months later, on the 21st October, 1902, Henry was to join the departed.
The Northern Whig on the 8th November printed the details of his death. A week later a tribute penned by A. Brown appeared in the same newspaper. We learn that Henry was both a Unitarian and an advanced Liberal but the writer adds that "in his intercourse with his fellow-men he never allowed either to interfere with a friendship or to break it..." "Flecher was clearheaded, large-hearted, the best friend of all, the enemy of none." His headstone located at Knights of Honor Cemetery in Blossom, Texas reads:
Henry McD. Flecher
Born Oct. 25 1825
In Co. Antrim, Ireland
Died Oct. 21 1902.
Aged 77 yrs.
A friend to the friendless and a Sympathizer with the oppressed.
No farther seek his merits to disclose
Or draw his frailties from their dread abode
(There they alike in trembling hope repose)
The Bosom of his Father and his God.
Gray's Elegy.
Thanks to Mary Hull Ferguson, Paris Lamar County, Texas and Georgia Nell Watson Library/Museum, Blossom Lamar County, Texas for their efforts anti assistance in the preparation of this article. We have to date been unable to turn up any photographs of Henry, but the folks in Texas are hoping something may turn up in due course. I would encourage any readers who may have further information on Henry McDonald Flecher or his wider family circle to please get in touch. Thanks also to Victor Sefton for his assistance and to Belfast Central library, Libraries NI, for their permission to transcribe the Flecher letters found in the FJ. Bigger collection. www.fiindagrave.com is well worth checking when researching ancestors who may have settled in the U.S.A.
The Digger can be contacted at The Ulster Star office or by email al diggerarticle@hotmail.com.
22/04/2011