All I want for Christmas -1932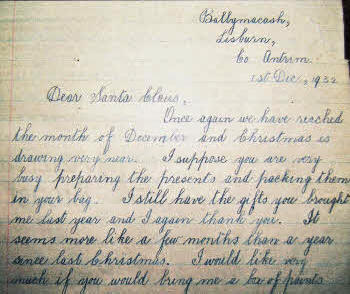 Part of the letter to Santa Claus written on the 1st December 1932 by a former Ballymacash Primary School pupil, Saidie Hunter.
The Digger recalls how the festive season was marked during the Great Depression
ECONOMIC recession, depression and general doom and gloom may well describe our present day situation throughout the world, presenting a somewhat dreary Christmas for some. Commentators equate today's global financial crisis to events in 1929 when the Wall Street Crash occurred.
It was from Stormont Castle that James Craig, the first Prime Minister of Northern Ireland sent out his press release in Christmas 1932. He made reference to the ongoing worldwide depression and the many disappointments and uncertainties experienced during the year. "These difficulties are being faced with characteristic steadfastness, and I hope a rich reward awaits our citizens when the tide begins once more to flow in our favour." John Andrews, who was to become the second Prime Minister of Northern Ireland, held the position of Minister of Labour in 1932. The Lisburn Standard on the 16th December 1932 reported that he had appealed for the "public to spend one shilling extra per week at this season" and be predicted that the result would be very beneficial to the community.
An editorial that appeared in The Lisburn Standard several days before Christmas that year reminded readers of the reality of the times. "The sad plight of the world today has thrown many out of work and in Lisburn many homes will not know a Christmas fire, or will not taste the traditional Christmas dinner."
The well known phrase "Watching the pennies and the pounds will look after themselves" is not only on the lips of the frugal today but was very much in use 79 years ago.
In December 1932 the Belfast Savings Bank, 51 Market Square, Lisburn were trying to attract savers and were promoting their Special Investment Department rate of interest which was set at 3%.
In the late 1920's Lisburn Electric Supply Company were expanding in the town and between the 5th and 23rd of December 1932 they held a cookery demonstration in J.C. Patterson's, Lisburn titled The Ease of Cooking by Electricity." Housewives were encouraged to visit J.C. Patterson's showrooms were there was an array of electrical appliances on display. For those who could afford it electrical appliances including cookers, washing machines, heaters and electric fires would dramatically change domestic life. It was reported that the display bedroom included "cute little lamps at the top of the bed, so that one can lie and read in luxury." Electric fires could be hired for 11/2 pence a week. It was claimed that the electric powered oven would eliminate the smoky range which was responsible for spreading dusty residue throughout the home.
If you were fortunate to have money to spend on Christmas goods then you might have been tempted by the many advertisements appearing from late November in the local papers —The Lisburn Leader and Standard. Toys, turkeys, teas, plum puddings, fur trimmed coats, watches and gramophones were amongst the many goods advertised to tempt the Christmas shopper in the town.
The BB Electrical and Wireless Company at Graham Gardens, Lisburn had a special Christmas offer on a 120 volt high tension battery. It was selling for 8 shillings and 6 pence and was a necessity if you owned a valve radio. Undoubtedly those who were fortunate to have access to the wireless in 1932 would have been able to listen to the first Royal Christmas message by King George V which was broadcast throughout the British Isles and transmitted to all parts of the British Empire. The Belfast Newsletter reported that it has been "heard clearly in Australia and South Africa, but not so well in New Zealand." His son, the Prince of Wales, later known as Edward VIII, had visited the Lisburn District in November 1932 several days after he had opened the new parliament buildings at Stormont.
Cyril Pettigrew trading under Jackson and Company at 71a Bow Street, Lisburn was encouraging parents to bring their youngsters along to view their selection of dolls, stuffed dogs, teddy bears, bunnies, ducks, train sets, steam engines, pedal cars, tricycles, games and doll's tea sets that were on display.
The Post Office reported that several hundred children had posted their letters to Santa that year and his postbag was heavier that year than it bad ever been. They said that one young lad had in fact addressed his letter to Santa in Egypt that year.
Local nonagenarian, Saidie Hunter kindly allowed me access to her old school comprehension book which she has had in her possession from her schooldays at Ballymacash Primary School, Lisburn. Saidie, who was born at Magheraconluce, County Down relocated with her parents to the Ballymacash area in February 1929. It was fascinating to read her letter to Santa Claus dated 1st December 1932. It sets out the reality of life as experienced by a local schoolchild living through that era.
"Dear Santa Claus,
Once again we have reached the month of December and Christmas is drawing very near. I suppose you are very busy preparing the presents and packing them in your bag.
I still have the gifts you brought me last year and I again thank you. It seems more like a few months than a year since last Christmas. I would like very much if you would bring me a box of paints and a paint book, a box of handkerchiefs, and a box of chocolates. I would like the box of handkerchiefs to be white bordered with lace.
I do not want to ask for any present that would be expensive because there are a lot of people not working and money is not as plenty as it was some time ago. I hope you will have an enjoyable time during your visits around the world.
I remain, Dear Santa Claus your affectionate friend.
Saidie Hunter"
By all accounts Christmas Day locally passed off peacefully in 1932. It fell on a Sunday that year and the members of Lisburn Urban District Council were informed by local traders that they were to close on the Monday and Tuesday following Christmas Day. The Council approved that the normal Tuesday market in Lisburn could be held instead on the Wednesday. The Lisburn Standard described the weather on Christmas Day as springlike and added "It would appear that the snowy Christmas of the Xmas cards is becoming a myth rather than a reality, and certainly this year's weather was far from in keeping with the snowy Christmas we read of but seldom see. The mild spell would come as a relief to many housewives who were reminded in The Lisburn Standard dated 2nd December 1932 to "make a point of knowing the exact position of the stopcock" should burst pipes occur as a result of frozen pipes during that winter.
Has anything really changed? Happy Christmas!
• The Digger can be contacted at The Ulster Star office or by email diggerarticle@hotmail.com
23/12/2011