Brady family's journey from Ballymacash to America
BY THE DIGGER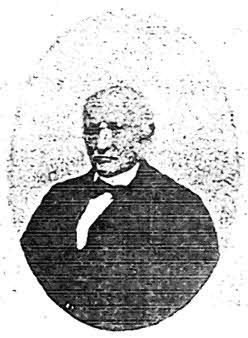 William Brady
I WAS delighted to hear from Michigan lady Mary Elizabeth Blandford who was in touch with me via e-mail earlier this year making enquiries into the Ballymacash area and her ancestors, the Brady family, who had once resided there.
The contact from America could not have been better timed. I had been given access to the early 19th century local Orange lodge records at Ballymacash for research purposes. Fortunately they contained references to members of the Brady family.
The name 'Jo Brady appears in the records in 1816 and on the 12th July 1817, there is an entry making reference to an initiation ceremony that William Brady took part in.
The lodge had their dinner that day at the home of Joseph Brady who is listed as a treasurer. Mary Elizabeth Blanchford is believed to be a sixth generation descendant of this Joseph Brady who lived between the years 1770-1855.
The minutes of an extraordinary meeting of the lodge on 13th April 1820 contains a significant entry in relation to the Brady family. William Brady had been granted a certificate from the lodge as he was going to America. This corroborates other information relating to the Brady family history. William, born in 1799, emigrated on the 7th June 1820 to Ogdensburg, New York.
There were further entries in the lodge records relating to Matthew Brady. He was initiated into the lodge on the 3rd of July 1822, having been proposed by Matthew Johnson. Matthew Johnson is believed to have been the son of the Rev Philip Johnson who resided at Ballymacash House.
He informs his son in
America that the
weather is bad and
the taxes are heavy
Matthew Brady also held the position of master of the lodge during the years 18361844. There are other records held at Derriaghy Parish Church which make reference to the Brady family of Ballymacash.
A letter, dated 6th July 1841 is in the possession of the descendants of the Brady family in America. It was penned in Ballymacash by Joseph Brady, who was writing to his son William. Based on lodge records, William had been in America for 21 years when the letter was written. Joseph, who claimed he was 71 years at the time of writing, informs his son that he is well presently and he thanks God for all His mercies.
He apologises to William for not having sent any money although he states he has been promised money and that he should have £35 sterling for him on the 1st September. Joseph explains the difficulties he has getting it from the people as times were bad.
He informs his son that the weather is bad, the taxes are heavy and he can scarceIy work eight hours a day. Joseph is also acutely aware that he has passed the ripe old age of three score and ten and he informs William that his papers have been lodged with the Rev Thomas Thompson. He was the minister at Derriaghy between 1836 and 1858.
Joseph explains in his letter that there was not a Johnson about Ballymacash and he has to pay his rent to an agent in Belfast. He states that a man by the name of Mr. Pierson is in Mr. Johnson's house at the time.
The letter provides other fascinating details of Joseph's life at home. He tells his son that he has had no horses for the past eight years and he is working the land with a spade, assisting the labourers. Undoubtedly he is making reference to his regular attendance at church claiming that he goes to Derriaghy almost every Sunday.
He signs off with words of wisdom to his son. "Dear Wm, I hope you have established a first rule raising the family. Pray morning and night with your family dear Wm."
William Brady had indeed married 11 years previously, in 1830, to Angeline Condon at Brownville, New York. At the time he received the letter from Ballymacash three of his six children were born. - Joseph (1831), James (1837) and Mary Ann (1840).
His father Joseph would live for another 14 years. He made his will on the 6th September 1854 in which he makes reference to his wife Jane Brady, nee Thompson. We read that he left to his brother Richard and sister Rebecca £5 each and also a feather bed and bed clothes. Richard was also to receive Joseph's linen and wearing apparel.
To his grandson, the eldest child of William in America, he left £50 and £30 to any others in that family. He would not overlook those who were less fortunate than himself and he left £5 to the poor of the parish of Derriaghy.
The executors were listed as Thomas Henry Johnson of Ballymacash and Robert Henry Waring, a farmer residing at Derriaghy. Thomas Henry Johnson is believed to have been the grandson of the Rev Philip Johnson.
Thomas Henry Johnson was to die at the early age of 27 years on 20th September 1855. Joseph Brady made a few minor adjustments and amendments to his will on the 27th October and the 6th November 1854. He died in January 1855 and records at Derriaghy Parish Church show he is buried there.
His will was executed on the 3rd March of that year and a notice placed by Robert Waring one of the executors appeared in the Belfast Newsletter in April 1855. He requested that all persons having claims against the late Joseph Brady to have their accounts furnished prior to the first day of May.
His son William Brady died on the 17th June, 1879 and was laid to rest at Argentine Cemetery, Genesee County, Michigan, over 3000 miles from his father's residence in the townland of Aughnahough, Ballymacash, Lisburn.
A typed copy of the 1841 letter, the will of Joseph Brady and other family details will be on display during the weekend Friday 7th October - Sunday 9th October, 2011 at the Flower Festival and Historical exhibition at St. Mark's Parish Church, Ballymacash.
Thanks to Mary Elizabeth Blandford for providing the Brady family material and to Ballymacash L.O.L. 317 for their assistance.
The Digger can be contacted via The Ulster Star or email: diggerarticle@hotmail.com
26/08/2011