"CELEBRATION"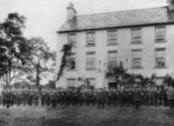 On 31st August 1912 the members of the Ballymacash Branch of the Derriaghy Unionist Club marched to Ballymacash House to get photographed, on the invitation of Miss Johnston.
"The fine appearance and marching of the men were highly commented on." (Lisburn Herald, 7th September 1912)
YOUR HELP IS REQUIRED!
---
St. Mark's Parish Church, Ballymacash Road, Lisburn presents "CELEBRATION" - incorporating a Flower Festival (designed by Ballymacash Flower Club) and Historical Exhibition on
Friday 7th October 2011 4pm – 9pm
Saturday 8th October 2011 10am – 9pm
Sunday 9th October 2011 2pm – 6pm
Do you have any historical material, artefacts or photographs relating to the Ballymacash area that could be photographed or copied for display in the forthcoming exhibition?
Photographs are especially welcome. Were you a member of the Scouts, Guides, Sunday school, choir, church or local social groups? Perhaps you have a photograph of a building or homestead that has now been erased from our landscape during the ongoing development of the area. If so, we would be interested in hearing from you.
Please contact :
Chris – 07585002382 or E-mail diggerarticle@hotmail.com

"Dear Ballymacash, my native place
In thee I spent my early days,
Though many years have passed since then
It gives me joy to sing your praise..."
George Camlin (c1841 – 1922)
03/03/2011