Roses are red, violets are blue….
THE DIGGER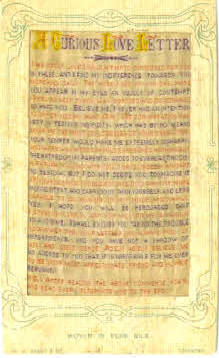 An early 20th century silk postcard bearing "A Curious Love Letter", which on a first read may well offend the recipient.
It's that time of the year again when some of us will be seeking out cards and gifts to send to our chosen "valentine." Some will eagerly await the arrival of the post on the morning of the 14th of February. No doubt on some of the envelopes there will be the usual decoration of rhymes, acrostics, acronyms and verses. "Postie, postie, please be quick…." Of course today's youth will utilise modern technology and send valentine messages by email or phone texts. In some cases the anonymity of a card can be fun. I have seen anonymous valentine cards in the possession of several Lisburn residents, which they received almost fifty years ago. The identity of the senders still remain a mystery.
Cards, postcards and letters were all formats of communication on which Victorian's expressed their romantic feelings for each other. An interesting book from that era in my collection is titled "The Enquirer's Oracle" published by Lever Brothers Ltd. The book contains many words of wisdom and advice to the reader on a plethora of subjects. The first chapter is titled "Courtship, Matrimony and Married Life." There are both warnings and advice in this chapter on the formulation of love letters. "Many a love letter, as disclosing the deficiencies of the writer has effectually extinguished the love it was presumably intended to fan." There is a further warning about love letters ending up in the law courts and being made public. The author makes the following observation - "It is beyond the conception of sensible people to imagine what could induce anyone to call another his 'Tantalorum Tibby'….." There are examples of well-expressed letters for requesting an interview with a female with whom it is sought to enter a courtship with. Examples of suitable rebuke and acceptance letters are also outlined. In the case of an abortive courtship the Victorian reader was advised that both parties should seek to return letters and in order to avoid "a painful contingency" the separated parties should secure the services of a trusted friend to make the formal exchange.
Amongst the words of wisdom appear the following - " Not to offend is the first step to pleasing." You may well think that advice has been ignored when you read the following lines found on a silk card in the possession of a resident of the Lisburn area. It was manufactured by William Henry Grant, Coventry, and was circulating possibly during the reign of King Edward VII. Remember to read the notes in the post script carefully!
A Curious Love Letter
The great love I have hitherto expressed for you
is false and I find my indifference towards you
increases daily. The more I see of you the more
you appear in my eyes an object of contempt.
I feel myself every way disposed and determined
to hate you. Believe me, I never had an intention
to offer you my hand. Our last conversation has
left a tedious insipidity, which has by no means
given me the most exalted idea of your character.
Your temper would make me extremely unhappy,
and were we united I should experience nothing but
the hatred of my parents. Added to everlasting dis-
pleasure I found with you I have, indeed a heart
to bestow. But I do not desire you to imagine it
at your service. I could not give it to anyone more
inconsistent and capricious than yourself and less
capable to do honour to my choice and family.
Yes, I hope you will be persuaded that
I speak sincerely and you will do me a favour
to avoid me. I shall excuse you taking the trouble
to answer this. Your letters are always full of
impertinence, and you have not a shadow of
wit and good sense. Adieu! Adieu! Believe me
So averse to you that it is impossible for me ever
to be your most affectionate friend and humble servant.
P.S. - After reading the above commence again
and read every alternate line to the end.
The Victorians were also advised, in accordance with the etiquette of the period, that old letters should either be destroyed or carefully locked away. Directions should be marked on the box, that in the case of the death of the holder, the letters should be returned, unread to the writers. If it was impossible to follow that through then the letters should be burnt, unread.
I'm sure you would agree - a historian's worst nightmare! I was fortunate to have sight of a notebook kept by a local family dating back to the early 19th century. Members of the family had made entries including family births, marriages, deaths and other notes about everyday life, similar to what we would find in a modern day scrap book. One of the pages is devoted to "A love letter at the end of a courtship" and refers the reader to a verse in the bible from Deuteronomy. There are a strange series of letters and symbols, which appear to be part of a riddle. I have yet to solve that one. On the bottom half of the page marked "Another of the same." I found the following inscription consisting of five lines each containing eight words.
There and that and requite and I and
Is that loves you me say love you
But is but are with ye but are
Only only only only the unto only only
One me one she same me one he.
When first read it made absolutely no sense to me whatsoever. After a "brainstorming" session I found that it made more sense when you read it in columns, and not in linear style. It was a standard form of amusement several hundred years ago.
I found the following poem, author unknown, mounted in a scrap book containing a collection of cuttings spanning over one hundred years. Perhaps some may see it as text messaging Victorian style!
Love in Figures
My loved 1 is a dear, sweet girl,
So bright and joyous 2,
Her mir 3 reflects upon my life,
Which 4merly seemed blue.
If 5 a mind to wed a girl,
No clas 6 need she learn,
It 7 on earth to find she's of
Domestic 8ed turn.
Her influence would be9,
As to my wants she'd 10d;
And 0 could mar our happiness,
I'd love her till the end.
It may take you a few readings before it becomes fluent.
If you take the advice that was offered in Victorian times when making out this year's "well-expressed" Valentine card you never know what may blossom:
"To the well-regulated mind and the well-educated hand, worthy of the love by which real love letters are inspired, the composition thereof is an improving exercise of the noblest expressions of genuine sentiments of the highest order."
One of the headstones in a local parish church in the district reads - "In memory of Joseph and Mary Allen who lived half a century together in conjugal felicity. This stone was placed here by their son Joseph Allen, Anno. Dom. 1800." Wouldn't it be nice to turn up the courtship letters of Joseph and Mary Allen to discover their secret!!
The Digger can be contacted at diggerarticle@hotmail.com.
14/03/2012