The effect of Two World wars on one family – The Huston Family
THE DIGGER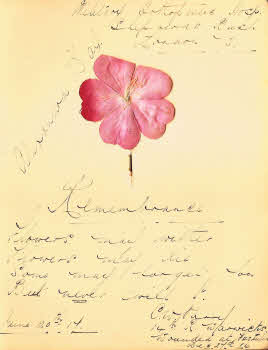 A page from the diary of Dorothy Huston V.A.D. It is dated 17th June 1917 and the poem has been penned by C.A. Parry 14th Royal Warwickshire Regiment.
William Wentworth Huston, born in 1862 was the second son of Dr. Charles Todd Huston, Tynan, County Armagh. He married Elizabeth Victoria Simpson in 1883 in her native county of Kildare.
The Hustons emigrated to the Capetown area of South Africa where their first three children, Eileen, Dorothy and Claud were born. The remainder of their nine children – Victor, Stella, Hilda, Gerald, Victoria and Donald were born in Belfast.
A well- preserved daily diary dated January 1887 to January 1888 kept by Elizabeth Huston documents the toils and tribulations of a mother raising her young children in the Capetown area. We are uncertain as to why the family relocated there, but the notes indicate that William is working in an office and providing a lifestyle for his family that included the employment of household maids and a nurse. The diary provides a unique insight into the lives of the Huston family including some of the children's first words, childhood ailments, antics of the family pet dog and their daily routines. Visits to Wynberg, Newlands and Rondebosch are documented. On Tuesday 15th March 1887 there is an entry stating that "four German Men of War steamed in together to the Bay." Clearly this was an event worth recording. A week later Elizabeth makes a further entry in her diary about the continued presence of these ships - "Great German Day. Kizer feast. 5 men o' war in harbour (German.)" The word spelt "Kizer" presumably refers to the German Kaiser, Frederick III, son-in-law of Queen Victoria. He was succeeded by his son, Wilhelm II, who was in power in Germany when the First World War was declared in 1914. German actions during the First and Second World Wars would tragically alter the course of the Huston family history.
William and his wife, Elizabeth, returned to Ireland before the birth of their son Victor Henry in 1889. The Belfast Street directories published at the end of the 19th century show that William, a traveller and stationer, was residing at 1 Ashgrove Villas, Glenburn Park, Cavehill Road, Belfast. In the 1901 and 1911 census, William, described as a box maker, and he and his family are residing at Cloncarlin, Waterloo Gardens, Belfast. This house may well have been named after Cloncarlin in Monasterevin, County Kildare where Elizabeth had family links. By 1915 the Huston family had relocated to Ashville, Killinchy, County Down.
Dorothy Huston joined the Voluntary Aid Detachment (V.A.D), an organisation that provided field nursing services during the war. Postcards sent to her mother at home indicate that she was serving as a nurse at the 5th Northern General Hospital, Leicester in 1916. Dorothy kept a notebook during her service with V.A.D. Some of the injured soldiers who were under her care recorded their poems, messages, cartoons and artwork in this notebook. The material had been recorded from her patients during her V.A.D. work at Whiteabbey Sanatorium, Northern General Hospital in Leicester and the Military Orthopaedic Hospital at Shepherd's Bush, London. The material in many instances records the individual soldier's name, rank, regiment and date and place of injury. C.W. Parry, who had been serving with the 14th Royal Warwickshire Regiment and had been injured at Festubert, France on the 27th December 1916. His entry in the diary was made on the 20th June 1917 whilst he was a patient in the Military Orthopaedic Hospital, London. He also pinned in a silk pink flower believed to represent a rose, together with the words "Alexandra Day." Alexandra had been Queen mother during the First World War. In 1912 roses were sold to raise funds for hospitals and charitable organisations to mark the fiftieth anniversary of the arrival of Alexandra from Denmark.
The diary also includes some material penned by local soldiers including Thomas Stormount and Robert Bunting from the Royal Irish Regiment; W.E. Johnston, Frederick Hanna and H.W. Vaughan from the Royal Irish Rifles. Corporal E. Elphick, a soldier with the 14th Battalion of Royal Irish Rifles, penned a poem in February 1917. He is believed to be Corporal Ernest Alfred Elphick from Downpatrick. He and Dorothy Huston would share something in common at that stage of the First World War. Both had lost a brother to the enemy. It is believed that his brother, Robert John Elphick, a corporal with the Royal Irish Rifles died on the 7th November 1914 as a result of his involvement in the war. Gerald Marcus Huston, younger sibling of Dorothy, and a corporal with the Royal Engineers died on the 7th December 1915.
One of the subjects written about by the injured soldiers in the war diary is the criticism of those who failed to participate in the war. They are referred to as "slackers."
"A Word to the Slacker
Get off your benches and into the trenches
And fight for the land of your birth,
It's the chance of your life to get into the strife
And show what your manhood is worth.
And not the cry that your sweetheart will die
When she sees you marching away;
She's far better dead than to hang low her head
Like the women of Belgium today.
Every man that's worthwhile will enlist with a smile,
Though he knows what it means all too well;
It's not for the fame, but to help win the game
Against Kaiser, and kilter and hell.
What's a few cheers and what's a few tears?
Put self far behind you tonight;
Away with the smarting, the heartache at parting
And think of your country and fight.
With the best of luck to Sister Huston.
Private W. Hudson. 58th Canadians. June 16th 1917"
Victor Henry Huston, another brother of Dorothy left Ireland for Canada where he met his wife to be Sarah Bailie. They were married in Vancouver in November 1912. In September 1914 Victor signed up with the Canadian Expeditionary Force when the war broke out. He sent a series of postcards to his mother, dated January 17th 1915 indicating he was at Shrewton in Sailsbury. He informed her that he had been asked to drive the Major's car to Southampton. "I may be able to learn something of when we are going away." Victor in fact went to France and he transferred to the Royal Flying Corps. He was to receive the Military Cross on the 18th June 1917 for his actions whilst out on photographic reconnaissance missions behind enemy lines. At the end of the war he was a flight commander. He left for New York in 1918 and travelled to Santiago, Chile and temporarily took up the position of an instructor with the Chilean Air Force. There is very little information known about Victor after 1919 despite the fact he is described by many sources as "a flying ace having been credited with six aerial victories." After some research I found that a Victor Henry Huston, 45 years, a civilian died on the 10th April, 1941 at Gulson Road Hospital, Coventry, as a result of air raids on Coventry during the Second World War. Records show that he had been awarded the Military cross and Chilean Order of Merit. Prior to his tragic death, he had been residing at 66 Dorset House, Gloucester Place, London. Although it is recorded that Victor was 45 years of age at the time of his death, he was in fact about 51 years of age. All the other details recorded at the time appear to be correct and so it can be concluded that this Belfast born flying ace who had been awarded a Military Cross for his bravery against the enemy in the First World War, would lose his life almost 24 years later on home territory as a civilian during an enemy bombing raid.
The Huston family moved from their home in Killinchy to the former home of Dr. Arthur Mussen, J.P. in Glenavy.
The Huston family named it "Turvey Cottage." William Wentworth Huston died there in April 1931 followed by his wife Elizabeth in July 1937. Their daughters Eileen , Hilda, Stella and Victoria died in 1968, 1973, 1985 and 1988 respectively. Their resting place is located in the graveyard at Glenavy Parish Church.
The war memorial in Glenavy village records the name of Victoria Keating Huston who served in the Women's Royal Airforce during World War 2 - " L.A.C. V.K. Huston W.R.A.F."
"Lest we forget."
The Digger can be contacted by e-mail diggerarticle@hotmail.com
CAPTION: A page from the diary of Dorothy Huston V.A.D. It is dated 17th June 1917 and the poem has been penned by C.A. Parry 14th Royal Warwickshire Regiment.
Remembrance
Flowers may wither,
Flowers may die,
Some may forget you,
But never will I!
14/03/2012