Obstructions and recesses
PART TWO
THE DIGGER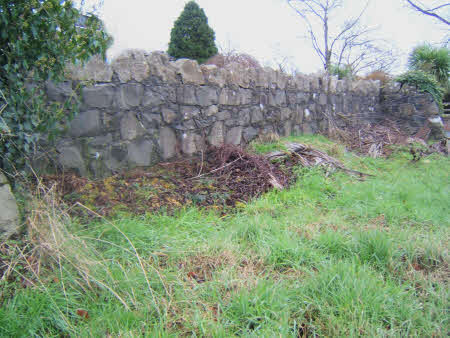 One of the many stone recesses still to be found in the Lisburn area.
In July 1846 it was reported that a member of the public had been travelling from Hillsborough to Antrim via Magheragall and Stoneyford on a horse and gig. The traveller was inconvenienced about a quarter of mile on the approach to Stoneyford and was forced to turn the gig and ride a further 3 miles out of his way. A road contractor had taken down a bridge and had piled stone across the road. It was claimed that had the horse not taken fright at the stones, the man would have not seen them and it was speculated that the contractor's neglect could have led to "limbs broken." A correspondent to the local press asked "Is there no one whose duty it is to prevent or punish persons who thus break up and intercept the public highway?"
This would not always be the case. In 1887 the town inspector reported to the authorities that he had observed 2 cartloads of stones being laid down on the North Circular Road, Lisburn for the purposes of breaking for the streets of the town. He named the alleged offenders as William John Breathwaite, about 12 years, from Magheragall, son of Richard Breathwaite, a contractor and Richard Connor, a serving boy to Richard Breathwaite. The inspector said that the area was becoming a regular receptacle for stones and he claimed that one hundred loads were laid down there, where formerly there had been only two. A debate took place to decide if the offenders could be prosecuted. A test case on the matter was considered. It was stated that contractors were laying them down at their own risk.
In 1898 a local road contractor was accused of laying a quantity of stones on the public road so as to cause danger to travellers in the townland of Ballynacoy. Large heaps of unbroken stones were alleged to have been spread 3 yards over the road in a place where stones had always been broken. Road contractors were often under scrutiny and their work was regularly inspected and reported on.. They were contracted to finish roads and repairs within time limits. Failure to comply would often lead to financial penalties and court appearances. In 1898 a contractor was summoned by the County Surveyor for neglect and negligence in his contract by failing to keep under repair 610 perches of road locally. Usually in these cases magistrates gave the defendant a month to complete the contract and decrees were given for costs. Surfacemen also sued road contractors in order to recover unpaid wages.
In the 1840's road contractors faced numerous problems ranging from the uncertainty of obtaining labour in the remote areas due to the geography of the region, underestimating the cost of contracts and being prevented by farmers and landowners entering land for purposes of quarrying stone.
In 1884 a road contractor summoned a person refusing entry to his lands in order to dig, raise and carry away 400 cubic yards of stones for road repair. In 1889 an application was made to enter a quarry at Bohill. It was opposed as the quarry was in close proximity to the owner's home and it was claimed that the blasting operation would be dangerous to life and injurious to property. In 1890 Dr. J.G. Jefferson of Lisburn sued Richard Belshaw, a road contractor, in order to recover rent due in respect of a quarry at Aughnahough. Mr. Belshaw had agreed to pay £4 per year for a quarry, arrived on the basis that 1d per ton would be a fair price for the material required. The case provided an interesting insight into the work of a road contractor in that era. It was claimed that he thought he had 6 roads contracted to him and he had used 1500 tons in the year. In fact it was revealed in court that he had seven contracts - namely: Whitemountain Road: 230 tons, Belfast to Hillsborough, by Ballymacash Road: 120 tons, Belfast Road to Hillsborough through Lisburn: 1,200 tons, Ballymacash Road: 400 tons, Belsize Road: 50 tons, Glenavy Road: 130 tons and smaller streets in Lisburn: 100 tons.
Contractors engaged in building bridges, filling "gripes" on the road, paved footpaths, built walls, repaired fence walls, filled hollows, levelled roads and cut into hills. Such was the interest in the activities of the road contractors, that there was a ballad composed and circulating in the district about "The Cutting of Moatstown Brae", an area in the townland of Tullyrusk. To date I have been unsuccessful in obtaining a copy of this, or indeed finding anyone who can recite any of the verses.
The laying and repairing of the roads provided work for many of the farmers who were employed as carters. Many advertisements in the local press invited tenders for this type of work. In 1890, for instance, Lisburn Town Commissioners were seeking someone to cart stones from a quarry to Hill Street. Four tenders were received and that of John Campbell was later accepted.
To avoid causing obstructions on the public highways, the stone carters and stone breakers made use of stone recesses situated close to the roadsides. Locally I have heard them referred to as "bing-stands", "stone-dips" and "bunkers." Stones and materials for construction and repair could be safely deposited within these recesses. There are many fine examples of these surviving today throughout the district. Sometimes they are now mistaken as lay-bys by a generation who have no knowledge of their use. These fine stone "monuments" are a credit to those who built them many years ago and many are almost 140 years old. There are records of a tender for ten to be built in 1870 on the road from Belfast to Hillsborough, in the town lands of Lisnagarvey and Old Warren. The cost of their construction was not to exceed £20. A further four were required on the road from Lisburn to Lough Neagh by Brookhill in the townland of Ballyellough, cost not to exceed £8, and twenty were required on the road from Belfast to Glenavy by Hannahstown, cost not to exceed £40. Like roads, they too would require maintenance. In 1890 a local advertisement required a contractor to repair four recesses on the road from Belfast to Lough Neagh between Rushyhill School and Glenavy, cost not to exceed £4.
The stone recesses of course served a multitude of other purposes. They were landmarks for meeting spots for local courting couples and made excellent seating facilities for the local lads who gathered on a fine summer evening. I had heard of one local gentleman, a child of the late 1870's, who wasn't particularly fond of hard work. He had fell foul of the law several times during World War Two when he had failed to comply fully with the Ministry's Tillage orders. A local lady had noted on at least one occasion our friend lying up on the stones in the local stone recess in the height of summer one year, yet again taking things easy. It was said that she remarked "There's ole such-and-such, lying there the day again, full of good meat and bad talk!"
Over time the use of stone recesses diminished as the methodology for road repair and construction evolved. The method of stone breaking with hammers by a roadman sitting at the roadside would eventually be replaced by a new phenomena - the stone crusher. In January 1898 local contractors were advertising for orders executing them for breaking stones using steam crushers. A traction engine and breaker could be sent where required. A traction engine of six horse power manufactured by Leeds firm John Fowler & Co., and a stonebreaker mounted on a four-wheeled truck came up for auction in April 1899 in Lisburn.
The Digger can be contacted by email:diggerarticle@hotmail.com
PART ONE | PART TWO | PART THREE
14/02/2012