Stage and Screen – 1960 style
THE DIGGER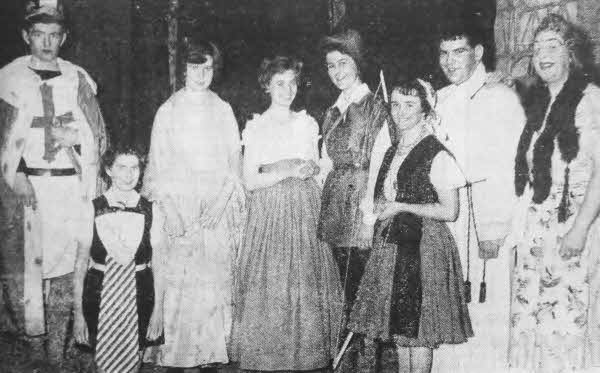 A photograph showing some of the cast from the 1960 pantomime "Robin Hood" staged in St. Polycarp's Church, Finaghy. The photograph printed in The Ulster Star, December 1960, brought back many fond memories for Roy Hamilton, a former Finaghy resident.
I was recently contacted by Roy Hamilton, an "ex-pat" from the Finaghy area now residing in North Wales. Roy was seeking some information on some local productions of pantomimes that had been staged in St. Polycarp's Church, Finaghy over fifty years ago. He recalled that they were produced by Dorothy Butler, wife of the late Rev. John C. Butler and that one of the regular actors who played the "Dame" was Harry Noblett. Roy had been involved in some of the productions and he was interested in obtaining a copy of the original media coverage of the December 1960 production of Robin Hood. The newspapers of that year produced a wealth of material on the pantomime and The Ulster Star, dated 31stDecember, 1960 brought back many happy memories for Roy.
It became apparent to me as I trawled through many months of back issues of the 1960 newspapers that there was a plethora of local talent on stage and screen. In November The Lambeg Players were rehearsing for "Meet the Family", a full length play produced by Mr. Clifford Boyd. Mrs. Nimmons, Mrs. Vida Gault and Mr. Wally Black were cast in the main roles. Wallace High School Old Pupils' Dramatic Society presented the comedy "The White Sheep of the Family" in Lisburn Orange Hall in late November. It cost three shillings a ticket to see the performance from a cast that included Kathleen Bell, Edna Rooney, Doreen Manderson, Robin Cruickshanks, Jim Cruickshanks, Tom Martin, Edward Moore and Joan Magowan.
The pupils of Miss Sheelah McClenaghan put on a charity concert night in the Assembly Rooms, Lisburn and Ballinderry Memorial Hall. Hillside Dramatic Society, Derriaghy staged three plays at Ballymacash in aid of St. Mark's Church, produced by Mr. Christie and managed by Derek Allen. In December of that year Lisnagarvey Boys Secondary Intermediate School were charging two shillings and sixpence entrance fee to see their Christmas Pantomime "Snow White and the Seven Dwarfs."
Local playwrights were also making the headlines. Local lady Janet McNeill appeared with the cartoonist Rowel Friars on the Ulster Television programme "Preview" and she talked about her latest book "Special Occasions" which Rowel illustrated.
Lisburn born author and playwright Sam Cree announced that he had given the Group Theatre, Belfast the option of staging his next two plays which were to be produced in 1961. It was reported that his play "Wedding Fever" was filling seats every night and by mid-December 1960 over twenty six thousand people had seen it .One of the actors, Jean Lundy from Dunmurry, received a particular mention from a visiting West End Impresario who had visited the Group Theatre. Local actor Mina Dornan, well-known for her role as Maggie McCooey in the local radio series "The McCooeys", switched on the Christmas Tree lights in the Lisburn Picture House.
James Simmons, an English teacher at Friends School, Lisburn , poet and songwriter made his third appearance on television. He appeared on the B.B.C. programme "The Half Door Club" playing his guitar and singing some of his own compositions. He made regular appearances on regional radio.
Yet another talented lady, Mrs. Elizabeth Quinn, who resided at North Circular Road, Lisburn announced that she was the new "Ulster Link" in a new Radio Luxembourg programme called "Calling all Britons" which dealt with requests from Canada. It was reported in the local press in December 1960 that she had received a letter from the Canadian Broadcasting Company informing her that her song "The Old Wishing Chair" would be broadcast on station CFRB. Another of her compositions, "The Old Water Mill" had been broadcast on Radio Eireann.
It was announced that Stanley Wylie, Finaghy who had been the theatre organist of the Ritz Cinema, was to make a nostalgic return to the Ritz to play the organ at a midnight matinee. He had been a professional organist from the age of 16 and had joined Ulster Television as an assistant controller. His wife, Sheila St. Clair, was reported to be in her fifth series about "Sean the Leprechaun" on Ulster Television. Sheila was well-known for her investigations into paranormal and supernatural occurrences in the province.
Roy Hamilton would love to hear from anyone who has any memories or mementoes of the pantomimes in St. Polycarp's Church, Finaghy in the late 1950's and early 1960's period. He hopes that a reader may remember the wonderful cameo of Eartha Kitt's song "Just an Old Fashioned Girl" which he believes demanded one or two encores each night.
Roy can be contacted at Roy@royhamilton.wanadoo.co.uk
The Digger can be contacted via email diggerarticle@hotmail.com
14/03/2012