THE GOOD OLD DAYS OF THE LAGAN CANAL
By NOEL CONNELL
There are few towns in the Province that, over the years can claim the services of a main motorway, a main line railway and a main canal.
If you want to throw in easy, access to an airport and the proximity to the largest lake in the British Isles as well, Lisburn has certainly been well to the fore in transport, past and present.
Since the M1 motorway bull-dozed its way westward during the past few years, the old Lagan Canal has decayed both in condition and memory and now presents little of its past usefulness as a one-time main factor in Irish transport:
PICTURESQUE
Gone but not quite forgotten it may be, where now stands miles of sluggish water and high reeds. Overgrown towpaths border the once picturesque route inland to Lough Neagh.
Many local folk have older relatives who once worked in one of a score of jobs connected with inland navigation in part of a waterway system once planned to provide a boat link with every major region of the whole countryside.
ATTRACTIONS
Lately, interesting and enthusiastic efforts have been made to bring back part of the canal sidewalks to their former scenic attraction and other attempts have been carried out to navigate the waters, where possible, to recapture the spirit of one of yesterday's feats of civil engineering.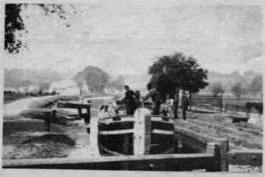 Like any other derelict transport system, there are hazards and dangers, especially to the young, but few would deny that whether looking at those long -inland reaches of water stapled, with neat bridges and locks up to Lough Neagh, or following the livelier part-river, part canal course down to Belfast, at least the imagination if not the water is stirred.
As far -back as 1637, it was suggested that a canal should be cut from Moira to the Lough but like many a good idea it was shelved for many years.
Well, over a century - later, in 1763 , the Lagan Canal was officially -opened when the horse drawn barge, Lord Hertford, made the trip from Belfast to Lisburn.
By 1794, when more money had been acquired, the work was completed on out to Lough Neagh.
POOR NAVIGATION
However, navigation was poor and it was once said that a ship could get from Belfast to the West Indies and back in faster time than it took for the canal lighter to do the round trip to Lough Neagh.
By 1850, the time had been improved to less than a week. Barges carried coal and other non-perishable goods inland, often returning with a cargo of Lough Neagh sand. At its peak, over 100,000 tons of freight was carried annually, but already the rival railway tracks were forking out across the countryside.
Until the motor boat engine arrived, the canal boats were horse-drawn and occasionally "poled" when empty. There was a towpath all the twenty-five miles from Belfast to Lough Neagh. The barges were wooden, except when, in 1880, William Barbour and Son of Hilden brought in steel boats on the canal.
For several years, the canal paid its way as a commercial enterprise but the fact remains that it arrived rather late on the transport scene to enjoy its full contribution. Hard on the heels of the railway came the motor-lorry with its fast door to door service, and the deep waters ran still.
ABANDONED
The section from Lough Neagh to Lisburn was abandoned on April 1, 1954, and the stretch to Belfast in July, 1958.
Recently I stopped at that tiny viaduct-bridge near Lambeg. It wasn't hard to picture yesterday's bustle and progress along the now still surface.
But nature was inexorably reclaiming her property. Not even a fat pike stirred the waters there. Only the years flew on.
Ulster Star
Dec 18th 1971