COLONIAL CHARM AT JUNEE
By NEIL LYON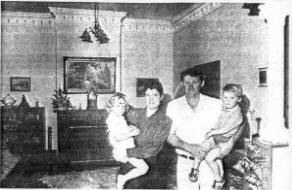 ABOVE: John and Anne Higginson and their children Shivawn (4) and Andrew (2) In the colonial-style lounge room of their "Woodville" homestead
"Woodville", a large, colonial dwelling overlooking, the sheep and cropping lands around Junee, bears the inviting, homely look of a rural homestead which has housed farming families for nearly a century.
Built in 1892 by pioneering farmers. Thomas and Fanny Lord, "Woodville" has been home to five families and more than 20 children since its construction.
Long verandahs, cast-iron lacework and wide hallways give it the mark of a building in the old tradition and a character few modern houses can capture.
It covers 48 squares, with verandahs to the north. cast and south-and a row of large pepper trees - a trademark of Riverina homesteads - offering protection from the west.
Hand-made red bricks moulded from Australian clays form the double-brick walls which are still as structurally sound as when erected
Unlike brick-laving practices of today, the walls at "Woodville" were set m a pattern known as English Garden Wall Bond where every fourth row of bricks was laid laterally. Such a format divided the inner cavity into compartments and gave the walls added strength compared to the open cavity design of conventional double-brick homes.
Long, wide hallways, 3.6-metre ceilings and open verandahs helped keep the house cool in hot summer months, but did little to warm it in winter. Although now heated by modern heating appliances, four fireplaces in the building would have once seen regular use in winter.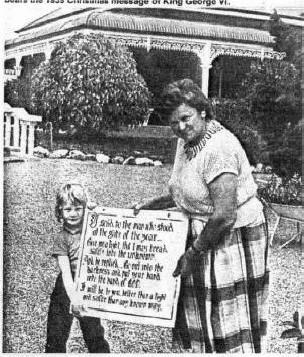 Norma Higginson and her granddaughter, Shivawn, with one of the signs Mrs Higgins has featured in the gardens of "Woodville". The sign bears the 1939 Christmas message of King George VI.
Most of the timber used in the home was cedar or Oregon with 23-centimetre skirting boards.
French doors lead onto verandahs which overlook a large garden area.
House and garden water was once drawn from a large underground well which was filled by water caught from the iron roof.
The Lord family owned "Woodville" until 1939 when it was sold to the Patricks from Cooma.
In 1951, the Curry family took over the house, and 16 years later it passed to the Turners who raised 10 children in the dwelling.
Today, it is the home of the Higginson family , who came to Australia from Northern Ireland (Norn Iron) in 1954 and bought part of the "Woodville" property in 1979. John and Anne Higginson, with their children Shivawn and Andrew, moved into the home in 1986. Mr Higginson's mother, Norma. lived in the home until 1986 before moving to "Hillcrest", an historical house owned by her son and daughter-in-law, Brian and Alison Higginson, in nearby Junee.
While at -Woodville", Mrs Higginson revamped the gardens around the home and added a touch of Ireland in remind her of her homeland