SADNESS AT PASSING OF WELL KNOWN WATCHMAKER,
JEWELLER AND OPTICIAN
LARGE TURNOUT FOR FUNERAL OF JAMES LESLIE BOYLE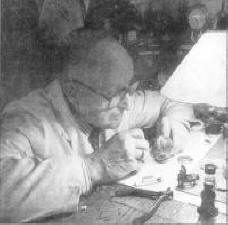 THERE was a large turnout last Wednesday (October 8) for the funeral of local watchmaker, jeweller and optician James Leslie Boyle F.C. Optom., C.M.B.H.l. who passed away in Lagan Valley Hospital on October 5 at the age of 92.
Mr. Boyle, a native of Claudy in County Londonderry made Lisburn his home during the 1930's and the number of people who attended the service in First Lisburn Presbyterian Church was a fitting testimony to the esteem in which he was held by everyone with whom he came in contact.
He was born on June 15, 1911, the son of George Ruthe Wilson Boyle and Margaret Boyle, and was educated at the local school in Claudy.
His interest in timepieces developed at an early age and during his late teenage years his father brought him to Belfast to meet his uncle Rev. D.D. Boyle who was then Minister of McQuiston Memorial Church on Castlereagh Road.
This well known clergyman was instrumental in helping him obtain an apprenticeship with clock and watch manufacturers McCutcheon and Donaldson of Pottingers Entry in the Cornmarket area.
Mr. Boyle left home to take up this position in 1929 and while serving his time lived in 'digs' in the Mountpottinger and Castlereagh Road areas.
Once his apprenticeship was finished he began to look for somewhere to set up his own business.
The premises of CK Lindsays in Market Square were available and so his long connection with Lisburn began.
He met his wife Norah (nee Duff) in 1941 and the couple were married in 1944 by Rev. Dr. David Hay in First Lisburn Church.
After honeymooning on the coast just south of Dublin they returned to their first home, 'Fairview' in the Plantation area. The house was not connected to the electricity grid and Mrs. Boyle recalled this week how she and her husband used oil lamps for lighting when they were married at first.
Water was obtained by means of a pump and cooking was done on a range.
However, all this changed when the house was wired allowing the introduction of labour saving devices such as a Burco boiler.
This proved very useful when the couple's first daughter Hilary was born in 1947.
She was followed by Christine and Janet before the Boyles moved in 1953 into the former rectory of Lisburn Cathedral in Castle Street where they were to stay for the next 19 years.
Two more daughters - Yvonne and Anthea - were born in Castle Street and shortly after the move Mr. Boyle opened his corner shop which became a real Lisburn institution.
These well known premises remained a feature of Market Square until 1989 when he moved to 8, Castle Street.
This shop closed four years ago when he moved into his workshop in the nearby Castle Arcade.
He became a frequent visitor to Lisburn Library with his continuing interest in the latest scientific discoveries.
There were also changes on the domestic front with the family moving to Dalboyne on Belsize Road 34 years ago.
However, as the years passed and their daughters left home this large dwelling began to feel too big and so Mrs. Boyle designed her current home at Dalboyne Court where she and her husband lived for the past 25 years.
Mr. Boyle took a keen interest in the life of Lisburn and was a Past President of the Chamber of Commerce.
He was an Elder of First Lisburn Presbyterian Church as well as both a member of the choir and the cross community group.
He was President and Secretary of the Ulster Jewellers Association and Secretary to the President of the Northern Ireland Optical Association.
In honour of his service to optics there is an annual Boyle Lecture at the Northern Ireland Optical Conference.
Latterly, he was a familiar sight to many people as he headed from Belsize Road to Castle Street each morning on his electric mobility aid.
He also had a lifelong interest in colloquial words and Northern Ireland sayings and enjoyed collecting and sharing humorous stories.
However, in April of this year he suffered a heart attack and moved to El Shammah Residential Home on North Circular Road.
He continued with his positive attitude to life chatting and joking with relatives, friends and residents.
He retained an interest in current affairs to the end and regularly read the daily papers. Mrs. Boyle has nothing but praise for the way in which care was provided at El Shammah and paid a warm tribute to staff at the home.
Mr. Boyle's first premises at Market Square in Lisburn in 1939.
US42-711SP
Mr. James Leslie Boyle and his wife Norah on their wedding day in 1944.
US42-713SP
Laid to rest in Lisburn Cemetery
MR Boyle was laid to rest in Lisburn Cemetery following a service at First Lisburn Church in which members of his family played a very full part.
Conducted by Minister Rev. John Brackenridge and Deaconess Miss Evelyn Whyte, the service was attended by the congregation's Senior Minister Rev. Dr. Gordon Gray and his wife Mrs. Margaret Gray.
Also present was Lisburn City's first Freeman Dr. Samuel Semple and his wife Mrs. Edith Semple who were close neighbours of Mr. and Mrs. Boyle.
The Call to Worship was followed by sentences of scripture and the hymn 'The Lord's My Shepherd'.
Hilary, Mr. and Mrs. Boyle's eldest daughter gave a tribute to her father and this was followed by prayers.
Yvonne then recited a 'Poem for Daddy' before the readings and the address by Rev. Brackenridge.
The couple's youngest daughter Anthea paid her 'own tribute to her father in the form of 'Remembrances' before the singing of the hymn 'Lord of All Hopefulness'.
The service concluded with the Benediction and the family have asked that donations in lieu of flowers be sent to the Coronary Care Unit at Lagan Valley Hospital c/o Bobby Morrison, Funeral Director, 38 Hillsborough Road, Lisburn. BT28 IAQ.
Following the service mourners were given tea and refreshments in the Church Hall.
Before the cortege left for the cemetery Mr. Boyle's daughter Christine, a barrister in Canada, also paid tribute to her father.
Mr. Boyle was a popular uncle and will be missed by his nieces and nephews and their families here and in Canada.
As well as his wife and daughters he is survived by his son in laws Ron, Tom and Ian, his grand children Ruth, Joanna, Mary, Jade, Harry, Lauren, Alice and Sarah, and his great grand daughter Megan.