LLEW AND WINNIE RENEW VOWS
Couple come back to Lisburn to mark Diamond Wedding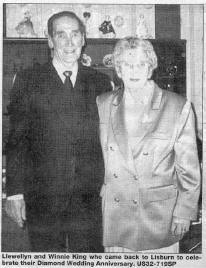 A COUPLE who were married in Lisburn Cathedral 60 years ago returned to the town recently to celebrate their Diamond Wedding Anniversary.
Llewellyn and Winnie King renewed their vows at the historic place of worship almost 60 years to the day after they first said 'I do'. However, had it not been for the Second World War they might never have met at all.
Mr. King was a member of the 160th Welsh Field Ambulance which was sent to Lisburn and based at the old market from October 1939 to April 1940.
His ability to play the accordion became well known and he was invited to a party at Antrim Place where he met his future wife.
At that stage Winnie's surname was Jones, her uncle being Davy Jones, also from Antrim Street who although small in stature was a very well known personality in Lisburn.
Mr. King said he had 'great memories' of the town during his time stationed here.
Doubtless these were made even happier by his developing relationship with his future wife. However, he remembers all the local people as being extremely_ friendly and welcoming.
One of his clearest recollections is of the day the company left Lisburn for their next posting.
"All the girls from the factories around Lisburn - there must have been more than one hundred - turned out to see us off," he said.
"We marched away from Smithfield Square to head for the railway station.
"But these girls then ran off and headed down Haslems Lane into Bow Street and along Graham Gardens. When we got to the station there they were again waving us off."
The Kings have now returned home to Swansea, South Wales.
However, they've left one little bit of history which they only discovered shortly before their visit to Northern Ireland.
They were actually looking for something else when they came upon a poem paying tribute to Lisburn, written by one of Mr. King's comrades from the early 1940s.
"To be honest we had forgotten all about the poem and it just turned up out of the blue," he said.
"However, I know it must have been written sometime during the period 1940 to 42 after we left Lisburn. Sadly, I now have no idea of the name of the person who wrote it."
Hello dear old Lisburn,
We greet you from afar.
Sweet memories will linger
No matter where we are.
Happy days, homely ways,
Friendships good and true,
Remain with its though divided
By a vast ocean blue.

We wonder if you miss us
Just as we miss you kind folk.
For we long to hear the accent
Of that Irish brogue you spoke.
We appreciate the humour
And the good old Irish way
In which you opened up your hearts
To us through our happy stay.

So just carry on dear Lisburn
In Your sweet old fashioned way
Making strangers happy
Your reward will come one day.
So until we meet again
We wish you luck and cheerio
Until the day of victory
And peace comes as before.